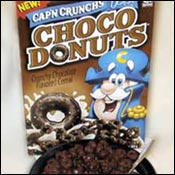 New Product Review:
Cap'n Chrunch's Oops! Choco Donuts
From Quaker
Reviewed by Mr Breakfast on 10/14/2003
The box says that this cereal got its taste from sailing up chocolate rapids and through sprinkle falls. I say it got its taste from sailing down "
boring
river". The chocolate flavor isn't nearly as "chocolaty" as Cocoa Puffs or Cocoa Pebbles, and the chocolate milk it produces is minimal. I will say this for the Captain's new creation: it definately holds it's crunch. In fact, the colored sugar sprinkles gave each nugget a secondary weird crunch that I didn't care for.
If you're after the crunch, give it try. If you're in it for the taste, try another chocolate cereal or one of the Captain's non-chocolate varieties.
Mr Breakfast purchased a 13 ounce box
.
The price we paid: $4.19
Comments About This Product Review
What do you think of Cap'n Chrunch's Oops! Choco Donuts?
By Schema


| | |
| --- | --- |
| Product Rating (out of 5): | |

People can say what they want about Choco Donuts as a concept, but they actually tasted incredible for just a fad cereal. I truly wouldn't mind having them again someday.

Comment submitted: 8/11/2020 (#5877)



By donut cereal


| | |
| --- | --- |
| Product Rating (out of 5): | |

I would love to try it. I am devastated Sprinkled Donut Crunch has been taken off the shelves. If I only knew it was going away I would've bought every box and cherished every single piece. I had an absolutely amazing and this one sounds good. Bring it back. Bring them both back. You have something great. I don't eat Cap'n Crunch so good.

Comment submitted: 3/3/2019 (#5714)



By Zaya


| | |
| --- | --- |
| Product Rating (out of 5): | |

Please, for the love of God, I beg they bring this cereal back. OMG. I'm gonna die without it. I remember every bite filled with chocolate crunchy goodness.

Comment submitted: 9/25/2018 (#5662)



By cereal god


| | |
| --- | --- |
| Product Rating (out of 5): | |

Bring Back these Choco Donuts!

Comment submitted: 2/26/2017 (#5472)





By IanTurtle (Team Breakfast Member)


| | |
| --- | --- |
| Product Rating (out of 5): | |

Aw man, this stuff was good! We need it back! We don't need Cap'n Crunch Special Edition... We need THIS!

Comment submitted: 3/22/2015 (#5232)



By Syd


| | |
| --- | --- |
| Product Rating (out of 5): | |

I really want to eat this Cap'n Crunch Oops Choco Donuts again. I miss the taste of it so much! Please bring this product back.

Comment submitted: 6/10/2014 (#5063)



By melbell


| | |
| --- | --- |
| Product Rating (out of 5): | |

Please bring it back!

Comment submitted: 5/21/2014 (#5051)



By Kieana


| | |
| --- | --- |
| Product Rating (out of 5): | |

Please bring this cereal back. It was my favorite cereal. I miss it so much!

Comment submitted: 10/21/2013 (#4720)



By Elle Dea


| | |
| --- | --- |
| Product Rating (out of 5): | |

I miss this cereal so so much! This cereal was super good! Bring it back! You just gotta!

Comment submitted: 5/9/2013 (#3830)



By Anna


| | |
| --- | --- |
| Product Rating (out of 5): | |

Love this cereal!

Comment submitted: 4/1/2013 (#3711)



By Sarah


| | |
| --- | --- |
| Product Rating (out of 5): | |

Where can I find them again?! I love them! They were so good! URGENT! PLEASE help me find them!

Comment submitted: 8/10/2012 (#3209)



By Brian S.

Never had it but it looks like something I'd like.

Comment submitted: 5/13/2012 (#3117)



By wcmiele


| | |
| --- | --- |
| Product Rating (out of 5): | |

I loved this. Even though I'm older now, I still feel attracted to the tiny sprinkles. And I think this cereal had to have been my favorite out of all the Cap'n Crunches. It was chocolate with a crunch, unlike Coco Pebbles, and sometimes I didn't want chocolate milk with my cereal because it is a little bit too much. I thought this cereal was great and I wish they would bring it back! <3

Comment submitted: 5/8/2012 (#3114)



By Keifer Jennings


| | |
| --- | --- |
| Product Rating (out of 5): | |

This was the best cereal I've ever had in my life. When it was discontinued it took a piece of my heart with it.

Comment submitted: 11/20/2010 (#2617)



By kassie


| | |
| --- | --- |
| Product Rating (out of 5): | |

I miss this stuff so much... I used to eat it when I was little and couldn't get enough... I want it back! (:

Comment submitted: 7/26/2010 (#2437)



By tweeker

I can't find this ANYWHERE!! I LOVE this stuff!

Comment submitted: 4/7/2010 (#2263)



By spade

The guy up there is just tering down good food, I just hate that it's discontinued.

Comment submitted: 1/26/2010 (#2109)



By StuckToButts


| | |
| --- | --- |
| Product Rating (out of 5): | |

In Washington, they were only out for about 3 months. I had Choco Donuts and Gatorade my entire 10th grade summer. I would eat at least 3 bowls for breakfast and lunch, and a few after dinner on a late night.

It was so goodddddddd. Seriously, I can still remember the taste, and I know I would go back to doing that summer all over again.

Comment submitted: 4/29/2009 (#1634)



By Captain Coach


| | |
| --- | --- |
| Product Rating (out of 5): | |

I miss it pretty badly. Wish it were still around.

Comment submitted: 1/12/2009 (#1374)





By KFC Lover (Team Breakfast Member)


| | |
| --- | --- |
| Product Rating (out of 5): | |

This cereal tastes like a real chocolate-frosted doughnut.

Comment submitted: 1/11/2009 (#1367)



By Chuck


| | |
| --- | --- |
| Product Rating (out of 5): | |

These were so good.

Comment submitted: 7/19/2008 (#1102)



By lukenunley


| | |
| --- | --- |
| Product Rating (out of 5): | |

I actually enjoyed this cereal. We must always remember that tastes vary from person to person, so there can never be a definitive review on such foods. I found Choco Donuts to be a good, if not a very small bit disappointing, addition to my morning lineup. I'm saddened to see them discontinued.

Comment submitted: 5/3/2008 (#1002)



By Danielle


| | |
| --- | --- |
| Product Rating (out of 5): | |

Mediocre.

Comment submitted: 8/23/2007 (#631)




---
Connect With Mr Breakfast:



Most Recent
Product Reviews: