International Souffles
Breakfast Recipes
Here's all the recipes listed under International Souffles along with the comments posted by the breakfast lovers that submitted them.
Budyn z Kielbasek (Poland)
"Sausage links are covered in a savory, eggy, pancake-like batter and baked."
1 dozen pork sausages, 2 eggs, 1 cup milk, 1 cup flour, 1/2 teaspoon salt, 1 Tablespoon chopped chives
Finnish Pancakes (Souffle-Style)
"This dish is not quite pancakes, not quite French toast, not quite a souffle, but really rich and yummy."
4 eggs, 2 cups milk, 2 Tablespoons sugar, 1/2 teaspoon salt, 1/2 cup flour, 4 Tablespoons butter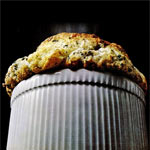 Spinach Souffle (Vintage)
"A retro recipe from 1967 for a spinach souffle where the souffle dish is sprinkled with grated Parmesan for extra flavor. The original article considered it to be an appetizer, but we think it makes a great breakfast."
1 package chopped frozen spinach (1 cup), 1 Tablespoon grated Parmesan cheese, 1 Tablespoon butter, 2 or 3 shallots - minced, 2 Tablespoons lemon juice, 6 Tablespoons butter, 5 Tablespoons flour, 1 and 1/2 cups milk, 1 teaspoon salt, freshly ground back pepper, 6 eggs, 1 egg white
More Souffles:

International
Souffles
Other International
Breakfast Items:

Souffles