Experimental Souffles
Breakfast Recipes
Here's all the recipes listed under Experimental Souffles along with the comments posted by the breakfast lovers that submitted them.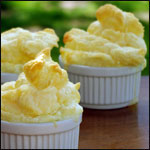 Eggs Eiffel Tower
"Other names for this dish might include Tender Egg Yolks In A Billowy Meringue or Hidden Treasures In A Cloud Of White."
2 slices of toast - white or wheat, 2 slices of bacon, 8 Tablespoons shredded mozzarella (or favorite) cheese, 6 eggs - carefully separated to keep yolks intact, 1/4 teaspoon cream of tartar, 1/8 teaspoon salt, 1 teaspoon prepared mustard
Maple Syrup Souffle
"I haven't made this yet, but the recipe seemed so simple for a souffle, I had to share it. I'd be skeptical of that oven time. Most souffles I've made were a full hour at 350. Good luck!"
1/2 cup powdered sugar, 2 teaspoon baking powder, 1 cup maple syrup, 4 egg whites
More Souffles:

Experimental
Souffles
Other Experimental
Breakfast Items:

Souffles