Experimental Homemade Cereals
Breakfast Recipes
Here's all the recipes listed under Experimental Homemade Cereals along with the comments posted by the breakfast lovers that submitted them.
Blueberry Sunshine
"More of an idea than a recipe, this uses your favorite breakfast cereal and then adds maple syrup and blueberries."
blueberries, maple syrup, your favorite cereal, sugar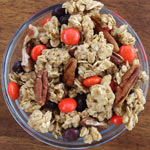 Halloween Pumpkin Pecan Pie Granola
"For even more pumpkin flavor, you can replace the applesauce with pumpkin puree mixed with a Tablespoon of milk or water. But the applesauce helps contribute to the holiday flavor. Happy Halloween!"
3 and 1/2 cups rolled oats - quick cooking or old fashioned, 1 cup chopped pecans and/or sliced almonds, 1/3 cup brown sugar, 1 Tablespoon pumpkin pie spice*, 1/2 cup honey, 2/3 cup unsweetened applesauce, 2 teaspoons vanilla, 1 cup raisins and/or or dried cranberries, 1 handful orange & black M & M candies**
More Homemade Cereals:

Experimental
Cereal
Other Experimental
Breakfast Items:

Cereal