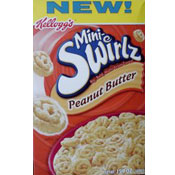 New Product Review:
Mini-Swirlz Peanut Butter
From Kellogg's
Reviewed by Mr Breakfast on 8/9/2006
Mini-Swirlz Peanut Butter is a
good cereal, but the flavor is nothing new
. In comparison to a more kid-oriented cereal like Peanut Butter Cap'n Crunch, the flavor here is only a smidgen more peanut-butter-authentic. Like Mini-Swirlz Cinnamon Bun, the cereal pieces maintain a respectable crunch even after several minutes of soaking in milk.
On the side panel of the box, a pre-teen girl in a striped shirt has a thought bubble jetting out from her head. The question she asks is "Flavor to the 10th power?" Sorry honey. The correct answer is flavor times 1.07 - which isn't too bad.
If you're in the mood for a peanut butter flavored cereal, give this one a try. I'm betting that you'll like it. If you're choosing between varieties of Mini-Swirlz cereals, go for Cinnamon Bun. It's way better.
A one cup serving of this cereal with fat-free milk has 180 calories, 4 grams of fat (0 trans fat), 1 gram of dietary fiber, 23 grams of carbs and 11 grams of sugar.
The price we paid: $4.29
Comments About This Product Review
What do you think of Mini-Swirlz Peanut Butter?
By cc


| | |
| --- | --- |
| Product Rating (out of 5): | |

I can't find it on the shelves to buy!! So it must be excellent. Put more on the shelves... PLEASE!!!

Comment submitted: 9/10/2007 (#664)



By iheartcereal


| | |
| --- | --- |
| Product Rating (out of 5): | |

YUMMMM

Comment submitted: 6/25/2007 (#521)



By yum


| | |
| --- | --- |
| Product Rating (out of 5): | |

This is my all time favorite cereal!!! The only thing is that I can eat about three bowls and still crave more.

Comment submitted: 3/23/2007 (#375)



By dantheman


| | |
| --- | --- |
| Product Rating (out of 5): | |

I disagree it's a smidgen better than peanut butter cap'n crunch. I've always enjoyed that cereal, and I thought the taste of this blew that one out of the water.

Comment submitted: 12/24/2006 (#198)



By BF


| | |
| --- | --- |
| Product Rating (out of 5): | |

Excellent Product.

Comment submitted: 11/22/2006 (#146)



By I Like It


| | |
| --- | --- |
| Product Rating (out of 5): | |

I tried these and thought they were great.

Comment submitted: 11/9/2006 (#111)




---
Connect With Mr Breakfast:



Most Recent
Product Reviews: