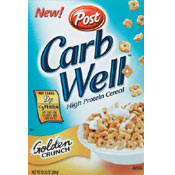 New Product Review:
CarbWell Cereal
From Post
Reviewed by Mr Breakfast on 6/14/2005
There are two varieties of this cereal: Golden Crunch and Cinnamon Crunch. I went for the gold. I know the taste of cinnamon, but what does "golden" taste like? Well, I'm here to report that
it tastes pretty good
.
There's not really an existing cereal whose taste you can directly compare. After much thought, this is the closest analogy I came up: squeeze the hell out of piece of Honeycomb cereal - I mean squeeze it really hard - so hard that the honey flavor comes out. You're left with a crunchy nugget that still tastes good. Believe me, I sat dead still with the cereal in my mouth for a long time looking for undertones of vanilla and other flavors. But in the end, you have a unique flavor. "What's it taste like in a nutshell, Mr Breakfast?" Dude, it tastes like... lightly sweetened cereal. You might think that would be pretty bland, but it's not. Seriously.
This is a cereal for adults. It's heavy and a small serving is enough to fill you up. As the box indicates, a 3/4 cup serving has
only 9 grams of carbs
(compare that to over 20 grams for most other cereals). Does 50 grams of protein sound good to you? Me too. This cereal has 11 grams, but that pretty good dose to start your morning.
I also found CarbWell made
a great snack
. Chose a little of this stuff over potato chips from time to time... you'll not only get full faster, but your big butt will slowly disappear. How did I know you had a big butt? Baby, you're reading a review of a low carb cereal... you're attractive, but you know as well as me, you'd be downright hot if you could diminish your backside and skinny up your face just a tiny bit more.
CarbWell is great, but it's not perfect. Every spoonful had
a very slight after-bite
. Imagine being really hungry for toast. You make some toast and burn it just a little bit. You top it with butter and jam. It tastes great, but your mouth just won't let you forget that it's burned just a little. That's what this is like. It also seems to taste richer and richer with each passing spoonful. After 20 spoonfuls or so, it's too rich and it's too heavy... but by then you're finished.
So get that big butt down to the grocery store and give this one a try. And lay off the porno. "Gosh, how'd you know about that?" Because my friend, you and I are a lot alike. Give me a call sometime.
The price we paid: $3.99
Comments About This Product Review
What do you think of CarbWell Cereal?

By lindalee (Team Breakfast Member)


| | |
| --- | --- |
| Product Rating (out of 5): | |

Where can I buy "Post Carb Well Cinnimon Crunch"? This is the best tasting low carb cereal I've found.

Comment submitted: 3/10/2007 (#335)



By Pam


| | |
| --- | --- |
| Product Rating (out of 5): | |

I have about 40 coupons from the 40 boxes of Carb Well I bought. Now I do not see them in the stores anymore. Do you know if you can still buy them?

Comment submitted: 8/27/2006 (#27)



By Ivan


| | |
| --- | --- |
| Product Rating (out of 5): | |

Can't find this cereal in any stores in the Santa Rosa area. Any suggestions?

Comment submitted: 8/4/2005 (#26)




---
Connect With Mr Breakfast: