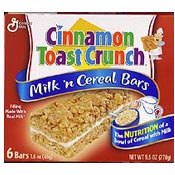 New Product Review:
Cinnamon Toast Crunch Milk 'n Cereal Bars
From General Mills
Reviewed by Mr Breakfast on 10/14/2003
This bar surprised me
. After being completely disappointed by it's sister Cocoa Puffs Bar, I was expecting the worst.
Cinnamon Toast Crunch is a classy cereal - full of life without being too sugary. And while I would never sprinkle extra sugar on the cereal, I found I enjoyed the extra sugar of the milky filling that runs through the center of each bar.
It reminded me of cream-filled donut
with just the right amount of filling. Rather than the creamy center being a coagulant to the whole, it came as a kind of treat in each bite.
Somehow this bar had more of a meal quality than it's chocolaty brother. The true character of the original cereal has been maintained. There's a cinnamon crunch in each bite and
this bar is a winner
.
The price we paid: $3.99
Comments About This Product Review
What do you think of Cinnamon Toast Crunch Milk 'n Cereal Bars?
By sab


| | |
| --- | --- |
| Product Rating (out of 5): | |

Amazing but can't find in a store.

Comment submitted: 11/25/2018 (#5679)



By Where?


| | |
| --- | --- |
| Product Rating (out of 5): | |

I can't find these bars anywhere! I would like to know where to look!

Comment submitted: 10/31/2014 (#5129)



By simon


| | |
| --- | --- |
| Product Rating (out of 5): | |

These are the best!

Comment submitted: 4/11/2011 (#2813)



By busterbrown


| | |
| --- | --- |
| Product Rating (out of 5): | |

My kids love the cinnamon toast crunch breakfast bar; but, I can't find them anywhere. The first one I found at Target, but they don't have them any more. I also checked Safeway and they don't carry it either. I talked to the customer service desk and was advise they could not order any for one person's request. Please advise me where I can buy these cinnamon crunch breakfast bars.

Comment submitted: 4/27/2010 (#2294)



By Looking4Case


| | |
| --- | --- |
| Product Rating (out of 5): | |

Where Can I get a case of these bars from.

Comment submitted: 9/5/2009 (#1901)



By chicka-boom-boom


| | |
| --- | --- |
| Product Rating (out of 5): | |

The Cinnamon ones are really good, haven't tried the others yet.

Comment submitted: 7/17/2009 (#1842)



By bacon lover


| | |
| --- | --- |
| Product Rating (out of 5): | |

I definitely don't like the cocoa puffs but the honey nut cheerios are tolerable. I definitely prefer the Cinnamon Toast Crunch bars. I almost didn't try it because I don't really care for the cereal. But this is a really nice blend and great for on-the-go.

Here is a link to where they have it in bulk.

Comment submitted: 5/19/2009 (#1669)



By Metalmulisha


| | |
| --- | --- |
| Product Rating (out of 5): | |

I think these bars are great don't care much for the cheerios one or cocoa puffs one either. Anyone know where to buy these by the case I want some?

Comment submitted: 10/22/2008 (#1267)



By hungry77


| | |
| --- | --- |
| Product Rating (out of 5): | |

These are great the best substitute for cereal! They do contain real milk and are very nutritious. The gas station is where i go 2 get what i want.

Comment submitted: 8/27/2008 (#1183)



By Iron Man


| | |
| --- | --- |
| Product Rating (out of 5): | |

I always enjoy this!!! - and I am always satisfied after I eat it!!! THANKS!!!

Comment submitted: 5/12/2008 (#1017)



By minden


| | |
| --- | --- |
| Product Rating (out of 5): | |

All of our grocery stores only carry the variety packs my daughter does not like the cheerio bars at all. i hope to find a store soon that carrys what i need. the gas station is the only place to buy for now and that is one bar at a time. need fast breakfast; minden la

Comment submitted: 5/6/2008 (#1009)



By Breakfast Lover


| | |
| --- | --- |
| Product Rating (out of 5): | |

It tastes ok for a little snack, but leaves an awful aftertaste, almost a burning feeling.

Comment submitted: 10/1/2007 (#702)



By Tex


| | |
| --- | --- |
| Product Rating (out of 5): | |

The Wal-Marts in Texarkana stop selling the cinnamon toast crunch by themelves. They sell the variety pack and I don't like that.

Comment submitted: 7/29/2007 (#572)



By Mmm Mmmm Good


| | |
| --- | --- |
| Product Rating (out of 5): | |

All of the "milk n' cereal" bars are good! The fake milk, which is more like cream, gives it a sweet and creamy taste, and it even had a little bit of calcium!

Comment submitted: 7/24/2007 (#562)



By Fantastic


| | |
| --- | --- |
| Product Rating (out of 5): | |

I agree! This bar rocks! I had one today for the first time and I was like , "WOW"! I'm on the net now looking for a case of the stuff!

Comment submitted: 2/28/2007 (#309)




---
Connect With Mr Breakfast:



Most Recent
Product Reviews: