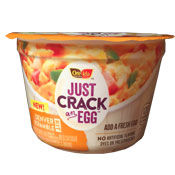 New Product Review:
Just Crack An Egg
From Ore-Ida
Reviewed by Mr Breakfast on 3/23/2018
I tried 2 varieties of Just Crack An Egg scramble kits: the Denver Scramble and the All American scramble. Of the two, I very much preferred the Denver Scramble.
Both scramble kits are easy to prepare. You open the cup and remove small plastic pouches containing ingredients. You crack an egg into the cup and then empty the pouches into the cup. Then you simply stir and microwave. Total cooking time is just over a minute.
The size of each serving was larger than I expected. Still, people with big appetites might want to have 2 Just Crack An Egg cups.
The Denver Scramble was really good. You can taste cheese in every bite. The ratio of ingredients seemed just right. The potatoes were a little more raw tasting than I'd prefer, but that wasn't a deal breaker. The ham tasted like good ham. The green pepper and onion did their job to add a little fresh pizzazz to each bite.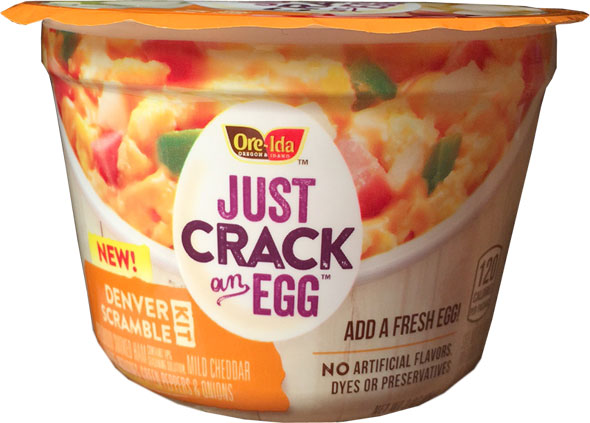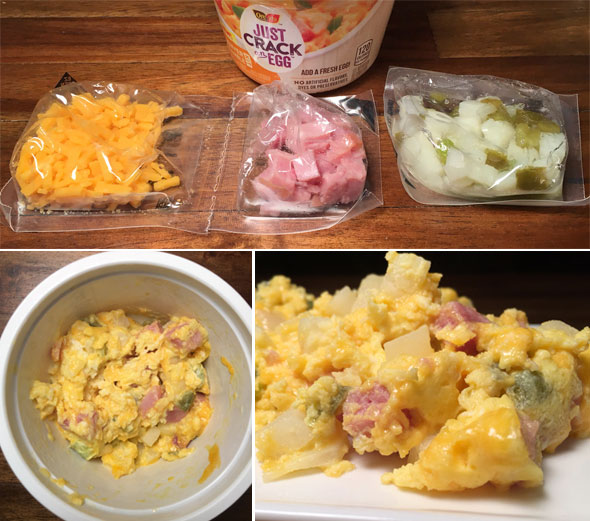 The All American Scramble wasn't nearly as good. It was pleasantly cheesy. But it suffers from the same raw tasting potato problem. The bacon tasted okay but was occasionally chewy and tough. The overall flavor was a little lame. I really missed the veggies from the previous scramble. The All American Scramble could really benefit from some additional flavor to help the other ingredients pop.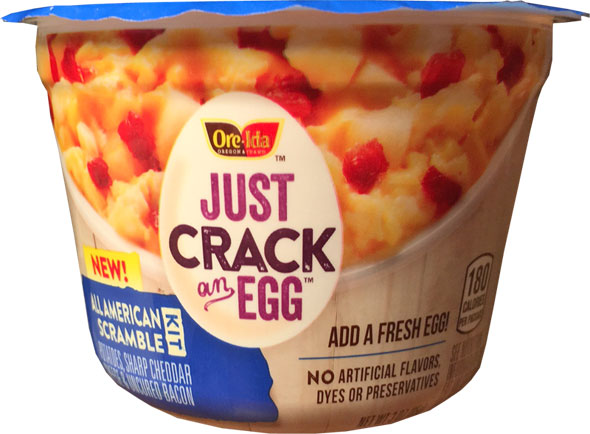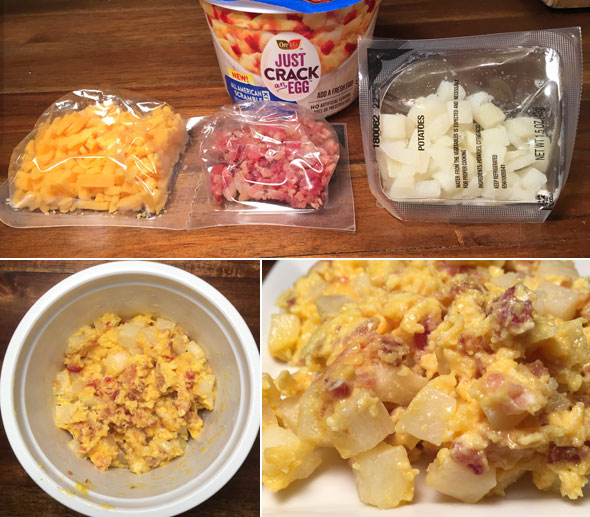 Overall, I left the breakfast table feeling mostly satisfied. For ease of preparation, Just Crack An Egg cups are terrific. For taste, I recommend that you give the Denver Scramble kit a try, but maybe skip the All American.
The price we paid: $2.49
Comments About This Product Review
What do you think of Just Crack An Egg?
By Sarah


| | |
| --- | --- |
| Product Rating (out of 5): | |

The sausage one was possibly the worst breakfast product I've ever tried! Threw it away after two bites & won't even try the bacon one I bought! NASTY!

Comment submitted: 6/13/2020 (#5862)



By me in Pennsylva


| | |
| --- | --- |
| Product Rating (out of 5): | |

Another American rip off! A cheese glob, not filling and surely not appealing. Heart attack in a Half cup!

Comment submitted: 5/2/2020 (#5851)



By Sucker


| | |
| --- | --- |
| Product Rating (out of 5): | |

This is the most misleading TV advert I have ever seen. It took me 2 minutes to just get the little packets open [no little cuts in the tough plastic] and read the instructions. Bought 2 - may eat the 2nd, but not rushing.

Comment submitted: 4/17/2020 (#5847)



By Too Raw

The potatoes don't get soft enough when they get cooked.

Comment submitted: 4/11/2020 (#5841)



By Brad24


| | |
| --- | --- |
| Product Rating (out of 5): | |

Great and convenient product. We make it more creamy by adding 1 tbs of cream and 1 pat of butter. Not very healthy, perhaps but mmmmmm good.

Comment submitted: 4/11/2020 (#5840)



By Valorgal


| | |
| --- | --- |
| Product Rating (out of 5): | |

Really tasted awful. I tried the ultimate scramble. The ingredients were skimpy and poor quality. I feel totally ripped off. I had one bite and pitched it in the trash. Never again.

Comment submitted: 3/16/2020 (#5835)



By kc2kth


| | |
| --- | --- |
| Product Rating (out of 5): | |

I make these with two large eggs instead of one. Happy now that they have one option without potato so lower carb, more protein.

Comment submitted: 3/14/2020 (#5834)



By RBR1


| | |
| --- | --- |
| Product Rating (out of 5): | |

Horrible.

Comment submitted: 2/29/2020 (#5830)



By Sassy

Wish they would consider making at least one WITHOUT cheese.

Comment submitted: 2/8/2020 (#5820)



By Spectre


| | |
| --- | --- |
| Product Rating (out of 5): | |

Tried 4 Crack An Egg products, including 2 for me, 1 each for my wife and senior son. CONSENSUS is MEH! CONVENIENT YES, BUT DEFINITELY NOT WORTH $2.00 - $ 2.85 PER! TASTE IS SO, SO, CHEESE IS TOO TART, THE MEAT AND VEGGIES ARE FORGETTABLE. SAVE YOUR $$$ AND FIX YOUR OWN. Good idea, but falls flat. Destined to go the way of 1 hour photo developing.

Comment submitted: 2/3/2020 (#5816)



By kenh


| | |
| --- | --- |
| Product Rating (out of 5): | |

I tried the All American scramble. I found it much too salty tasting.

Comment submitted: 1/23/2020 (#5810)



By BUC


| | |
| --- | --- |
| Product Rating (out of 5): | |

Great product but wish they would make them larger for at least 2 to 3 eggs. Taste great but need a larger breakfast.

Comment submitted: 9/1/2019 (#5769)



By Old Person


| | |
| --- | --- |
| Product Rating (out of 5): | |

We really like them. I am a cook but I'm also old and suffer from RA not lazy. Mornings are difficult for me. Sometimes I have breakfast at noon when I can cook. Older people need convenient food like this. I call it geezer food. I usually can manage one home cooked meal a day, this product is tasty and the right size for us and super easy.

Comment submitted: 8/12/2019 (#5766)



By TANOOKI


| | |
| --- | --- |
| Product Rating (out of 5): | |

This morning I just tried the 'Ultimate Scramble' and it was pretty tasty, maybe my microwave wasn't strong enough or something but the eggs were still a little runny after the suggested time, overall it tasted pretty great, it didn't really fill me up but it did give me a little boost and was very easy to make. Would recommend if your busy and need a quick breakfast!

Comment submitted: 7/28/2019 (#5764)



By Doppy

This product is stupid. Make your own eggs like a real grown-up.

Comment submitted: 7/27/2019 (#5763)



By Jeff


| | |
| --- | --- |
| Product Rating (out of 5): | |

I eat one of these every day for breakfast at work, I use 2 eggs though. I can understand some people want more flavor. The taste doesn't bother me at all. I'm in it for the protein and fat. I don't care about sodium or cholesterol as I am in decent shape and my body regulates that stuff just fine. I get mine for under $1 when they are on sale, I buy a bunch.

Comment submitted: 6/28/2019 (#5753)



By AngryBeagle


| | |
| --- | --- |
| Product Rating (out of 5): | |

Stuff is just plain nasty. Not nearly healthy enough for a person to consume.

Comment submitted: 6/23/2019 (#5751)



By Good4Me


| | |
| --- | --- |
| Product Rating (out of 5): | |

I discovered them while I was traveling. I have limited storage space and they work great for me. You don't have to put all of the ingredients in, so you can adjust the amount of sodium.

Comment submitted: 6/11/2019 (#5749)



By Kaylee


| | |
| --- | --- |
| Product Rating (out of 5): | |

I liked the ease if this product. Cooking times needed adjusting in my microwave. I did end up adding an extra egg which requires longer cooking time. I would recommend adding the cheese toward the end or it may get lost in the mix.

Comment submitted: 6/8/2019 (#5747)



By Consumer 101

Yup, 'just crack an egg' after you open three small plastic pods with the food, stir, microwave, explode in the microwave, stir, explode again, clean microwave while snack cools, put remaining plastic in trash.

Comment submitted: 5/23/2019 (#5744)



By nejpski


| | |
| --- | --- |
| Product Rating (out of 5): | |

Used 2 eggs... 90 seconds then scooped the contents into 2 flour tortillas and microwaved 15 seconds more. 2 Breakfast burritos! OLE! Will definitely purchase again!

Comment submitted: 5/20/2019 (#5743)



By Kristinapedia

My god America is lazy!!! You could literally make this in about 5 minutes with FRESH ingredients, and barely any sodium! Then you would taste the food and not the sodium! I post many of my meals on my Instagram and will be starting a blog soon. I eat clean and healthy. follow me! Kristinapedia on Instagram.

Comment submitted: 5/14/2019 (#5741)



By Chuck58


| | |
| --- | --- |
| Product Rating (out of 5): | |

In theory this is a very good idea. I use 2 eggs beated and mixed with the packets of meat, cheese, peppers. Microwave for one minute. Remove and stir, Microwave for 1 additional minute. One thing you cannot escape is the taste of microwaved eggs is awful.

Comment submitted: 5/11/2019 (#5740)



By James


| | |
| --- | --- |
| Product Rating (out of 5): | |

Why is everyone ignoring the fact that this is an Ore-Ida brand product and the potatoes taste raw. Also why don't they have a seasoning pack in them.

Comment submitted: 5/5/2019 (#5735)



By phoebe


| | |
| --- | --- |
| Product Rating (out of 5): | |

I just had the Ultimate Scramble and this is my third or forth one. They are just right for one large egg and very tasty. Did notice any molds but maybe always good idea to check and if moldy take back to place of purchase.

Comment submitted: 4/29/2019 (#5732)



By Terrific


| | |
| --- | --- |
| Product Rating (out of 5): | |

I have only eaten the All American and the Denver because that's all I can find in my stores, but I eat them regularly. For me, it's a perfect amount - like a mini-omelet. I just found a new veggie variety and the sausage one the other day and am looking forward to trying them.

Comment submitted: 4/22/2019 (#5729)



By Susan W


| | |
| --- | --- |
| Product Rating (out of 5): | |

I really like Just Crack an Egg products, but am concerned about the number of eggs I'm eating a week. Is it possible to substitute egg whites for a whole egg in preparation?

Comment submitted: 3/24/2019 (#5721)



By Davedabirder


| | |
| --- | --- |
| Product Rating (out of 5): | |

Very bland and way too expensive for what you get.

Comment submitted: 1/28/2019 (#5704)



By JoeFriday

As Joe Friday (Jack Webb of Dragnet fame) used to say: "Just the facts please."
1) Called Kraft Heinz on 01/17 to report mold on Sausage of Ultimate Scramble. Container Number XIS 22:32 expiration date Jan 28. Package No. 18303 11:51. I offered to send photo of mold. Agent Abraham said I would be promptly sent an email link to upload the photo. Email never arrived. Called back Monday - closed Federal Holiday. Called on Tuesday. Agent said he/she would send email link. Never arrived. I have a second Ultimate Scramble (unopened) that was produced right after the moldy one.

Comment submitted: 1/23/2019 (#5702)



By Mona


| | |
| --- | --- |
| Product Rating (out of 5): | |

These are just fine but do need to be microwaved longer than what the package says if you don't like runny eggs. I add pepper and they are pretty good.

Comment submitted: 1/22/2019 (#5701)



By Elistariel


| | |
| --- | --- |
| Product Rating (out of 5): | |

Tried the Ultimate Scramble. Had to cook it 30 seconds, 45 seconds it was still a bit runny, so I cooked it for another 45 seconds. The bowl was barely half full. So much wasted space. I can make a better omelet/scramble on my own, for cheaper. It's not worth the price for a regular basis. On vacation or traveling and don't wanna go out? It'd be fine then.

Comment submitted: 1/21/2019 (#5700)



By Vacationer


| | |
| --- | --- |
| Product Rating (out of 5): | |

For people who timeshare or do extended stays and end up in rooms with just a microwave and small refrigerator, these work perfectly -- and provide a nice alternative to cereal or oatmeal. Try them with two eggs and a pat of butter -- much better.

Comment submitted: 1/21/2019 (#5699)



By jellybean


| | |
| --- | --- |
| Product Rating (out of 5): | |

Nice for a quick snack, ready in about 2 minutes. I like the concept of adding fresh eggs versus eggs in a frozen breakfast bowl. A bit pricey though if their not on sale.

Comment submitted: 1/21/2019 (#5698)



By Dale


| | |
| --- | --- |
| Product Rating (out of 5): | |

This IS the worst product, from ANY category I have ever bought in my life! 1st, $2.50 for 5-6 teaspoonfuls of food?! And that price doesn't include the egg! Then, it's watery, tastes raw, and without a LOT of black pepper is almost tasteless! It fills about a THIRD of that entire tiny cup, including the egg! Good enough idea, but probably the WORST executed product I have ever bought. If they were a buck I'd never buy another one.

Comment submitted: 1/18/2019 (#5696)



By Picky eater


| | |
| --- | --- |
| Product Rating (out of 5): | |

A quick breakfast snack. Not a big portion. I have toast with it and I am fine.

Comment submitted: 1/16/2019 (#5694)



By Zorrogirl


| | |
| --- | --- |
| Product Rating (out of 5): | |

Really? Do we need another product laden with plastic that will end up in the ocean, because we are too lazy to scramble an egg in a reusable dish? These kind of products should no longer be manufactured. Given what our planet faces, this is shameful.

Comment submitted: 1/12/2019 (#5691)



By Carolyn


| | |
| --- | --- |
| Product Rating (out of 5): | |

I purchased 4 this week, only because they were on sale. Two were ok, third one had mold on some of the sausage and the 4th one was watery as if stuff had leaked out into the cup. The taste was so, so. Taking the second two back to the store. Will probably not purchase anymore. Will just continue with my usual routine of making a large casserole over the weekend and cutting it up into daily portions and putting in the freezer.

Comment submitted: 1/9/2019 (#5690)



By Old Man


| | |
| --- | --- |
| Product Rating (out of 5): | |

Kraft marketing department should have scheduled the debut of this product on April 1st.

Comment submitted: 1/6/2019 (#5687)



By Gigi


| | |
| --- | --- |
| Product Rating (out of 5): | |

I like it - rustic scramble. Wouldn't eat everyday. Great for a high protein snack or busy morning. I cooked 20 seconds longer each time and added pepper flakes. My concern is microwaving plastic - I try not to do that.

Comment submitted: 1/5/2019 (#5686)



By working girl


| | |
| --- | --- |
| Product Rating (out of 5): | |

I have tried both the Denver and Country scramble and thought they were very good. I hate to get up early enough to have breakfast before work so this is very simple to cook in the break room. I bought the cups while they were on sale, $1.99 so didn't feel it was a bad price.

Comment submitted: 11/28/2018 (#5680)



By doa70


| | |
| --- | --- |
| Product Rating (out of 5): | |

Both are very good and fantastic for throwing in my breakfast/lunch bag for the office. One of these plus a fruit cup and I'm good for a few hours until lunch. The Denver is probably a bit better than the American, but I still buy and enjoy both. Agreed there is a bit of an aftertaste, I believe it is a result of the packaging of the proteins. Not a big deal, sort of like the taste of smoked meats.

Comment submitted: 11/14/2018 (#5676)



By Cracker


| | |
| --- | --- |
| Product Rating (out of 5): | |

Container is too small for more than one egg. I had to clean my kitchen floor because of this product. When you try to stir it spills.

Comment submitted: 11/10/2018 (#5674)



By njlady11


| | |
| --- | --- |
| Product Rating (out of 5): | |

Nasty taste. Not worth the price.

Comment submitted: 11/3/2018 (#5672)



By Jaye


| | |
| --- | --- |
| Product Rating (out of 5): | |

I paid 3.69 for my Denver cup. The onions and pepper pack looked soggy which should have been first hint. The scramble was very watered down tasting and very bland. Nothing cheesy about it as others commented.

Comment submitted: 10/31/2018 (#5671)



By egghead


| | |
| --- | --- |
| Product Rating (out of 5): | |

I found this easy and quick to prepare when you compare it to dicing the ham, onions and potatoes separately. If you want 2 eggs just cook it all in a microwave safe bowl. I always do scrambled eggs in the microwave anyway. They come out fluffier.

Comment submitted: 10/16/2018 (#5670)



By Sugar Mom


| | |
| --- | --- |
| Product Rating (out of 5): | |

I found the taste very good. It is the price that will keep me from buying it on a regular basis. It was $1.50 on sale at Brookshires. Considering the amount of ingredients in the cup, I find it a bit pricey at regular price of $3. It was very simple to prepare. Great for college students or for people without cooking utensils.

Comment submitted: 9/14/2018 (#5660)



By Needs Flavor


| | |
| --- | --- |
| Product Rating (out of 5): | |

When I saw Just Crack an Egg I decided to give it a go. Preparation was very easy and foolproof, however it lacked flavor. I had to add hot sauce in order for it to taste okay. I will not be buying this again.

Comment submitted: 8/24/2018 (#5654)



By GreeleyGuy


| | |
| --- | --- |
| Product Rating (out of 5): | |

Icky texture in the raw-ish potatoes. Not convenient to take to work, since you'd have to tote a raw egg. Doesn't stack up to the Jimmy Dean competition. Nice to try out, but not likely to try again.

Comment submitted: 8/13/2018 (#5648)



By Eppy27

$2.49 is a bit pricey. Two bucks at Walmart if near by. Hard to order online as it is a refrigerated item. I substitute two portions of egg white liquid, following the instruction for cooking with two eggs. I also add one third cup of either diced onions or Pico de gallo. Makes a nice, easy clean up breakfast.

Comment submitted: 8/8/2018 (#5647)



By Mike V


| | |
| --- | --- |
| Product Rating (out of 5): | |

More plastic than food. You really don't have 10 minutes to make breakfast? Who microwaves eggs?

Comment submitted: 7/28/2018 (#5641)



By Crisco


| | |
| --- | --- |
| Product Rating (out of 5): | |

The price is better than having to purchase all of the ingredients, you just can't get quantities that small. I might microwave the potatoes a little, then add the egg and other ingredients. I added a little sour cream yesterday after cooking!

Comment submitted: 7/17/2018 (#5640)



By Pony Girl


| | |
| --- | --- |
| Product Rating (out of 5): | |

Love these products. So easy to make! Taste good. Plus sometimes I add extra ingredients, such as spinach or salsa. I also first add a little milk to the egg & whip before stirring in the other ingredients. This makes the egg more fluffy. I also add a tad of butter after the first 40 seconds of cooking & stir before cooking the next 40 seconds. The milk & butter make the scrambles taste more homemade. Great product. Thumbs up.

Comment submitted: 7/5/2018 (#5635)



By GNC


| | |
| --- | --- |
| Product Rating (out of 5): | |

For $2.49 seems way too much for $.50 worth of product. Flavor was not there. Better to make it yourself.

Comment submitted: 6/29/2018 (#5633)



By Felice


| | |
| --- | --- |
| Product Rating (out of 5): | |

I just tried the DENVER. Potatoes definitely taste raw. Overall, I felt it had a processed taste. Would probably not try again.

Comment submitted: 6/9/2018 (#5626)



By Lance


| | |
| --- | --- |
| Product Rating (out of 5): | |

Fabulous product. So popular in Greater Winston-Salem that it can be hard to find. There is nothing I do not like about it. I add foods to give variety - e.g., mushrooms.

Comment submitted: 5/29/2018 (#5622)



By Clapper


| | |
| --- | --- |
| Product Rating (out of 5): | |

I love the product but it's way too expensive.

Comment submitted: 5/23/2018 (#5615)



By Dee (SAT)


| | |
| --- | --- |
| Product Rating (out of 5): | |

I love this product! Very convenient for people on the go. Portions are packed separately in case you don't to include one or the other and great tasting! What I would like to see is a double portion for (add 2 eggs). But overall a great product. Very pleased! :)

Comment submitted: 5/8/2018 (#5612)



By liz

Why in the world would they not offer at least one flavor that vegetarians could eat?

Comment submitted: 5/4/2018 (#5609)



By Mnmcamp


| | |
| --- | --- |
| Product Rating (out of 5): | |

Really enjoy the Denver and Rustic. I tried adding two eggs and worked great. Just had to microwave for 1 minute, stir, then one more minute to cook the 3xtr@ egg. My problem now is that I canít find them anywhere now.

Comment submitted: 5/3/2018 (#5607)



By billpaish


| | |
| --- | --- |
| Product Rating (out of 5): | |

I'm 69 so my meals tend to be smaller. For me, the product is perfect. One egg, sort of a scrambled omelet and two pieces of toast. 40 sec, stir, 30 sec, stir is not too much work for a quick fairly healthy breakfast. My problem out here is, they sell out in one day at all the grocery stores. Publix warehouse is out, Winn Dixie sells out in hours.

Comment submitted: 4/26/2018 (#5605)



By Rain


| | |
| --- | --- |
| Product Rating (out of 5): | |

The egg seems runny when you follow the directions. Way too much money for serving size.

Comment submitted: 4/25/2018 (#5604)



By PatR


| | |
| --- | --- |
| Product Rating (out of 5): | |

Even with one egg, the finished product does not even fill half the cup. Paying about 2.50 for two tablespoons of the meat, two tablespoons of potatoes, two tablespoons of cheese, and supplying my own egg is an absolute ripoff. It does not fill me at all and wouldn't even as a snack. I do think it tastes alright, but due to the nature of the $$ ripoff, deeply disappointed with this product!

Comment submitted: 4/22/2018 (#5602)



By Riply


| | |
| --- | --- |
| Product Rating (out of 5): | |

Neither easy, nor economical. Paid about $2.50 each and it took 2 to satisfy my hunger. I could have made this myself with separate ingredients for far less $$. Bad idea that won't last a year.

Comment submitted: 4/7/2018 (#5595)



By EB


| | |
| --- | --- |
| Product Rating (out of 5): | |

I tried the rustic and Denver scrambles. Both were tasty and easy to prepare. The vegetables were a bit tasteless, so the 2nd time, I seasoned the veggie packet with salt and pepper before cooking... big improvement. I would recommend leaving out the potatoes... texture and flavor doesn't add to the meal.

Comment submitted: 4/3/2018 (#5594)



By Kjoyce


| | |
| --- | --- |
| Product Rating (out of 5): | |

Pretty good but 40 and 30 seconds isn't long enough. Had to keep going longer. Great for lazy people.

Comment submitted: 4/1/2018 (#5593)



By JohnA


| | |
| --- | --- |
| Product Rating (out of 5): | |

Awful. Followed instructions, potatoes are raw tasting, bacon is tough and egg is rubbery. Pass.

Comment submitted: 3/30/2018 (#5592)



By Hungryman


| | |
| --- | --- |
| Product Rating (out of 5): | |

The product name and commercials are misleading. Preparation involves more than just cracking an egg. Even your review leaves out the steps of microwaving 40 seconds stirring, microwaving again for 30 more seconds, then stirring again. But the cost and bit of work might be worth it if the product tasted good. It does not! I had the Rustic Scramble and it tasted awful! Really want an omelet in the morning but don't have time to prepare it? Dice the 3 or 4 ingredients the night before (or dice enough on Sunday to last the week.) Then mix and microwave in your own cup in the morning - you choose the serving size.

Comment submitted: 3/29/2018 (#5591)



By slymonkey


| | |
| --- | --- |
| Product Rating (out of 5): | |

It tastes as if most of the ingredients were not cooked properly. Definitely did not enjoy the bacon, and the potatoes were awful. Nice try but no thanks.

Comment submitted: 3/28/2018 (#5589)



By runt


| | |
| --- | --- |
| Product Rating (out of 5): | |

You only get a half cup for the price and for that I can cook a full course breakfast.

Comment submitted: 3/27/2018 (#5588)




---
Connect With Mr Breakfast:



Most Recent
Product Reviews: