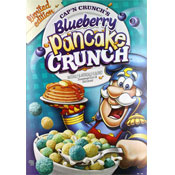 New Product Review:
Blueberry Pancake Crunch
From Quaker
Reviewed by Mr Breakfast on 2/15/2017
The idea of a blueberry pancake cereal is kind of exciting. On the front of this new cereal, Cap'n Crunch is holding pancakes speckled with blueberries that are topped with butter and dripping with maple syrup. Those are some breakfast flavors I can get behind.
Unfortunately, Cap'n Crunch's Blueberry Pancake Crunch doesn't deliver on the flavors its packaging suggests it might have. When you open the box, you'll notice a smell similar to blueberry pancakes or blueberry muffins. But that's where the excitement ends.
The blueberry flavor is extremely subtle. There might be a slight hint of maple flavor, but that's more likely a case of wishful thinking on my part. By the end of the bowl, the only flavor you're noticing is the flavor of traditional Cap'n Crunch - which is a terrific flavor, but not what you signed up for.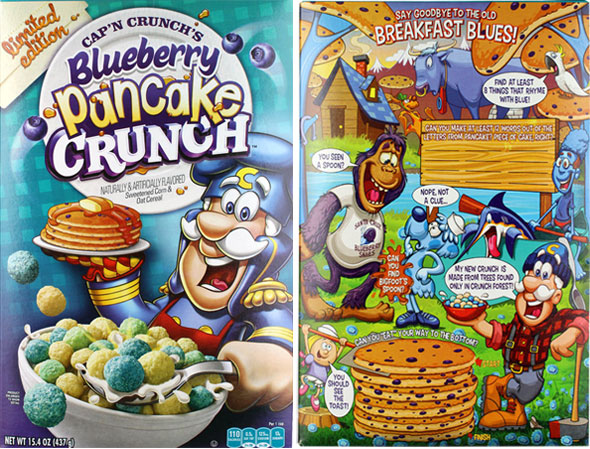 The cereal stays respectfully crunchy in milk for about 5 minutes. The milk doesn't take on any of the cereal's flavor.
Cap'n Crunch's Blueberry Pancake Crunch is a limited edition cereal. That's for the best. I won't miss it when it's gone. My recommendation: Skip it.
Each 1 cup serving of Blueberry Pancake Crunch has 110 calories, 1 gram total fat (0.5 grams saturated and 0 grams trans), 0 mg cholesterol, 125 mg sodium, 24 grams total carbs, less than 1 gram dietary fiber, 13 grams sugar and 1 gram protein.
The price we paid: $3.29
Comments About This Product Review
What do you think of Blueberry Pancake Crunch?

By hmart1832 (Team Breakfast Member)


| | |
| --- | --- |
| Product Rating (out of 5): | |

I love this cereal. It's literally the only kind I'll eat and now. It is off the shelves and I'm so disappointed now. Please bring it back to stores asap or tell me how I can order a case or 10 cases of it. Thanks.

Comment submitted: 4/11/2017 (#5486)



By Troy


| | |
| --- | --- |
| Product Rating (out of 5): | |

What!? Are you crazy!? This cereal after my first bite broke into my top 5!

Comment submitted: 3/22/2017 (#5480)





By Spacetiki (Team Breakfast Member)


| | |
| --- | --- |
| Product Rating (out of 5): | |

ADORE this and ALL the new Cap'n Crunch flavor cereals! THANX QUAKER! Keep 'em coming!

Comment submitted: 3/11/2017 (#5475)




---
Connect With Mr Breakfast: