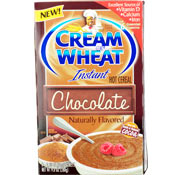 New Product Review:
Instant Chocolate Cream Of Wheat
From B & G Foods Inc.
Reviewed by Mr Breakfast on 11/26/2012
Cream of Wheat... you either love it or hate it. To many, the texture feels like a nondescript mush... like the soupy cousin of oatmeal. Those who love it were usually raised on it. Memories of cold mornings with hot cereal warm the cockles of their nostalgic hearts. (Incidentally, a cockle is a bivalve mollusc that has a passing resemblance to the ventricles of the human heart.)
Personally, I love Cream of Wheat, but I don't really like this variety of it.
When prepared, this hot cereal smells like hot chocolate, but it tastes more like uncooked brownie batter that's desperately in need of vanilla, more sugar and higher quality chocolate. On it's own, it's boring.
The way to better enjoy this product is alluded to on the box. Add some berries. I tried it once with raspberries and another time with maraschino cherries. In both cases, the bright flavors of the berries gave new life to the mundane chocolate flavor of the cereal.
With berries, I give this hot cereal a score of 4 out of 7. Without berries, it gets a lowly 3.
One note on preparation: I had to microwave my Chocolate Cream of Wheat 20 more seconds than the package suggested. As directed, I ended up with bowl of half mush and half broth. A quick stir and 20 more seconds gave better results.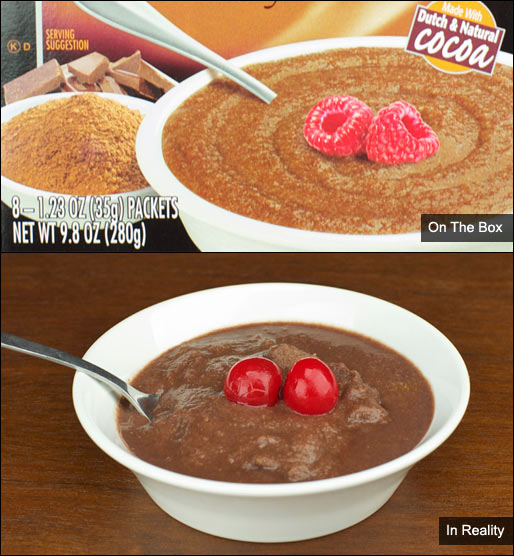 Nutritional Considerations:
Each single packet serving has 130 calories, 1 gram total fat (0 saturated and 0 trans), 28 grams total carbs, 1 gram dietary fiber, 14 grams sugar and 2 grams protein.
The price we paid: $2.99
Comments About This Product Review
What do you think of Instant Chocolate Cream Of Wheat?
By K.T.


| | |
| --- | --- |
| Product Rating (out of 5): | |

I bought this and liked it. The only problem with Cream of Wheat is you have to add enough water or it becomes like glue. I would buy this again.

Comment submitted: 11/10/2019 (#5786)



By Zumaview


| | |
| --- | --- |
| Product Rating (out of 5): | |

It's really good with a tablespoon of peanut butter mixed in after it's cooked.

Comment submitted: 6/6/2015 (#5266)



By N.M. Guy

I love it but can no longer find it stores? How can I order to buy it?

Comment submitted: 12/13/2014 (#5159)



By Christine


| | |
| --- | --- |
| Product Rating (out of 5): | |

Loved it! The Cream of Wheat had the distinct taste of Hershey's chocolate. My only complaint is that this variety of Cream of Wheat is too hard to find.

Comment submitted: 9/21/2014 (#5104)



By Missy

If it tastes anything like CoCo Wheats (gross), then I'll never try it.

Comment submitted: 12/26/2012 (#3559)



By amsutton


| | |
| --- | --- |
| Product Rating (out of 5): | |

You are right about the nostalgic comment. We used to eat Cream of Wheat as kids with spaghetti sauce and Parmesan cheese on top. It was kind of a polenta replacement. I am not wild about chocolate in some of my breakfast products. I would love to see what you think of the chocolate oatmeal made by Better Oats.

Comment submitted: 12/10/2012 (#3540)




---
Connect With Mr Breakfast:



Most Recent
Product Reviews: