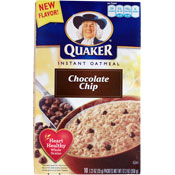 New Product Review:
Chocolate Chip Oatmeal
From Quaker
Reviewed by Mr Breakfast on 1/17/2012
Pretty good stuff. The chocolate chip pieces don't make a very big visual impact (they look like a few random specks), but they do effect the overall flavor quite a bit.
To get the most out of this product, let the cooked oatmeal rest a few seconds and then stir it up. The chocolate distributes and those tiny specks turn into melted streaks of chocolate giving the product a more uniform flavor, while still providing the surprise of a few bites with more chocolate.
This oatmeal tastes more chocolatey than sugary, but be aware that it has 8 grams of sugar per serving. If that's a concern, there are several instant oatmeal varieties available with less then 3 grams of sugar and much more fiber.
Personally, I found 1/3 cup water per packet (as the directions state) made the oatmeal a little too soupy. I'd recommend closer to 1/4 cup.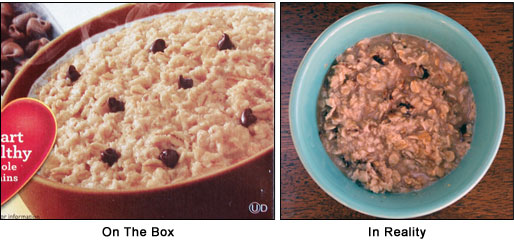 Nutritional Considerations:
Each single packet serving has 130 calories, 2 grams total fat (0 saturated and 0 trans), 0 mg cholesterol, 150 mg sodium, 2 grams dietary fiber, 8 grams sugars and 3 grams protein. The first three ingredients listed on the side panel are whole grain oats, sugar and semi-sweet chocolate chips.
The price we paid: $2.49
Comments About This Product Review
What do you think of Chocolate Chip Oatmeal?
By Christine


| | |
| --- | --- |
| Product Rating (out of 5): | |

Very good. The chocolate flavor is apparent without being overpowering. One-third cup of water works if you give the oatmeal an extra 15 seconds in the microwave, and make sure to stir well at the end.

Comment submitted: 9/21/2014 (#5103)





By instaddicted (Team Breakfast Member)


| | |
| --- | --- |
| Product Rating (out of 5): | |

I'll have to try it again the way you recommended it. Because when I tried it I couldn't taste the chocolate at all!

Comment submitted: 8/16/2012 (#3213)





By cerealfanatic (Team Breakfast Member)


| | |
| --- | --- |
| Product Rating (out of 5): | |

This became my favorite kind of oatmeal after the first bite, and since then its the only kind I've eaten. I love chocolate, and the fact that:-) this stuff has real, melty chocolate makes it the ultimate breakfast. I only like oatmeal when its made with milk, which supposedly gives it a richer taste. You can take that into consideration when I say this oatmeal is really truly delicious.

Comment submitted: 6/14/2012 (#3149)





By WafflesRock (Team Breakfast Member)


| | |
| --- | --- |
| Product Rating (out of 5): | |

I agree that this is a pretty good product. To me it tasted exactly like a chocolate chip cookie in oatmeal form. Mr. Breakfast is right about letting it sit for a moment as well as about adding a little less water than it calls for. Overall, this chocolate chip flavor is not mind-blowing, but it's a nice addition to the Quaker line.

Comment submitted: 1/18/2012 (#2976)




---
Connect With Mr Breakfast: