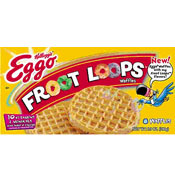 New Product Review:
Eggo Froot Loops Waffles
From Kellogg's
Reviewed by Mr Breakfast on 11/16/2003
Eggo
®
Froot Loops
TM
Waffles taste just as you might expect... Eggos with a strong shot of Froot Loops flavor. Like the plain variety, they are fine for a quick toaster breakfast, but if they were served to you in a restaurant, you probably wouldn't order them again.
There's really nothing special about them.
The biggest problem I had with the Froot Loops waffles was
what to put on top of them
. I tried a simple pat of butter. That was okay... maybe a little boring. I tried maple syrup and that was a failure. Strawberry jam worked but seemed to conceal the Froot flavor. I finally hit pay dirt with
a smattering of butter and a slathering of applesauce
. That combination made the waffle feel complete and seemed to accentuate the Froot flavor rather than hide it.
All in all, I enjoyed my Froot Loops waffles
-- maybe because they made my kitchen smell fresh more than anything. I suppose the major question I have to answer is if I would "Let go my Eggo". To which I have to say, I would not fight too hard. It's not like it's my wallet.
The price we paid: $2.59
Comments About This Product Review
What do you think of Eggo Froot Loops Waffles?
By kass


| | |
| --- | --- |
| Product Rating (out of 5): | |

Bring these back! Every time I have an Eggo waffle, I think about these and want them so bad!

Comment submitted: 9/7/2015 (#5310)



By nesha


| | |
| --- | --- |
| Product Rating (out of 5): | |

To this day, I still miss Fruit Loop waffles. They have always and will always be my favorite.

Comment submitted: 9/2/2015 (#5305)



By Kid Favorite

I was a kid when these came out - and by God, they were amazing! I have been looking for them ever since. I say we sign a petition and get these back.

Comment submitted: 9/30/2014 (#5114)



By JD


| | |
| --- | --- |
| Product Rating (out of 5): | |

Make your own Froot Loop Waffles: Crunch up Froot Loops and mix them in the batter you use to make fresh waffles. I use peanut butter maple syrup with them.

Comment submitted: 9/23/2012 (#3232)



By Mikael:)


| | |
| --- | --- |
| Product Rating (out of 5): | |

I want to have the Eggo Froot Loops Waffles in Quebec city.

Comment submitted: 8/18/2012 (#3216)



By Elle


| | |
| --- | --- |
| Product Rating (out of 5): | |

Do they still sell these waffles in stores?

Comment submitted: 1/26/2012 (#2988)



By zip-o


| | |
| --- | --- |
| Product Rating (out of 5): | |

Yummy love them!

Comment submitted: 2/22/2011 (#2742)



By westways


| | |
| --- | --- |
| Product Rating (out of 5): | |

What are you talking about... Fruit Loop Waffles are my favorite. I am 11 years old. Fruit Loop Waffles were in stores when I was 3 years old. They are still my favorite waffles even though I forgot how they taste like. I can still remember the smell.

Comment submitted: 12/29/2008 (#1345)



By JD


| | |
| --- | --- |
| Product Rating (out of 5): | |

I want my Froot Loop waffles!

Comment submitted: 9/5/2007 (#651)



By WafflesRock


| | |
| --- | --- |
| Product Rating (out of 5): | |

When I was toasting these Froot Loop flavored waffles in the toaster they smelled really fruity and delicious. However, I was a little disappointed when I tasted them. There was hardly any fruit flavor to them. I like the strawberry flavor much better. They seem to pack more of a fruity punch.

Comment submitted: 1/10/2007 (#220)




---
Connect With Mr Breakfast:



Most Recent
Product Reviews: