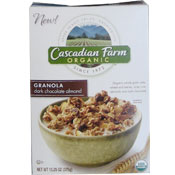 New Product Review:
Dark Chocolate Almond Granola
From Cascadian Farm
Reviewed by Mr Breakfast on 9/18/2008
This is a decent granola cereal... but it's not great. The biggest plus factor for many will be the fact that it stays fairly crunchy in milk long after many similar cereals would get soggy.
This cereal also has some nice sized granola clusters. The chocolate in the cereal also flavors the milk, so you get a pleasant bonus flavor there.
What I didn't care for was the a slightly burnt and bitter aspect to the chocolate. I can still taste it a little 10 minutes after having eaten the cereal. The almonds in the cereal have very little impact on the overall flavor. Plus, the entire cereal seems a little too sweet.
It's almost as if the taste of sugar dominates the other flavors in the cereal, making me wonder if I'd appreciate the individual elements of the cereal more if they weren't overwhelmed with sweetness.
Cascadian Farm introduced a Fruit And Nut Granola at the same time as this cereal. The Fruit And Nut version is a little bit better (
read about it here
).
The price we paid: $3.49
Comments About This Product Review
What do you think of Dark Chocolate Almond Granola?

By granolagirl (Team Breakfast Member)


| | |
| --- | --- |
| Product Rating (out of 5): | |

Mr. Breakfast, I'm surprised at you!! I just found your site, which is the BEST site EVER!!! I never thought there could be someone as obsessed about breakfast and trying new products as me. I mostly agree with all of your reviews (of the ones I know..."thanks" for more ammo to try new stuff), except this one!!!! This granola is really good!!! I do agree with Katie - the crap should cost more... more money for fake, chemical, processed "food." Doesn't make sense that more natural, unprocessed food should cost more... kind of redundant, no??? Cheaper to go pick an apple than "create" Apple Jacks????

Comment submitted: 8/3/2010 (#2452)





By leprican_katie (Team Breakfast Member)


| | |
| --- | --- |
| Product Rating (out of 5): | |

I mostly agree. Good for snacking. A little plain tasting with milk. For the price, not that great. My grocery store divides their cereals into a major brand section and a more-healthy section and almost all the healthy ones are way more price. It really sucks that that you have to pay more to eat healthier. Unfair.

Comment submitted: 10/2/2008 (#1241)




---
Connect With Mr Breakfast: