Cereals from
Udi's Handcrafted Foods

Udi's Foods was founded by Udi Baron (a former Israeli economist) who launched Udi the Sandwichman in 1996 with the help of his wife and family. Udi's Foods also operates a sandwich catering business, a bread bakery, a pastry shop, and two restaurants, all in Denver, Colorado.
The following description is from the company's website at udisfood.com.
At Udi's Handcrafted Foods, we believe food made with joy is a joy to eat. We're a small, Denver-based company of passionate people, committed to bringing the best of what we do to the community we love so much.

So whether you're feasting on one of our catered lunches with a dozen of your closest co-workers, at home sharing a loaf of our artisan-baked bread with your favorite significant other, or celebrating a Sunday brunch with family and friends at Udi's Bread Bistro at Stapleton, we hope the experience of eating our food is as joyful for you as making it was for us.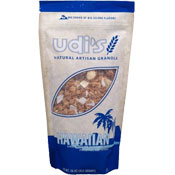 Cereal Spotlight:
Udi's Hawaiian Granola Cereal
Introduced in 2006
This granola gets it's Hawaiian flavor from ginger-toasted macadamias, pineapple, and coconut. According to the company, "you can feel the warm sunshine in each bite...
Read More
More Udi's Handcrafted Foods Cereals:
For more about Udi's Handcrafted Foods, visit their
official website
.