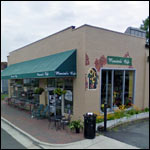 Mancini's Cafe and Bakery
1508 Mt. Vernon Avenue
Alexandria, VA 22301
Average Overall Rating:

Average Coffee Refill Rating:

Average Expense Rating:

Reviews
Total submitted:
9
.
Review by:
milliepearl
on 8/16/2010
| | |
| --- | --- |
| Coffee Refill Rating: | |
| | |
| --- | --- |
| Expense Rating: | |
Our family loves this place. Oh sure it can get a bit crazy on weekends, but the food is always fresh and homemade, like I would make it, if I wanted to cook. Thank goodness for Mancini's, otherwise my family would not get to eat on the weekends! They have a regular menu, which in my book is quite reasonable, eggs all kinds, pancakes, french toast, breakfast sandwiches, but it's the specials..over 20 of them each weekend, where they really shine. Different types of egg benedicts, omelets, french toast specials, with all sorts of fruit toppings, compound butters. Yummy. Egg whites are readily available for an extra fee, but I don't mind. And the coffee.. I don't know what other people are talking about here, we come nearly every weekend... Coffee is self-serve,and I do help myself to a refill or two. I am sure there are people that abuse the system, after all this is an independently owned business, so I am sure they watch their pennies. The pastries are all home made here, I have gotten birthday cakes here and they are to die for! Lots of weekend action. Can get crowded, but then, who wants to go to an empty restaurant?
Award Nomination:
Best Breakfast Ever
Review #20771
Review by: MrBreakfast.com Visitor on 5/30/2010
| | |
| --- | --- |
| Overall Rating: | |
| | |
| --- | --- |
| Coffee Refill Rating: | |
| | |
| --- | --- |
| Expense Rating: | |
I've been eating at Mancini's off and on for 2+ years now. Generally the food has been pretty good - above average for this area. However I've endured the rude comments and shoddy service from the owner and employees for most of this time. She has 100 signs up all over the place "One refill on coffee. No strollers inside." On my most recent and most likely LAST visit here she had a sign informing guests the A/C was broken and her contractor had informed her it would be some time until it could be fixed. Of course this note was not on the door as you come in but above the cofee station that you only see AFTER you have ordered and paid.
While the coffee is good, the one refill policy is stingy.
On this visit my food was poorly cooked - tough pancakes that were burned on one side and rubbery eggs. While I give the owner snaps for her interesting take on breakfast classics, the attitude, service, and the inability to provide consistent quality (and not to mention the fact she lets her 2 dogs run around the kitchen and restaurant all of the time) have caused me to "86" this place.
Award Nomination:
Worst Service
Review #20166
Review by:
babykakes
on 1/27/2010
| | |
| --- | --- |
| Coffee Refill Rating: | |
| | |
| --- | --- |
| Expense Rating: | |
Just love this place. Great comfort food, homey atmosphere,fun staff. Food is fresh, plenty to eat and to share, never leave hungry. Coffee is premium, along with espresso drinks. Fresh OJ on weekends. The unusual breakfast fare..chocolate waffles; buckwheat pancakes; French toast so many ways,and eggs..OMG, so many to choose from. Specials change weekly,which keeps me coming back for more. Usual breakfast food such as sandwiches, omelets, etc, but I go for the specials..and the Pastries!
Award Nomination:
Best Breakfast Ever
Review #19152
Review by:
halfpint
on 11/14/2009
| | |
| --- | --- |
| Coffee Refill Rating: | |
| | |
| --- | --- |
| Expense Rating: | |
Great place. Clean, friendly service. Love going there almost daily for my java fix and scones. Yummy stuff. Some customers can be down right picky and prickly. This place is a gem. Homesick for good cooking, this is the place to go.
Award Nomination:
Most Comfortable
Review #18555
Review by:
mrxmrvlous
on 11/8/2009
| | |
| --- | --- |
| Overall Rating: | |
| | |
| --- | --- |
| Coffee Refill Rating: | |
| | |
| --- | --- |
| Expense Rating: | |
Food is just fine, but proprietor is downright mean and unsanitary. On a 45 degree day where the dining room was about 65 degrees (needed to wear coats while eating near the door- i can live with that), she opened the front door as she saw our 2 year old was cold, and bit our heads off when we went to close it. Also, all three times I went there, her dogs were hanging out in the kitchen. I like dogs as much as the next person, but not in a restaurant's kitchen. We are breakfast lovers, and this place would have been a perfect regular place as it is right down the block, but they lost our weekend and weekday visit.
Award Nomination:
Hugest Dump
Review #18495
Review by:
lucybe
on 5/1/2009
| | |
| --- | --- |
| Coffee Refill Rating: | |
| | |
| --- | --- |
| Expense Rating: | |
Love the place. Going there on 12 years now. Crazy, but in a really good way. Love the food. All fresh, inventive with good old standbys. busy which means good in my book. No one bothers me, which I like. If I want something, i just get it. More coffee? Just help yourself. I love all the variety of benedicts they have each weekend. Oh, and I love, love the french toast.
Award Nomination:
Most Comfortable
Review #16910
Review by:
Standley Clan
on 4/11/2009
| | |
| --- | --- |
| Coffee Refill Rating: | |
| | |
| --- | --- |
| Expense Rating: | |
Thumps up for the atmosphere and neighborhood charm but the the service was a little like a "Sinfield Soup Natzi episode." You stand in line, place your order, tip up front and then compete for a table. Nice family and neighborhood type feeling but the breakfast potatoes were not good. However, the Mediteranian Omlete made up for it. Cute neighborhood with antique shops next door. No doubt, independantly owned.
Review #16756
Review by:
mr. bop
on 3/6/2009
| | |
| --- | --- |
| Coffee Refill Rating: | |
| | |
| --- | --- |
| Expense Rating: | |
A hidden gem in the middle of Del Ray. Home cooking, lots to choose from, eggs cooked very good in my book. Really busy on weekends, friendly atmosphere, the pastries are excellent as well, but we go primarily for the breakfast fare. Old fashion goodies as well and up to date versions of breakfast. Go you wont be disappointed.
Review #16429
Review by:
babbles
on 3/14/2008
| | |
| --- | --- |
| Coffee Refill Rating: | |
| | |
| --- | --- |
| Expense Rating: | |
Just about the best breakfast in town. Weekends are the best with their regular menu and over 20 specials which change weekly. The creativity in their omelets, eggs, Mexi-dishes are over the top. Everything is house made, some old fashioned favorites such as buckwheat pancakes, and many type of benedicts to choose from. Twists on traditional favorites too. Fun, lively place. Packed on weekends so get their early. Parking on site, and don't forget to check out the pastry case. Unbelieveable!
Award Nomination:
Best Breakfast Ever
Review #13056
Connect With Mr Breakfast:



Reviews submitted here are meant to pertain to breakfast only. While Mr Breakfast cannot vouch for the validity of each restaurant review, he feels pretty good vouching for the excellent character of the residents of Alexandria, Virginia - who are primarily responsible for the review(s) you see above for Mancini's Cafe and Bakery.