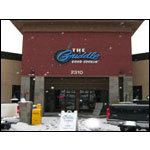 2310 E. Overland Rd.
(1/4 mile west of Eagle Rd.)
Average Overall Rating:

Average Coffee Refill Rating:

Average Expense Rating:

Reviews
Total submitted:
13
.
Review by:
Nikosdad
on 3/9/2017
| | |
| --- | --- |
| Coffee Refill Rating: | |
| | |
| --- | --- |
| Expense Rating: | |
Always a treat to go to The Griddle and amazing breakfast or early lunch the only issue I have ever had is Services 50/50 sometimes there are the best servers and most attentive there is however the other half the time you are waiting and waiting and waiting and waiting and waiting and waiting and ignored with that being said it is a great place to have a good meal and enjoy a company such as meeting of friends family but you don't see too often gives you a good atmosphere to catch up talk and enjoying and time together
Award Nomination:
Best Breakfast Ever
Review #25459
Review by:
ChicaEliza
on 10/12/2010
| | |
| --- | --- |
| Coffee Refill Rating: | Doesn't Apply |
| | |
| --- | --- |
| Expense Rating: | |
I really like eating at "The Griddle" but because it is the most expensive place I have been for breakfast we only go there for a special occasions.
They have AMAZING FOOD AND BEVERAGES.The cost for breakfast is around $10.If you order fresh squeezed drinks or mochas they don't advise you no refills and you pay full price for a refill.There Fresh Orange juice is really good but it comes in a really small glass and it is $3 no refills.There mochas are also really good and a small mug for about $4.They do make almost everything home made though so that does make the food really good. I love there apple pancakes.If they gave you a tall glass of orange juice it would improve the price by far.The waiter that we had wasn't friendly and didn't check in on us we had to flag him down if we needed anything.When we went it was 11am on a Wend there wasn't that many customers. They defiantly could make a few changes to there customer service and the pricing of there drinks and I would go more often.
Award Nomination:
Best Breakfast Ever
Review #21293
Review by: MrBreakfast.com Visitor on 5/23/2010
| | |
| --- | --- |
| Overall Rating: | |
| | |
| --- | --- |
| Coffee Refill Rating: | Doesn't Apply |
| | |
| --- | --- |
| Expense Rating: | |
My husband and I have wanted to try this place for a couple of years now. The hasbrowns were prepackaged with no flavor, partially burnt. My eggs were RAW and runny! I lost my appetite after I used my fork to cut my egg and goobery, snotty, clear, uncooked egg squished out onto my plate. The waitress took my plate, scraped the eggs off and wanted to know if I wanted to finish the rest of my meal. I told her no. The owner or manager did not come to our table to rectify the situation. As I waited for my husband to choke down his omlet, i noticed large black pieces of unknown substance INSIDE the salt shaker. The entire staff including the owner were making fun of me and laughing at my expense over returning the eggs. The waitress brought our ticket and charged us for the full meal. We paid. I called and spoke with the owner as she proceeded to YELL at me, not letting me get a word in, telling me my meal was cooked properly and that their laughing at me was to relieve stress at the end of the day. She continued to yell and scream at me when I told her the service was appauling, telling me that her husband has been doing this for 40 years and knows how to cook eggs perfectly. I will be filling a formal complaint with the BBB and the Health Department...hopefully I don't get simonella.
Award Nomination:
Worst Service
Review #20110
Review by: MrBreakfast.com Visitor on 10/7/2009
| | |
| --- | --- |
| Overall Rating: | |
| | |
| --- | --- |
| Coffee Refill Rating: | |
| | |
| --- | --- |
| Expense Rating: | |
I took a guest and my son to breakfast this past Saturday, it wasn't busy a lot of "help" available though.
We were greeted and served drinks promptly but after that there wasn't anything good about good cooking at The Griddle.
It took forever to get the food, the eggs were cold, the omelet was barley warm, the pancakes were tough, the hashbrown barely cooked.
For the three of us the bill was $37.11. :o:o
when asked how things were after sending items back I commented fair, I was being fair to my company---she didn't say/ask anything.
I could understand if it was slammed but there was plenty of staff...cold food is never acceptable. For the price--the quality (lack there of) and ambiance isn't worth going.
Award Nomination:
Biggest Ripoff
Review #18233
Review by:
Mrfamilyman
on 7/25/2009
| | |
| --- | --- |
| Overall Rating: | |
| | |
| --- | --- |
| Coffee Refill Rating: | |
| | |
| --- | --- |
| Expense Rating: | |
This is our first time out the Griddle since it replaced the Orignal pancake house, which had been our favorite breakfast spot.
The place was nearly empty, but apparently the servers had other things to do, because it took 15 minutes before anyone even acknowledged that we existed.
My wife loves biscuits and gravy, so she ordered that and was unpleasently suprised; they were completely tasteless.
I was adventurous and tried the poached eggs benedict on crab cakes, something I looked forward to because I love crab cakes. However, when I got it, the entire dish was soaked in lemon juice so I was unable to tell what either could taste like. The "breakfast potatoes" are portayed as being some kind of home cooked potatoe dish, but they turned out to be packaged hash browns, fairly burnt with no attmept made to season them at all.
The execution of our meals seemd to follow no rhyme or reason, some of it cold, some of it burnt; all of it horribly gone bad.
Deinfately not worth the time or the money. My wife made the comment that she wanted to try it out on her one "bad day" that she goes off her diet each week, but that now that she finished the meal, she wished she could just purge the whole thing.
Coming back? Nope, not ever, not even if you paid me.
Award Nomination:
Biggest Ripoff
Review #17550
Review by: MrBreakfast.com Visitor on 1/22/2009
| | |
| --- | --- |
| Coffee Refill Rating: | |
| | |
| --- | --- |
| Expense Rating: | |
this was a very nice place i made my first visit last week after hearing about it on the radio. and the people were very nice and the mushroom crepe was awsome. where else can you find savory mushroom crepes. we will be back for sure!
Award Nomination:
Best Breakfast Ever
Review #16011
Review by: MrBreakfast.com Visitor on 1/19/2009
| | |
| --- | --- |
| Coffee Refill Rating: | |
| | |
| --- | --- |
| Expense Rating: | |
as a long time customer of the griddle (since the opening of the idaho griddle) i have been into the griddle several time and every time it is a short time before i am greeted seated and served a hot cup of coffee that is never empty even when i leave.. the service is incredible and the staff is alway friendly. the food is always great even if i dont have a fork until my food arrives at least i know its clean. as its so hot its hard to hold lol. anyways back to the food its awsome by far the best in town.. i will be the first one in line at their new location in eagle as i have heard they are taking over the original pancake house building. which is no suprise because the food and service at that place has always been so-so not so great. the griddle should do good there with their great staff and awesome food..
keep up the good work..
Award Nomination:
Best Service
Review #15988
Review by:
skeettrap
on 10/6/2008
| | |
| --- | --- |
| Overall Rating: | |
| | |
| --- | --- |
| Coffee Refill Rating: | |
| | |
| --- | --- |
| Expense Rating: | |
Took the entire family out for a late breakfast. I watched 3 out of our 4 orders sit for over 10 minutes. Finally, they brought the 3 orders to our table. Both of my daughters orders (waffle and biscuits and gravy) were ice cold. When we mentioned this they took the waffle and microwaved it which made it worse. The final entree arrived 15 minutes later and was quiche that had been microwaved so the pastry was like rubber. My husband then told our server the problems and she said sorry. He asked for a manager and was told they were in the back. We will not be going back.
Review #15034
Review by: MrBreakfast.com Visitor on 8/24/2008
| | |
| --- | --- |
| Overall Rating: | |
| | |
| --- | --- |
| Coffee Refill Rating: | |
| | |
| --- | --- |
| Expense Rating: | |
My mouth had been watering for waffles and eggs for a few days now. I had some time to kill before a movie and thought I'd try The Griddle. Big mistake. The eggs, ordered over medium, were hard as rocks and the waffle, slightly undercooked was the size of a pancake (approx. 6-7")and definately under a half inch thick. A slice of ham was so-so. I could have lived with that but the price for this disaster was over 10.00. This was the worst meal I've ever been served for the price. This was my first and LAST experience with this restaurant.
Review #14637
Review by: MrBreakfast.com Visitor on 7/23/2008
| | |
| --- | --- |
| Coffee Refill Rating: | |
| | |
| --- | --- |
| Expense Rating: | |
Excellent food, but service was sketchy and that would affect any rating. Owner/manager would be money ahead to add staff since some folks will not try a second time if service is poor (we such a drive-through, immediate gratification society).
Excellent crab benedict dish--shared with a friend, more than enough food for two.
Review #14326
Review by:
bertjohnson
on 4/9/2008
| | |
| --- | --- |
| Coffee Refill Rating: | |
| | |
| --- | --- |
| Expense Rating: | |
An OK place for Breakfast or Lunch. Standard fare. No specialties to go out of the way for. The standard, for which all unhealthy, high fat breakfasts are rated by, the Chicken Fried Steak, boring. A plain bare-bones Strip Mall location with no ambience. But after breakfast, if you need to "just happen to be next to the Harley Dealership", this is the place.
Review #13313
Review by: MrBreakfast.com Visitor on 8/30/2007
| | |
| --- | --- |
| Coffee Refill Rating: | |
| | |
| --- | --- |
| Expense Rating: | |
Three of us had breakfast recently at this hip, yet old-fashioned diner. Between the three of us, we had coffee, hot tea, orange-cranberry muffins, eggs benedict, the 'wrap' special, and the Caribbean french toast. We found everything very tasty. The french toast was amazing, with toasted coconut liberally sprinkled on both sides of the toast. Our server was genuine and very friendly. Refills kept coming. The restaurant was not very busy at the time of our visit--8:45am on a Thursday. All in all, a superb meal.
Review #11243
Review by:
ajcarl
on 6/12/2007
| | |
| --- | --- |
| Coffee Refill Rating: | |
| | |
| --- | --- |
| Expense Rating: | |
The commercials on the radio say, "If you haven't eaten at the Griddle, you haven't had breakfast." I was there the day it opened and there were lots of employees. (I tried it again a couple weeks later too) The coffee was bitter, not my type, and every time I took a sip someone was there with a pot to mess up my cream/splenda ratio! Griddle items are a specialty--pancakes, sausage, bacon, etc. The omelettes look pretty good too. I tried the Chicken Fried Steak & eggs that my waitress recommended. It cost $10.50, while the same identical plate with no meat was $5.50. So I expected a pretty good slab of meat for my $5. I was disappointed here. It was hand breaded, but needed to be pounded thinner and the gravy was very dull (I added tabasco). It is ok overall but not good. They put the CFS on top of the gravy not the other way around--something they only do in this part of the country?
I understand that the Griddle has a location in Nevada that is midway between Boise and Reno, and many Idahoans have been asking them to build one here. Stick with griddle items/omelettes. And the fresh squeezed juice is great. A machine squeezes oranges in front of you--kids were all around watching. I admit it was fun. For my money, this is just a step above Denny's and the like. I guess it's pretty bad when I long for a Waffle House (none here in ID). There are many better choices. I would personally advise them to check out the Original Pancake House when it opens about 10 miles up the road in Star next month. THAT will teach them about what breakfast is!
Review #10586
Connect With Mr Breakfast:



Reviews submitted here are meant to pertain to breakfast only. While Mr Breakfast cannot vouch for the validity of each restaurant review, he feels pretty good vouching for the excellent character of the residents of Meridian, Idaho - who are primarily responsible for the review(s) you see above for The Griddle.