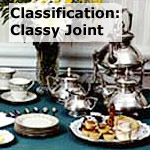 4105 Hillsboro Pike
Green Hills
Average Overall Rating:

Average Coffee Refill Rating:

Average Expense Rating:

Reviews
Total submitted:
3
.
Review by:
mikomi
on 8/17/2007
| | |
| --- | --- |
| Overall Rating: | |
| | |
| --- | --- |
| Coffee Refill Rating: | Doesn't Apply |
| | |
| --- | --- |
| Expense Rating: | |
I agree with the stupidity of two lines. As for the service being rude....it would be hard not to be if you worked under the conditions they put up with. My significant other is working at Bread and Company right now and I know all about what goes on behind the scenes. The employees are treated extremely unprofessionally. The turnover rate is 90% is the first 6 weeks and the company looks to temp agencies to fill in the blanks who are then seen as "more expendable". My SO has been accused of thievery and being an alcoholic since he started working there. He is certainly neither of those things. In fact, he goes out of his way to make sure customers are taken care of, to the point of giving food away. So as far as I'm concerned about the place, if you have a care for your fellow human being, eat somewhere else. The food is not so unique you can't get it anywhere else. If you just have to eat there, be patient with the sales associates. They're probably having a hard day. Yeah, they're there to serve you, but they're only human.
Review #11136
Review by:
freshiebeth
on 8/22/2005
| | |
| --- | --- |
| Overall Rating: | |
| | |
| --- | --- |
| Coffee Refill Rating: | |
| | |
| --- | --- |
| Expense Rating: | |
Don't get me wrong - I love the food at Bread and Company. Maybe I'm still bitter that they quit making their awesome tomato/basil focaccia. But their system stinks - you have to wait in line (forever) for your food, then you have to wait in line again to pay! You would think they could have consolodated the two by now. The food is also a little overpriced.
The place is always packed, which makes it all the more frustrating because there is nowhere to sit, they don't bus tables fast enough, so it feels a little dirty, there are always flies, and the service is RUDE!!! I have experienced rude service at every location thus far and each time I eat there I swear I won't do it again but the food keeps me coming back... occasionally. I've learned the secret, though - go around 3 or 4 in the afternoon and it's much easier.
Award Nomination:
Worst Service
Review #5746
Review by:
countedmund
on 5/6/2005
| | |
| --- | --- |
| Coffee Refill Rating: | |
| | |
| --- | --- |
| Expense Rating: | |
Good breads, good coffee, served up with a side of pretention.
Review #4957
Connect With Mr Breakfast:



Reviews submitted here are meant to pertain to breakfast only. While Mr Breakfast cannot vouch for the validity of each restaurant review, he feels pretty good vouching for the excellent character of the residents of Nashville, Tennessee - who are primarily responsible for the review(s) you see above for Bread and Company.

All you need to know. The basics and beyond!
Click here
.