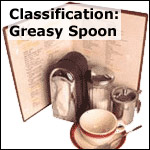 2323 Wilshire Boulevard
Average Overall Rating:

Average Coffee Refill Rating:

Average Expense Rating:

Reviews
Total submitted:
3
.
Review by: MrBreakfast.com Visitor on 2/22/2007
| | |
| --- | --- |
| Coffee Refill Rating: | |
| | |
| --- | --- |
| Expense Rating: | |
I love the Snug because it is really cute and a great place to "fuel up" late Sunday morning.
My boyfriend craves their hash browns and Philly Cheese Steak, but I like their burgers.
The Snug would be my favorite breakfast venue except it is right next door to AWESOME Bread and Porridge.
If you can't get into Bread and Porridge then definitely try out the Snug -- you wont be disappointed.
Review #9700
Review by: MrBreakfast.com Visitor on 5/1/2006
| | |
| --- | --- |
| Coffee Refill Rating: | Doesn't Apply |
| | |
| --- | --- |
| Expense Rating: | |
Excellent food, great service, low staff turnover, and very casual atmosphere make this a great place for breakfast or lunch.
Here's how great the service can be: one time I had a tiny problem with the hash browns, and mentioned it to the manager. He offered to basically give me the whole meal for free--which was totally beyond what I expected. I said no, I just wanted to make a little comment. He was back a minute later with a free dessert, just to say thanks for the comment.
The only problem might be when it gets crowded. It's not a large place. Even so, I've never had to wait more than a minute to be seated. Service is very fast.
Award Nomination:
Best Service
Review #7406
Review by:
griff
on 5/9/2003
| | |
| --- | --- |
| Coffee Refill Rating: | |
| | |
| --- | --- |
| Expense Rating: | |
It's pretty hard to convince me that anything is exiciting on a Sunday morning. In fact, my natural inclination is to give Sunday morning a pass and move straight onto Sunday afternoon. But my boyfriend was hopping up and down about this hidden breakfast place, and hauled me out of bed to check it out with him. I was immediately impressed by the little wooden benches outside. They looked old and comfortable, and my Sunday morning policy is that everything should be comfortable. And although there was a wait, it went by quickly.
The next thing I liked was the orange juice. It was so fresh I thought I was drinking direct from the tree. My boyfriend ordered an Uncle Zeke's, and raved at how much meat they managed to get onto one plate. My omelette was delicious, but the best part of this tiny place isn't the food. It's the atmosphere -- relaxed, not taking itself seriously, just a little restaurant minding its own business and dishing up good food. Do yourself a favor and stop by.
Award Nomination:
Most Comfortable
Review #1683
Connect With Mr Breakfast:



Reviews submitted here are meant to pertain to breakfast only. While Mr Breakfast cannot vouch for the validity of each restaurant review, he feels pretty good vouching for the excellent character of the residents of Santa Monica, California - who are primarily responsible for the review(s) you see above for Snug Harbor.