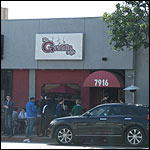 7916 Sunset Blvd.
(On south side of Sunset, West of Fairfax, between Rite-Aid & the DGA. Park at the far end of Rite-Aid's parking lot.)
Average Overall Rating:

Average Coffee Refill Rating:

Average Expense Rating:

Reviews
Total submitted:
10
.
Review by:
robert69
on 8/14/2013
| | |
| --- | --- |
| Coffee Refill Rating: | |
| | |
| --- | --- |
| Expense Rating: | |
I hate the lines, but I love the food. Been going to The Griddle for years. (I live close by). Pancakes are the obvious choice. First time goers will be surprised how big they are. I've begun to like their omelets and egg specials even more than their pancakes. Their spicy chicken sausage scramble is my current favorite.
Review #24512
Review by:
buffetmolester
on 9/30/2006
| | |
| --- | --- |
| Coffee Refill Rating: | |
| | |
| --- | --- |
| Expense Rating: | |
Their coffee is phenomonal. Their portions are huge. The flavors are great. I absolutely love this place. It's crowded on weekends but the line moves pretty fast considering. I go here about once a month and I ALWAYS see celebrities. It's very crowded and the tables are practically on top of eachother so you really are rubbing elbows with celebs. In the past six months I have seen Adam Levine of Maroon 5, Chris Martin (and Apple, Ian Ziering, Mischa Barton, the Miz from The Real World, and Bob Saget. Maybe not the most impressive lineup, but noteworthy nonetheless. I love the host. He's a riot. Try the eggs benedict. Awesome!
Award Nomination:
Best Breakfast Ever
Review #8616
Review by:
JoeyGirl
on 3/8/2006
| | |
| --- | --- |
| Coffee Refill Rating: | Doesn't Apply |
| | |
| --- | --- |
| Expense Rating: | |
i LOVE the Griddle Cafe!!! They serve you 3 mammoth dinner plate-sized pancakes that literally take up the entire plate all the way to the edges (good luck with syrup). I sat there for a couple minutes trying to figure out how i was going to eat it, so here's a tip: start from the center, and work your way out. I'm dyeing to go back again to try their other varieties!!
Award Nomination:
Best Breakfast Ever
Review #6967
Review by:
makitbacon
on 11/30/2005
| | |
| --- | --- |
| Coffee Refill Rating: | |
| | |
| --- | --- |
| Expense Rating: | |
Very Rarely do you find a breakfast place that will serve you with 3 pounds of pancakes and a hot mini pot of Very Dark Coffee and the most crispy and juicy bacon without them Poking your eyes out and taking your whole wallet like you are not looking. I got the Good 'Ol Fashion Pancakes and they were incredible! HUGE! i couldnt even get through 1/2 of them and a side of bacon and coffee for under 12 bucks... NOW THATS CHEAP! for a reputable breakfast place.. if you wanna complain about a lil extra cost.. find a neighborhood chain.. and eat the same boring " FLAP JACKS "
Award Nomination:
Best Breakfast Ever
Review #6336
Review by:
HUCK9376
on 3/27/2005
| | |
| --- | --- |
| Coffee Refill Rating: | |
| | |
| --- | --- |
| Expense Rating: | |
The biggest pancakes ever. I could'nt finish half. The banana flapjacks where the best. Well worth the wait (25min).
Award Nomination:
Best Bargin Breakfast
Review #4744
Review by:
dana888
on 2/22/2005
| | |
| --- | --- |
| Coffee Refill Rating: | Doesn't Apply |
| | |
| --- | --- |
| Expense Rating: | |
An absolute eating extravaganza! I love this place! I love this food! Year after year it continues to please. Every time I come I order my favorite pancakes - rasberry/lemon with extra frosting and a side of bacon. I of course can never finish it because the servings are huge. Something else that is always a treat, the owner has on many of my visits stopped by my table and dropped off some "new" thing she has created saying, "try this". Needless to say, I have yet try try anything that wasn't a joy to put in my mouth. I take my friends my family and anyone else I want to give a great meal telling them, "If you want the best breakfast in LA you gotta Griddle!"
Award Nomination:
Best Breakfast Ever
Review #4556
Review by:
rls112155
on 10/31/2004
| | |
| --- | --- |
| Overall Rating: | |
| | |
| --- | --- |
| Coffee Refill Rating: | Doesn't Apply |
| | |
| --- | --- |
| Expense Rating: | |
Breakfast is my absolute favorite meal of the day. There is nothing better than the breakfast smells and sounds of freshly brewed coffee, cracklin hickory smoked bacon and the clatter of the absolute essentials of breakfast"ware".
With a background in the hospitality industry, my "official" complaint comes way of not returning to a restaurant/cafe unworthy of a next visit. With the Griddle Cafe, I have given it numerous chances going against my own philosophy...and each time, I have introduced the Griddle to local Angelinos who have never frequented the Cafe before. I myself am an East Coast transplant of 9 years always living between Marina Del Rey and Santa Monica...so I'm willing to travel outside my own neighborhood (pretty uncommon in L.A.)to try new restaurants...and come back.
I'm not one to complain directly to a waiter, manager or owner looking for the "comp" meal, etc... In fact, this is the first time I've ever written a review, let alone a negative one. But I had it with the Griddle. I brought a writer/producer friend of mine for her very first visit...we were the FIRST one's there (via the back entrance)...AND the FIRST PARTY SEATED and literally saw other tables around us being attended to first. It was the worst service I have ever experienced, whether it be any meal service, in any Cafe or Restaurant.
Perhaps my review won't deter others from dining there...afterall it is a place to be seen by all the "pretty types"...and I'm not bad looking myself...but the Griddle is toast with me and it is time to find another batter!!
Award Nomination:
Worst Service
Review #4037
Review by: MrBreakfast.com Visitor on 8/16/2004
| | |
| --- | --- |
| Coffee Refill Rating: | Doesn't Apply |
| | |
| --- | --- |
| Expense Rating: | |
After a night of Sake and "rock'n" tai food. A good breakfast was in order. A friend seggested this place to we set ourselves on the list and waited! the wait was not too bad eventhough it was sunday morning. service was great and nothing asked was too much. we sat at the far end of the sudewalk and where not forgotten. HUGE portions, great scenery (beutiful people everywhere), Mocha,Mocha was the best. this is soon to be the next L.A. landmark.
Award Nomination:
Best Breakfast Ever
Review #3735
Review by:
Mr Breakfast
on 7/23/2003
| | |
| --- | --- |
| Coffee Refill Rating: | Doesn't Apply |
| | |
| --- | --- |
| Expense Rating: | |
This morning I wanted a perfect text-book pancake -- nothing fancy, just a buttermilk cake golden brown on both sides not too thick and not too thin. After being disappointed over short stacks in several restaurants and my own kitchen, I finally found satisfaction at the counter of The Griddle Cafe on Sunset Boulevard in Hollywood.
The three pancakes, which the menu refers to as "Good Ol' Fashioned Griddles", measured 10 inches across and I had to ask for a separate plate and cut the cakes in quarters to accommodate the pure maple syrup they provide. The enormous quantity was more than any self-respecting person would eat - baring participation in a pancake-eating contest.
French Press coffee and a side of bacon rounded out my meal. Like many restaurants, The Griddle Cafe provides you with a personal pot of Joe. While very tasty in this instance, I am always dismayed by this practice. Coffee refills are also the time when your wait person checks on you. Without it, you loose a bit of that personal touch - that extra service that starts your day feeling special.
The bacon was quality meat with very little fat. Ordinarily that is reason for celebration, but at the Griddle a side of bacon costs $3.25 so anything less than perfect would have been unacceptable. Like so many restaurants in Los Angles, they get you on the side dishes: $2.95 for a side of sausage, $2.95 for a side of potatoes. It seems like only yesterday that these items costs 89 cents. Knowing full-well that you're paying 200 to 300 percent above cost is breakfast downer. When you look at the menu and say "$5.95 for a huge plate of pancakes is very reasonable" and then get a final bill of $12.93, no matter how tasty your meal is, you leave with a bad taste.
At a restaurant, I've never had reason to check the price of coffee before ordering. That's all changed for me now. I had to laugh to save myself from crying when I realized my coffee was $2.75. I'm a fan of their food, if not their prices. Other patrons I spoke to were enjoying beautifully presented dishes. The most intriguing were the Apple Cobbler French Toast - thick apple bread rolled in a cinnamon crunch batter - and the Baked Potato Omelet - chuck-full of Griddle potatoes, sour cream and scallions. Their lunch menu included an array of chili ranked on a 10 scale of spicy hotness. Today's hottest was the Durango Chile coming in at a 7 on the scale.
On the weekends, The Griddle Cafe is very busy. The length of the line can be easily seen as your driving down Sunset. Until today, I've always said, "Heck with that" and drove a little further west to Mel's or Duke's. I'm glad I stopped in and I'm thankful I stopped by the ATM before I did.
Have a great breakfast tomorrow!
Review #2129
Review by:
Danica
on 3/23/2003
| | |
| --- | --- |
| Coffee Refill Rating: | Doesn't Apply |
| | |
| --- | --- |
| Expense Rating: | |
Fantastic food and killer atmosphere with solid, if extremely casual service. This place has the best OATMEAL I have ever had - steel cut and hearty. All the portions there are huge. The OMLETTES are jammed packed with stuff and you won't be able to finish the potatoes. Now, I don't eat PANCAKES myself, but the Griddle has like 20 varieties of UNSURPASSED DECADENCE on a plate piled high and falling off the edge. They also have about six varieties of CHILI everyday... Go figure.
The coffee is served in a french press according to the size you order and the hot chocolate's great, but don't forget to stir.
It can get crowded, but I've always gotten at least a seat at the counter. Open from ~7am-3pm 7 days.
Award Nomination:
Best Breakfast Ever
Review #1372
Connect With Mr Breakfast:



Reviews submitted here are meant to pertain to breakfast only. While Mr Breakfast cannot vouch for the validity of each restaurant review, he feels pretty good vouching for the excellent character of the residents of Hollywood, California - who are primarily responsible for the review(s) you see above for The Griddle Cafe.