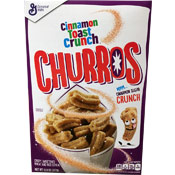 New Product Review:
Cinnamon Toast Crunch Churros
From General Mills
Reviewed by Mr Breakfast on 2/20/2019
Cinnamon Toast Crunch Churros tastes almost exactly like original Cinnamon Toast Crunch. The churro shape of the cereal pieces has a texture that feels refreshing and new. The cereal pieces are some of the biggest pieces found in any cereal today with many of them measuring slightly over an inch long.
The pieces are very crunchy when eaten dry. In milk, they stay mildly crunchy for about 6 minutes. After that, you get a combination of crunch and softness that is total enjoyable.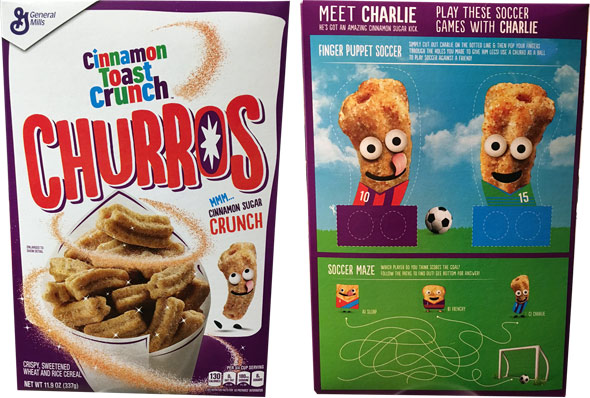 I liked this new cereal a lot... mostly because I love original Cinnamon Toast Crunch. Forced to choose between Cinnamon Toast Crunch Churros and the original, I'd probably choose original Cinnamon Toast Crunch... but it'd be close.
I recommend that you try this new cereal
.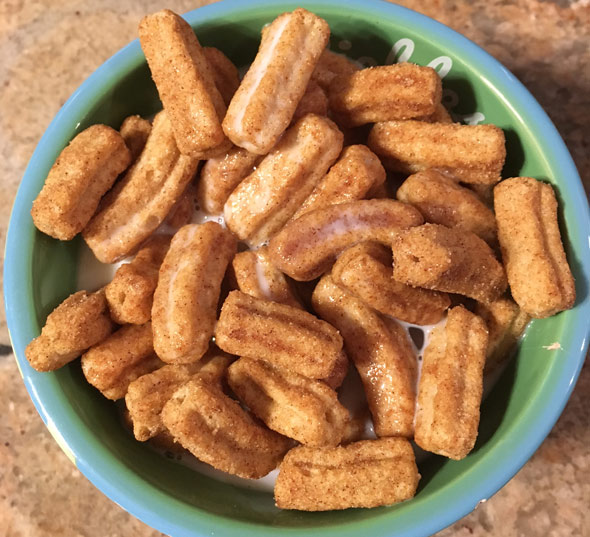 Review By 4 Year Old Daughter:
"I love it. I like the straight shapes. They float so good in the milk, I can hardly catch them."
Nutritional Considerations:
Each 3/4 cup serving of Cinnamon Toast Crunch Churros has 130 calories, 3 grams total fat (0 saturated and 0 trans), 0 mg cholesterol, 180 mg sodium, 24 grams total carbs, 2 grams dietary fiber, 8 grams sugar and 2 grams protein.
The $0.00 price listed below indicates that the company sent us a sample box of the product for the purpose of this review.
The price we paid: $0.0
Comments About This Product Review
What do you think of Cinnamon Toast Crunch Churros?
There are no comments yet for this product. Be the first! Was it awesome? Just okay? Was it bad? Let the world know!



---
Connect With Mr Breakfast: