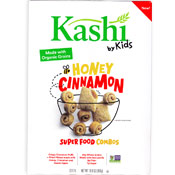 New Product Review:
Honey Cinnamon Super Food Combos
From Kashi
Reviewed by Mr Breakfast on 6/28/2018
This cereal from Kashi by Kids consists of cinnamon roll shaped puffs and pillow shaped pieces that are filled apple, honey and cinnamon. When you open the box, you're hit with a sweet apple aroma that might remind you of an apple fritter doughnut.
Eaten dry... The cinnamon roll pieces are crunchy with a pleasant, familiar cinnamon flavor. The pillow shaped pieces have a nice apple flavor, but the consistency of the filling is gummy... providing an unexpected chew after the initial crunch.
With milk... This cereal starts out very crunchy which makes the filling of the pillows seem even more chewy and gummy in contrast. The flavor of all the pieces eaten together is quite nice. The honey is hardly noticeable, but the warm flavors of apple and cinnamon taste terrific.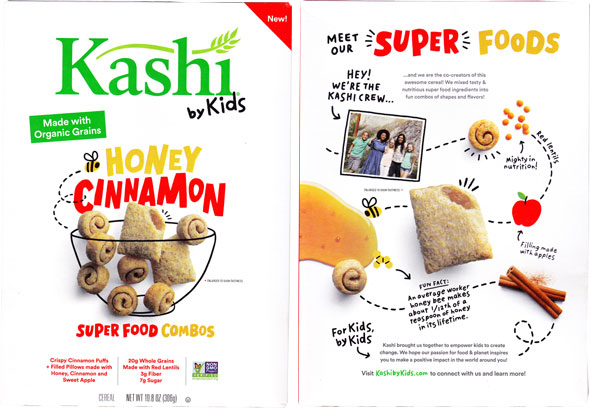 After 5 minutes in milk, the cinnamon pieces soften while the pillows remain very crisp. The texture of the filling never changes. It's always gummy, chewy and a little irritating.
The milk left at the end of bowl is cinnamon sweet and it was the only time I really noticed the honey.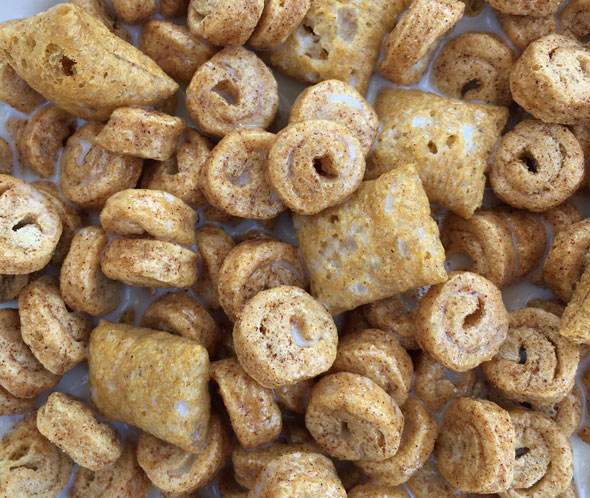 Overall, I really liked the flavors in this cereal. But the texture of the pillow pieces makes it hard for me to recommend this cereal. If they fix that, this cereal could be a winner. I liked this cereal more than I disliked it.
Review from a 4-year-old: My daughter, who is not a particularly picky eater, requested that we remove all of the pillow pieces from her bowl. She said they were "yuck". The cinnamon roll pieces got a half-hearted thumbs-up.
Nutritional Considerations:
Each 3/4 cup serving of Kashi By Kids Honey Cinnamon Super Food Combos has 120 calories, 1.5 grams total fat (0 saturated and 0 trans), 0 mg cholesterol, 100 mg sodium, 27 grams total carbs, 3 grams dietary fiber, 7 grams sugar and 2 grams protein.
The price we paid: $3.49
Comments About This Product Review
What do you think of Honey Cinnamon Super Food Combos?
There are no comments yet for this product. Be the first! Was it awesome? Just okay? Was it bad? Let the world know!



---
Connect With Mr Breakfast: