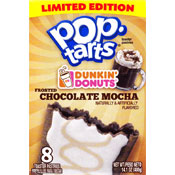 New Product Review:
Chocolate Mocha Pop-Tarts
From Kellogg's
Reviewed by Mr Breakfast on 1/27/2017
The complete name of this product is Dunkin' Donuts Frosted Chocolate Mocha Pop-Tarts. The short verdict is that they actually do taste somewhat like a mocha coffee beverage.
The coffee flavor is far more noticeable than the chocolate flavor. And that coffee flavor tastes more like a granulated coffee like Nescafe than it does fresh brewed coffee. As you'd probably expect, these Pop-Tarts are very sweet. Each individual toaster pastry has 18 grams of sugar. The crust has a bit of a burnt cocoa flavor even before the pastries are toasted.
Personally, I kind of liked these Pop-Tarts. I like coffee and I like mocha coffee drinks, so I'm basically the target audience. I did wish that they had more of a chocolate element - something to make them more fun - a flavor that could contrast and play with the coffee flavor.
It was a weird decision for Kellogg's to produce this product. It's hard to imagine many kids begging their parents for the coffee flavored Pop-Tarts and it's a bold risk to expect adult coffee lovers to want coffee-flavored pastries with their coffee. Give Kellogg's some credit for being weird and bold. That strategy might eventually produce some wonderful, wild breakfast treats we'll all want to try - instead of just hardcore coffee lovers and guys who test Pop-Tarts for a living.
My advice: If it sounds good, definitely give this product a try. It lives up to the flavor promised on the box. However, you might want to wait a couple of months and buy them super cheap from your grocery store's discontinued shelf or from the 99 Cent Store.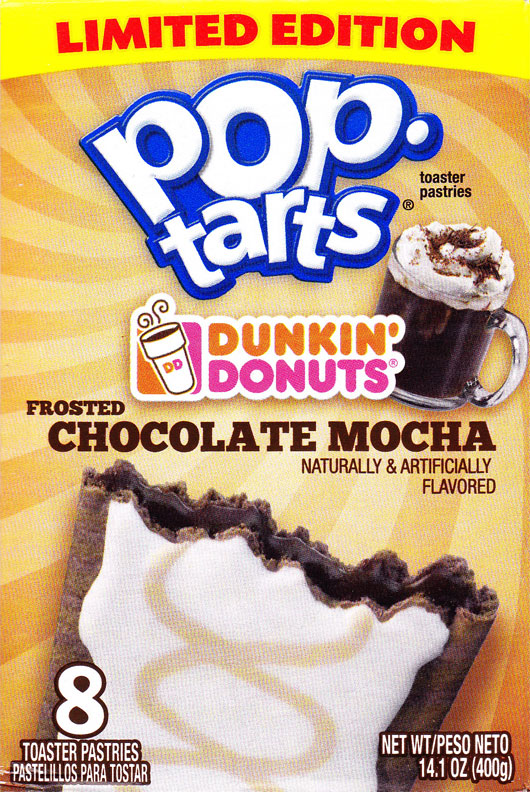 It should be noted that Kellogg's also introduced Dunkin' Donuts Vanilla Latte Pop-Tarts when this product came out. We haven't tried that variety yet. Leave a note below if you have.
Nutritional Concerns: Each individual Dunkin' Donuts Chocolate Mocha Pop-Tart has 190 calories, 40 calories from fat, 7 grams total fat, 1.5 grams saturated fat, 0 grams trans fat, 0 mg cholesterol, 230 mg sodium, 35 grams total carbs, 1 gram of dietary fiber, 18 grams sugar and 2 grams protein.
The price we paid: $2.49
Comments About This Product Review
What do you think of Chocolate Mocha Pop-Tarts?
By anne


| | |
| --- | --- |
| Product Rating (out of 5): | |

I've tried both the vanilla latte and the chocolate mocha. I think your assessment was right on. My kids liked them at first, but they were like that tastes like weird chocolate. I'm a coffee lover so I enjoyed both. However, I typically eat something else with my coffee like toasted brioche in the morning. I would like to see maybe a raspberry filled donut flavor or some other donut flavor.

Comment submitted: 2/6/2017 (#5464)




---
Connect With Mr Breakfast: