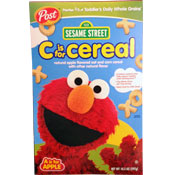 New Product Review:
C Is For Cereal
From Post
Reviewed by Mr Breakfast on 5/3/2013
This new cereal appears to be an attempt by Post to grab some of the toddler snack market from General Mills' Cheerios cereals. A head-to-head battle between Buzz Bee (Honey Nut Cheerios' mascot) and Sesame Street's Elmo (the character that appears on this new product).
The complete name of this cereal is Post's Sesame Street C Is For Cereal A is For Apple Cereal. The cereal pieces are shaped like X's and O's (which some could interpret as shorthand for "hugs" and "kisses".)
It's marketed directly toward toddlers and their parents and it's described on the package as "Ideal Food For Little Ones!"
When I poured a bowl of this new cereal, I was struck by how light the cereal pieces are. It's almost as if they float from the box into the bowl. Holding a handful of the pieces feels like holding a handful of styrofoam. Unfortunately, eating this cereal as a dry snack also felt like eating styrofoam. As an adult, I did not like this cereal dry. I'd be anxious to hear what toddlers think about it as a snack.
In milk, the pieces absorb a little liquid and become more dense giving them a mouth-feel similar to Cheerios. Now, we're left to critique the flavor.
What flavor? The apple taste is so subtle - you could eat an entire bowl and not realize that it's supposed to be apple flavored. In my imagination, I picture that the cereal is flavored by a little guy with a spray bottle. But for some reason, the guy is afraid of the cereal - so he approaches it, gives it a little spritz and then runs away.
To this cereal's credit, it "contains nutrients that help support healthy brain development." Since I rarely imagine little people spraying vats of cereal with spritzer bottles, I have to assume this product did enhance my brain... or somehow messed it up, depending how you look at it.
In the end, C Is For Cereal is B For Bad - at least from an adult perspective. Little kids sometimes like bland foods in small shapes, so the jury is still out on that one.
Nutritional Considerations:
Each 1 cup serving of Post's C Is For Cereal has 110 calories, 1.5 grams total fat (0 saturated and 0 trans), 0mg cholesterol, 125mg sodium, 21 grams total carbs, 2 grams dietary fiber, 1 gram sugar and 3 grams protein.
The price we paid: $2.99
Comments About This Product Review
What do you think of C Is For Cereal?
By SuperCouponer


| | |
| --- | --- |
| Product Rating (out of 5): | |

I actually found this site while searching for something to do with this entire box of cereal. I really don't want to go to waste. Wish I'd found the reviews first. I'm hoping to find some kind of recipe I can use these on. I really don't want to throw them out, but they have little to no flavor and not even a touch of sweetness. Blech. My one year old will eat one or two and them throw them at my dog who sniffs them and walks away. smh

Comment submitted: 9/11/2014 (#5098)



By C.W.


| | |
| --- | --- |
| Product Rating (out of 5): | |

I bought the banana flavored C is for Cereal, looking forward to the first time I've ever eaten banana flavored cereal. Well, I'm still looking forward to that time as this had ZERO flavor. It was like store-brand Cheerios but less flavorful, if that's possible.

Comment submitted: 7/28/2013 (#4040)



By suzanne


| | |
| --- | --- |
| Product Rating (out of 5): | |

I agree with you. Don't buy this cereal unless you want to add a couple scoops of sugar and forget about eating it out of the box.

Comment submitted: 6/6/2013 (#3908)




---
Connect With Mr Breakfast: