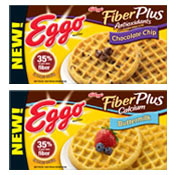 New Product Review:
Eggo FiberPlus Waffles
From Kellogg's
Reviewed by Mr Breakfast on 1/14/2011
I tried two varieties of the new FiberPlus Waffles: Eggo FiberPlus Calcium Buttermilk Waffles and Eggo FiberPlus Antioxidants Chocolate Chip Waffles.
The one to try is the Chocolate Chip variety.
While good, the Buttermilk waffle tastes similar to a multitude of other frozen waffles on the market. The 9 grams of dietary fiber per two waffle serving should be a selling point for some (similar products often contain less than 1 gram), but you shouldn't expect anything new or interesting as far as flavor.
On the other hand, the Chocolate Chip waffles offer the same 9 grams of fiber, but with delightful specks of chocolate in every bite. This variety has 5 more grams of sugar than it's Buttermilk brother, but the chocolate adds both flavor and sweetness. If you're inclined to have maple syrup on your waffles, you'll probably - or at least you should - use a little less syrup so the chocolate flavor can shine through.
I topped my Chocolate Chip waffles with a little butter substitute and a very light drizzle of pure maple syrup. Very tasty.
For the best results, follow the package instructions and toast the waffles on your toaster's lowest setting - twice. Both kinds of waffles toasted up crisp on the outside and tender on the inside.
Fun flavor and fiber... give this one a try.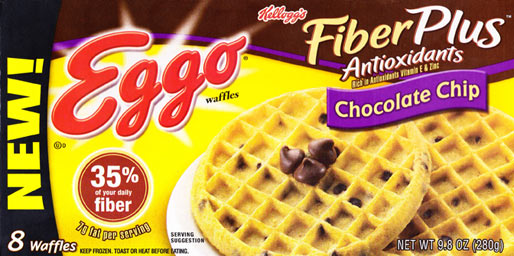 The rating for this product is based solely on the Chocolate Chip variety. The Buttermilk version would have scored average on all counts.
Nutritional Considerations: Each 2 waffle serving of Eggo FiberPlus Antioxidants Chocolate Chip Waffles has 180 calories, 7 grams of fat (2 grams saturated and 0 grams trans), 31 grams total carbs, 9 grams dietary fiber, 8 grams sugars and 3 grams protein.
The price we paid: $2.49
Comments About This Product Review
What do you think of Eggo FiberPlus Waffles?
By Kenny G2

Where can I find them? There's other new kinds of Eggo waffles at out Target, but not the FiberPlus kind.

Comment submitted: 6/25/2013 (#3952)



By apples

I'm going to try them tomorrow! :)

Comment submitted: 8/9/2012 (#3208)




---
Connect With Mr Breakfast: