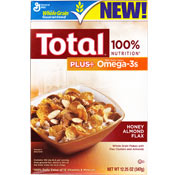 New Product Review:
Total Plus+ Honey Almond Flax
From General Mills
Reviewed by Mr Breakfast on 7/1/2010
I enjoyed this cereal. Usually when a cereal has "honey" in its name, there's no discernible taste of honey - just a sort of amplified sweetness. It's refreshing to have a "honey" cereal actually taste like honey.
The main pieces in this cereal are sweetened whole grain flakes. Almonds slivers add a nice woodsy flavor to offset the sweetness. Small flax clusters add an interesting pop to the cereal's overall texture. They're flavored with cinnamon and help mix up the taste so no spoonful of this cereal is exactly the same.
Honey Almond Flax Total Plus+ maintains a healthy crunch in milk for about 6 minutes.
My only complaint is that the almond slivers and flax clusters aren't nearly as plentiful as the picture on the box would have you believe. It's a shame. They're what make the cereal interesting. A few more and this very good cereal would have been a very great cereal. I wouldn't be surprised if some people find this product a little too sweet.
The box notes that Honey Almond Flax Total Plus+ contains "160 mg ALA per serving from ground flax." It's interesting that nowhere on the package do they explain what ALA stands for. This acronym is relatively new on cereal boxes, so let me explain for them.
ALA stands for alpha-linolenic acid, an omega-3 fatty acid. It's called an essential fatty acid because the body can not produce it. It has to be derived from dietary sources. The main way to get ALA is through seed oils. This new Total cereal gets its ALA from flax.
Why do we care about ALA? Studies have shown that it may lower bad cholesterol levels and reduce your risk for cardiovascular disease. That's a honey of a nutrient.
As we've come to expect from Total cereals, the amount of vitamins and minerals listed on the side panel are quite high. This cereal provides 100% daily recommended value for the following: vitamin C, vitamin E, vitamin B6, calcium, iron, thiamin, riboflavin, niacin, folic acid and zinc.
Other nutritional concerns: Each 1 cup serving has 200 calories, 3.5 gram total fat, 0.5 gram saturated fat, 0 trans fat, 39 grams total carbs, 4 grams dietary fiber, 13 grams sugar and 5 grams protein.
The complete name of the cereal is Total Plus+ Omega-3s Honey Almond Flax.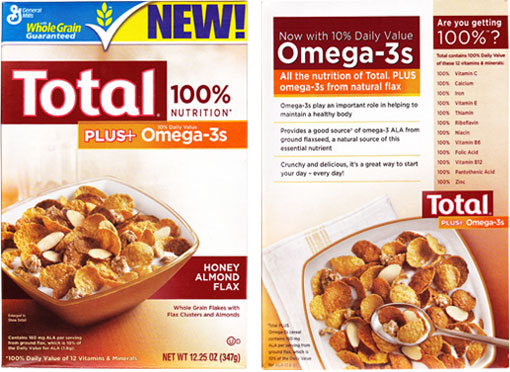 The price we paid: $2.99
Comments About This Product Review
What do you think of Total Plus+ Honey Almond Flax?
By Kayaker


| | |
| --- | --- |
| Product Rating (out of 5): | |

Discontinued! Riot in the streets! Burn the embassy!

Comment submitted: 9/30/2012 (#3237)



By ojay


| | |
| --- | --- |
| Product Rating (out of 5): | |

It's great! The box is too small!

Comment submitted: 9/20/2011 (#2892)



By Terry L.


| | |
| --- | --- |
| Product Rating (out of 5): | |

Yummy! A healthy yummy! Yes, please add more almonds and flax clusters!

Comment submitted: 2/6/2011 (#2709)



By melsue


| | |
| --- | --- |
| Product Rating (out of 5): | |

I absolutely love it. The best part about it is that I enjoy eating it even without any milk.. something I'm very picky about with cereals. It makes the perfect healthy crunchy snack that I can feel good about :)

Comment submitted: 9/8/2010 (#2501)




---
Connect With Mr Breakfast: