Honey: A True Friend Of Breakfast
By Mr Breakfast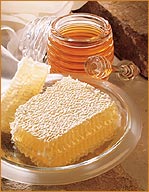 When describing honey, I could use a lot of buzzz words or (honey) comb through my list of catchy turns-of-phrase. Sure, that would bee sweet. But when it comes to having honey in the morning, no descriptive tricks bee necessary. Honey is a true friend of breakfast.
An average worker bee lives for only six weeks and in that time it creates only a slight 1/12 teaspoon of honey. It takes approximately twenty-four bees to create the smooth, clear topping for a single pancake. Two teaspoons of honey can be a terrific change of pace from the same old maple syrup topping.
To create a single pound of honey, an army of bees must gather the nectar from over two million flowerzzzzzzz.
A quick breakfast of toast with butter and honey suddenly seems poetic
when you consider that it's spread with the nectar of thousands of flowerzzzzzzz.
Whether as a topping or an ingredient in recipes, honey can bee a welcome and healthy change from sugar and syrup. A 60 calorie tablespoon of honey contains zzzzzzzzero fat and cholesterol and you always know what you're getting. Honey is just what it says it is… pure honey… nothing else.
Honey can replace refined sugar in nearly all recipes.
Simply swap it in cup for cup. Since honey contains its own sweet liquid, you may want to reduce other liquids in the recipe by a quarter cup per cup of honey. Some honey enthusiasts also suggest reducing the cooking temperature by 25 degreezzzzzzzzz (so as to not brown the honey) and increasing the leavening agent (baking soda/powder) a half teaspoon per cup of honey.
There are many
health benefits
to honey. It contains antioxidants It's a great source for vitamin Bee 6, thiamin, niacin and riboflavin. A single teaspoon can sooth a sore throat. When mixed with whiskey and lemon, it becomes an effective cough syrup. There are those from the old school, who say honey even helps to cure a hangover.
And after you eat honey,
why not brush some in your hair
. Our versatile friend has been used as beauty treatment for hair and skin since the time of Cleopatra.
Certainly, one could drone on for hours about nature's perfect sweetener, but, to quote Friedrich Engels, "An ounce of action is worth a ton of theory".
So bee it at the table, in the kitchen or even in the shower, give honey a try and see what all the buzz buzzzz buzzzzz bee about.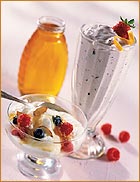 The Mr Breakfast Honey Collection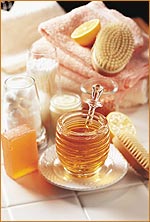 Three Honey Beauty Treatments
Make your own honey-based facial toner.
In a blender, puree a tablespoon of honey with a peeled, cored apple. Smooth on your face and leave it on for 10 minutes. Rinse it off with cool water.
Make your own honey-based hair conditioner.
Combine a half cup honey with a quarter cup of olive oil. A little at a time, work the conditioner though your hair. Cover your hair with a shower cap and leave mixture on for 30 minutes. Rinse and dry as usual.
Pamper yourself with a warm honey bath.
Add a quarter cup of honey to your bath water. Relax in the tub and emerge with silky smooh skin, smelling wonderful.
Photos courtesy of the National Honey Board
This article was written by Mr Breakfast (aka Eddy Chavey).
The editorial content above may not be reproduced without the written permission of Mr Breakfast.com. Please contact us for reprint requests.
Connect With Mr Breakfast: