Cereals from
Annie's Homegrown

This company was founded in 1989 by Annie Withey who the company's website refers to as "an organic farmer, wife, and mother of two." Their first product was an all-natural macaroni and cheese product called Shells & White Cheddar. Throughout the 90's, Annie's Homegrown expanded their macaroni and cheese line. By 2005, the company had introduced two cracker products called Cheddar Bunnies and Bunny Grahams.
In August of 2007, Annie's Homegrown introduced three breakfast cereals: Bunny Love, Honey Bunnies and Cinna-Bunnies.
The rabbit-related names of the cereals are derived from the company's mascot, a rabbit named Bernie who appears in the company's logo with the text "Rabbit of Approval" and "Totally Natural".
In 2011, Annie's Homegrown offered just over 100 total products.
General Mills acquired Annie's Homegrown in September 2014.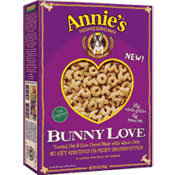 Cereal Spotlight:
Bunny Love Cereal
Introduced in 2007
This cereal was described on the box as a "Toasted Oat & Corn Cereal Made with Whole Oats - No Icky Additives or Pesky Preservative! A Good Source of Fiber." It's flavor was comparable to Cheerios...
Read More
Featured Annie's Homegrown Cereals:


More Annie's Homegrown Cereals:
For more about Annie's Homegrown, visit their
official website
.