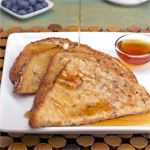 Egg-Free French Toast
2 slices whole-grain bread
1/2 cup milk (soy milk works fine)
1 Tablespoon cornstarch
1 teaspoon sugar
1/2 teaspoon vanilla extract
2 teaspoons butter or margarine
1 pinch salt
I test a lot of French toast recipes with a lot of eggs. I was happily surprised how much I liked this egg-free version. Visually, it looks like French toast made with eggs. The cornstarch and sugar help create a light crust on the outside. Eaten without a topping, you may notice the missing egg. Once you slather on some butter and maple syrup, you probably won't miss the egg. If your diet necessitates an egg-free solution, I strongly recommend giving this dish a try. (This recipe was tested and photographed in August 2014.)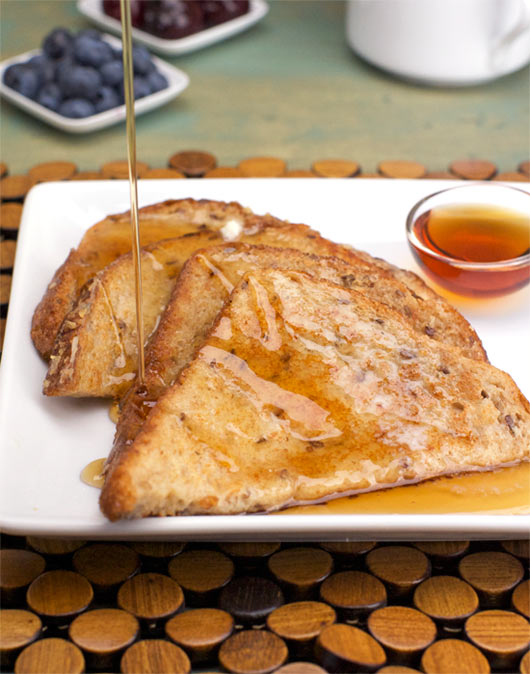 How To Make Egg-Free French Toast
Preheat a griddle or fry pan to just above medium heat.
In a medium bowl, combine all ingredients except bread and butter. Mix until the cornstarch is dissolved. Transfer mixture to a shallow bowl or pan.
Dip both sides of each bread slice into the mixture.
Melt butter on the griddle or skillet. Place bread on heated surface and cook each side to a light golden brown.
Serve immediately.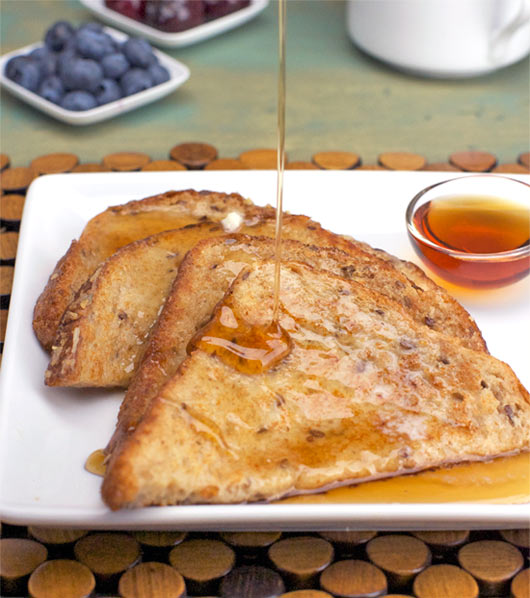 Note: Depending on the size and thickness of your bread, you may be able to make 1 or 2 more slices of French toast with the amount of milk mixture this makes.

You won't even miss the egg. It looks and tastes like regular French toast. Give it a try.
Mr Breakfast would like to thank
Mr Breakfast
for this recipe.
Comments About This Recipe
What do you think of Egg-Free French Toast?
Overall Average Rating =

(out of 5)




From Ruby
The recipe was great and clear, but unfortunately I think I did something wrong cause they didn't taste that good. Thank you though!

Comment submitted: 11/28/2018 (#20680)



From Ryann
Cool.

Comment submitted: 4/10/2018 (#20548)



From Nelly
I am lacto vegetarian and never had eggs in my life but always wanted to try French toast, thank you! It tasted amazing.

Comment submitted: 11/1/2017 (#20439)



From Jem
Worked brilliantly! I tried cooking in butter and with spray oil - both worked fine. Topped with maple syrup and strawberries!

Comment submitted: 5/17/2017 (#20294)



From Meg
Didn't have eggs and kiddos were requesting French toast. Came across this recipe and gave it a try. Loved it! This is the best French toast! We didn't miss the eggs at all! I didn't have vanilla and I added cinnamon. It was a hit with my kids! Will definitely make it again!

Comment submitted: 11/20/2016 (#20127)



From Erinmb
I developed an allergy to eggs and I have not had French toast in 15 years. This recipe is exactly how I remember French toast tasting! And now once a month on Sunday, my husband and I have a great French toast breakfast... Thank you! Excellent!

Comment submitted: 9/4/2016 (#20039)



From Runner
I really suggest using cooking spray, because it will prevent it from sticking to the pan.

Comment submitted: 7/21/2016 (#19995)



From Baby G.
Nice recipe! We all enjoyed it very much.

Comment submitted: 5/30/2016 (#19956)



From EllePelle
This is extremely delicious! I added cinnamon. Didn't have cornstarch. Didn't need it. Still very good.

Comment submitted: 1/10/2016 (#19738)



From im33justme
For someone who doesn't like eggs but loves French toast, this recipe is perfect! You have to move fast with dipping but it tastes awesome!

Comment submitted: 6/28/2015 (#19462)



From Picky kids
We really liked this recipe! I dunked the first piece in the batter for too long. You have to work faster than an egg batter. We will make this again.

Comment submitted: 6/16/2015 (#19450)



From F.H.T.
I love them!

Comment submitted: 6/14/2015 (#19448)



From Kay46
| | |
| --- | --- |
| Rating (out of 5): | |

Tried twice and the second time I was careful to barely dip bread in to the mixture. It stuck to my heated, buttered skillet. Bummed because I told daughter I would make it. We were out of eggs and I thought this recipe would save me going to Kroger's. The problem was probably that my bread was too thick.

Comment submitted: 5/21/2015 (#19421)



From Nick
My son has an egg allergy and never had French toast. He loved it!

Comment submitted: 2/22/2015 (#19283)



From Bad Luck

I tried cooking this recipe TWICE on two different skillets but both times, the bread would crumble and burn my pan. I did not enjoy making these.

Comment submitted: 1/10/2015 (#19203)



From Maddie
This was the best recipe for egg-free french toast!

Comment submitted: 10/30/2014 (#19088)



From Shwoop
It's good, but every time I cook it the middles are kind of mushy. The outsides are perfectly fine. I don't soak it. I just dip it to coat both sides. Advice?

Comment submitted: 10/5/2014 (#19033)



From Amber
Could not tell that eggs were missing. I had no cornstarch so I used flour instead (1:3 ratio). Thank you for this recipe!

Comment submitted: 9/2/2014 (#18976)



From Pat WA
Really good recipe!

Comment submitted: 4/10/2014 (#18341)



From kristi

Can I make it without cornstarch?

Comment submitted: 1/27/2014 (#17277)



View all 55 comments for this recipe.



---
Connect With Mr Breakfast: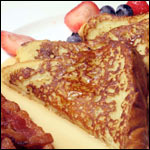 Basic French Toast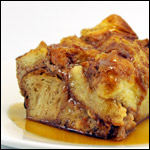 Baked French Toast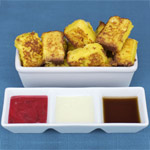 French Toast Bites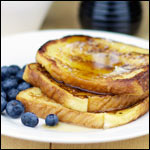 Maple Syrup French Toast

When's the last time you had breakfast in a cup made of bacon?
Click here
.