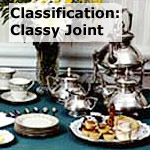 13 Crandall Road
Average Overall Rating:

Average Coffee Refill Rating:

Average Expense Rating:

Reviews
Total submitted:
2
.
Review by:
Juzteen
on 9/5/2010
| | |
| --- | --- |
| Overall Rating: | |
| | |
| --- | --- |
| Coffee Refill Rating: | |
| | |
| --- | --- |
| Expense Rating: | |
It's unfortunate when there is so much excitement after a restaurant opens, only to find a few months later it slowly looses steam. Sure there was enthusiasm on the staffs part when it first opened. Everyone was excited about their new job, new environment and a whole new experience. But that does eventually fade away. Real life sets in. Sure, I get it, cooks and waitresses have bad days too. But there are no excuses in the restaurant biz.
I have been to susans on multiple occasions for both breakfast and dinner. At first the food was excellent and the service was great. But like I said, they lost their steam.  
I went to susans today with the optimism of a new comer. Hoping he last visit was a fluke. I was quickly reminded of the disappointment of past visits.
It took ten minutes for the bus girl/hostess to realize we hadn't been asked what we want to drink. When she walked over, our waitress, who was also the take out order girl, hurried over to assist. After taking our orders ( might I mention, they were simple orders. For eggs, bacon, sausage,  hash and pancakes) we waited another 10 minutes for a coffee fill up(our cups were empty)  it took another 20 minutes to get our food. Our bacon and sausage were cold, the hash was cold and unseasoned. The only thing we could manage to eat was the eggs and toast. After all how hard is it to ruin toast.
The waitress never came to ask us how our food was. So instead of making scene and waiting even longer for our new food, we sucked it up. When he waitress finally returned we told her about our bad experience and she replied with a "not you too". She took half off the bill and we were on our way.
It baffled us why such bad food would be sent out in the first place. Like I said, this was not our first bad experience, but it certainly will be our last.
Diner beware
Award Nomination:
Worst Service
Review #20935
Review by: MrBreakfast.com Visitor on 2/4/2010
| | |
| --- | --- |
| Coffee Refill Rating: | |
| | |
| --- | --- |
| Expense Rating: | |
This is the best plase in town i have ate here a bit now it just opened in novbember and i just keeps getting better the biulding is amazing and the place is at least worth going to see it is a clasy famly dinner and is very afordable
Award Nomination:
Best Breakfast Ever
Review #19227
Connect With Mr Breakfast:



Reviews submitted here are meant to pertain to breakfast only. While Mr Breakfast cannot vouch for the validity of each restaurant review, he feels pretty good vouching for the excellent character of the residents of Tiverton, Rhode Island - who are primarily responsible for the review(s) you see above for Susan's Restaurant.

When's the last time you had breakfast in a cup made of bacon?
Click here
.