Cereals from
Manischewitz

Manischewitz is the nation's largest manufacturer of processed kosher food products and the number one baker of matzo or unleavened bread in the world.
Other kosher foods produced by the company include breakfast cereals, pastas, soups, gefilte fish, grape juice and borscht.
The company's history dates back to 1888, the year that Rabbi Dov Behr Manischewitz is said to have first made his now-famous matzos in a small bakery in Cincinnati, Ohio.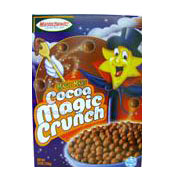 Cereal Spotlight:
Magic Max's Cocoa Magic Crunch Cereal
Introduced in 2007
In 2007, Manischewitz introduced three cereals shortly before Passover: Cocoa Magic Crunch, Fruity Magic Cereal and Sunny O's.
Passover, also known as Pesach, is an eight day Jewish holiday that commemorates...
Read More
More Manischewitz Cereals:
For more about Manischewitz, visit their
official website
.