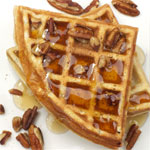 Applesauce Waffles
2 cups all-purpose flour
1/2 cup sugar
2 teaspoons baking powder
1/2 teaspoon cinnamon
1/4 teaspoon grated nutmeg
1/4 teaspoon salt
1/8 teaspoon ground cloves
3 large eggs - separated
1 cup milk
1/2 cup applesauce
1 teaspoon vanilla
4 Tablespoons butter - melted
This is a recipe that started as a dud and then became EXCELLENT thanks to comments from the great people who visit MrBreakfast.com. As originally submitted, there was too little liquid and not enough leavening in the batter. I adjusted the recipe (reflected above) in accordance with the comments from people who had the best results. It's now a well balanced recipe with terrific batter consistency. The resulting waffles are light and flavorful with a lightly crisp exterior. Good Stuff! (This recipe was submitted in 2006. It was tested and photographed in September 2014.)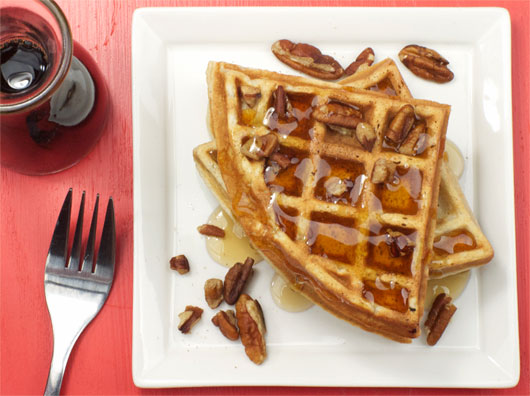 How To Make Applesauce Waffles
This recipe makes 6 fairly large waffles.
In a large bowl, mix together the flour, sugar, baking powder, salt, cinnamon, nutmeg and cloves.
In a separate smaller bowl, beat the egg yolks and mix in the applesauce, milk and vanilla.
In the third and final bowl (glass or metal preferred), beat the egg whites until stiff peaks form. This is an important step if you want your waffles to be fluffy.
Add applesauce mixture to the dry ingredients and mix well. Mix in the melted butter. Fold in the egg whites.
Cook according to waffle iron instructions. I recommend using a generous amount of cooking spray even if your waffle iron's instruction booklet doesn't mention it.
Serve with a pat of butter and your favorite topping.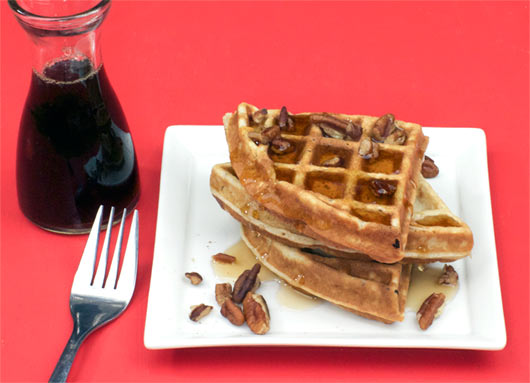 I like this recipe not just because it taste good, but also because the applesauce takes the place of the vegetable oil that many other waffle recipes have.
Mr Breakfast would like to thank
Britney
for this recipe.
Comments About This Recipe
What do you think of Applesauce Waffles?
Overall Average Rating =
(out of 5)

From justynajd (Team Breakfast Member)
I'm only giving this 4 golden eggs because I added everything that Miss Emma suggested for my first go at this recipe. I think that without those additions, it would have been bland. As it was, my four sons ate them up.

Comment submitted: 1/7/2014 (#17238)



From BarbF47

Wish I had read the reviews before making these. I added an extra 1/2 cup applesauce plus enough milk to get the batter to a good consistency. They were, however, tasty.

Comment submitted: 2/24/2013 (#15222)



From Miss Emma

This recipe has been carelessly written. If you want these to be the best, add the following to the recipe above: 2 cups buttermilk, 1 teaspoon soda, 1 1/2 teaspoon baking powder, 1/2 teaspoon salt and 1 teaspoon vanilla. I think you find these to be delicious. We added some chocolate chips to some with great results.

Comment submitted: 12/13/2011 (#13308)



From krissy
READ THE COMMENTS. I added milk until the batter had the consistency I usually see for waffle batter. They turned out okay... just okay. Your recipe called 'Best Waffles Ever' was a thousand times better.

Comment submitted: 9/28/2011 (#12946)



From redflower

Add the milk and baking soda like suggested above and they are really good! I served them a party and have given the recipe to over 30 people! Seriously, they aren't bad if you just add the milk.

Comment submitted: 3/25/2011 (#12347)



From VanFan
| | |
| --- | --- |
| Rating (out of 5): | |

I also wish I had read the reviews before making. I did add some milk but I not quite enough.

Comment submitted: 9/11/2010 (#11199)



From Verna L.

Thanks Tanner for your help. This recipe is a flop without your advice ("add at least a cup of milk and a teaspoon of baking powder").

Comment submitted: 3/18/2010 (#10094)



From tanner
You need to add at least a cup of milk and a teaspoon of baking powder. With that, this recipe is great. Without it, it won't work. Mr. Breakfast please adjust this recipe.

Comment submitted: 2/28/2010 (#9940)



From ddh

Looks like baking powder and salt were left out. Try 2tsp baking powder and 1/2tsp salt.

Comment submitted: 2/26/2010 (#9916)



From hippity hop

This recipe doesn't work... it's too dry and it came out looking like dough for pizza waffle batter.

Comment submitted: 2/25/2010 (#9913)



From uncanny

I'm with you cracg, I was about to come on here and say pretty much the exact same thing! Even syrup didn't make these things soft!

Comment submitted: 10/31/2009 (#8938)



From heatherhooton
| | |
| --- | --- |
| Rating (out of 5): | |

These were the densest waffles I've ever had. Not the greatest; would not make them again.

Comment submitted: 10/14/2009 (#8844)



From FlowerGirl00
| | |
| --- | --- |
| Rating (out of 5): | |

I started this recipe and then realized it makes no sense. I added milk (about a cup) because the batter was ridiculously thick. I also added 2 Tbsp of canola oil. I was skeptical about the lack of baking soda, but they did work okay, probably because of the whipped egg whites. The recipe also needs about 1/2 tsp of salt. With those modifications they are pretty good, but not outstanding.

Comment submitted: 10/10/2009 (#8819)



From cracg1127
| | |
| --- | --- |
| Rating (out of 5): | |

I don't even know why you keep this recipe on your web site. I made the mistake of not reading the comments. I have now learned from my mistake.

Comment submitted: 7/26/2009 (#8458)



From goingcamping
I added 1 1/2 cups of milk and 1 tsp of baking soda to this recipe, they turned out awesome! I agree, w/o all the ingredients listed, it would make a thick batter for sure! Hopefully other will read before start this recipe! Good Luck!

Comment submitted: 6/28/2009 (#8343)



From kathi mcgowan
| | |
| --- | --- |
| Rating (out of 5): | |

I just wasted my time with this recipe. I made it like the recipe said and because the batter was so thick when I was done folding in the egg whites I added milk and they were still horrible. I'm on a fixed income and can't afford to waste food ingredients like this.... Don't make these!!

Comment submitted: 1/26/2009 (#7458)



From angedevine
| | |
| --- | --- |
| Rating (out of 5): | |

Wow, this recipe is awful. I waited all week to try making it for my family on the weekend. We always have a nice family breakfast Saturday or Sunday morning. I was so disappointed with this, I had to take my family out for breakfast. Like the others say, would be nice if all the ingredients were listed. It was like cookie dough before I added the egg yolks, and there was no way of folding them in either!!!

Comment submitted: 1/18/2009 (#7392)



From dobber

This recipe is pretty good if you just add milk at the end to thin the batter.

Comment submitted: 12/13/2008 (#7104)



From chasing waffles

Is this recipe a joke? First of all I think the recipe creator forgot the milk!

Comment submitted: 8/31/2008 (#6357)



From DanOH
I had to add milk... looks like other liquid was left off. And as with any waffle recipe, the butter works better when melted. I adjusted the milk to make the batter a consistency that was good for pouring, 1/2 cup minimum. Probably be good with apples added to it also... maybe caramel instead of maple syrup - Or spiced apples on top - Very good with the addition of liquid... rotten without!

Comment submitted: 8/17/2008 (#6150)



View all 23 comments for this recipe.



---
Connect With Mr Breakfast: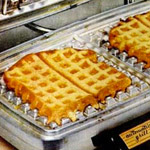 Bread-N-Butter Waffles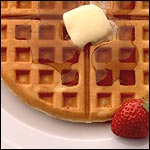 Reliable Basic Waffles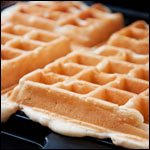 Cinnamon Waffles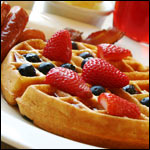 Whole Wheat Waffles

All you need to know. The basics and beyond!
Click here
.