Applesauce Waffles

(6 servings)

2 cups all-purpose flour
1/2 cup sugar
2 teaspoons baking powder
1/2 teaspoon cinnamon
1/4 teaspoon grated nutmeg
1/4 teaspoon salt
1/8 teaspoon ground cloves
3 large eggs - separated
1 cup milk
1/2 cup applesauce
1 teaspoon vanilla
4 Tablespoons butter - melted
This is a recipe that started as a dud and then became EXCELLENT thanks to comments from the great people who visit MrBreakfast.com. As originally submitted, there was too little liquid and not enough leavening in the batter. I adjusted the recipe (reflected above) in accordance with the comments from people who had the best results. It's now a well balanced recipe with terrific batter consistency. The resulting waffles are light and flavorful with a lightly crisp exterior. Good Stuff! (This recipe was submitted in 2006. It was tested and photographed in September 2014.)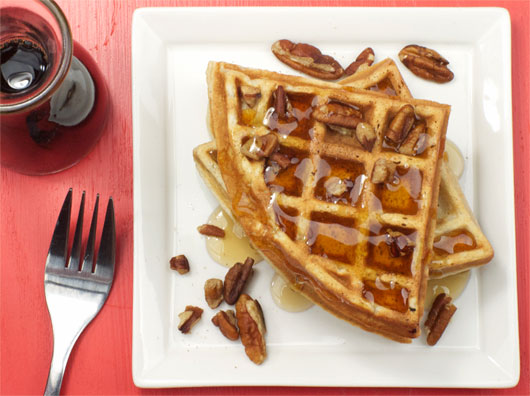 How To Make Applesauce Waffles

This recipe makes 6 fairly large waffles.

In a large bowl, mix together the flour, sugar, baking powder, salt, cinnamon, nutmeg and cloves.

In a separate smaller bowl, beat the egg yolks and mix in the applesauce, milk and vanilla.

In the third and final bowl (glass or metal preferred), beat the egg whites until stiff peaks form. This is an important step if you want your waffles to be fluffy.

Add applesauce mixture to the dry ingredients and mix well. Mix in the melted butter. Fold in the egg whites.

Cook according to waffle iron instructions. I recommend using a generous amount of cooking spray even if your waffle iron's instruction booklet doesn't mention it.

Serve with a pat of butter and your favorite topping.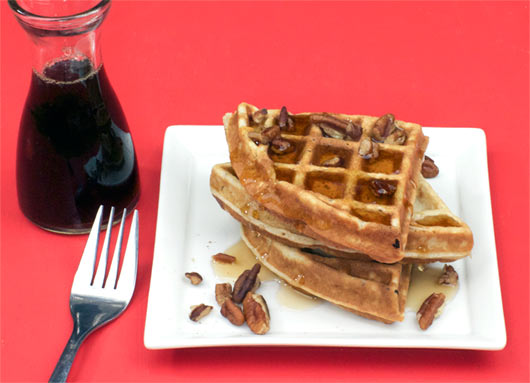 I like this recipe not just because it taste good, but also because the applesauce takes the place of the vegetable oil that many other waffle recipes have.




Mr Breakfast would like to thank Britney for this recipe.

Recipe number 1833. Submitted 9/10/2006.