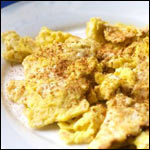 Matzah Brie (Fried Matzah)
3 matzahs - broken in half
2 large eggs
1/2 cup milk
3/4 teaspoon salt
1 Tablespoon butter for frying
Soak the matzahs in cold water for about 3 minutes and drain.
(See notes below - there are many suggestions to shorten the soaking time)
.
In a large bowl, mix matzahs with beaten eggs, milk and salt.
Fry on both sides until brown like you might with French Toast.

A simple Passover dish, "Fried Matzah" is great topped with honey, syrup or cinnamon and sugar.
Mr Breakfast would like to thank
Britney
for this recipe.
Comments About This Recipe
What do you think of Matzah Brie (Fried Matzah)?
Overall Average Rating =

(out of 5)




From sheila montoya
Cinnamon and sugar can also be used as a topping.

Comment submitted: 3/26/2013 (#15477)



From myron

Good recipe. Crack matzoh into smaller pieces. Top with yogurt and cottage cheese, maybe some syrup or jam. Sprinkle pepper to taste. I use no milk or salt. MB

Comment submitted: 3/23/2013 (#15451)



From A shiksa
I have not made this in a long time, but will have some today! Love the arguments - can't be upset with them.

Comment submitted: 3/6/2013 (#15318)



From Moss
This recipe was delicious and easy to follow.

Comment submitted: 3/31/2012 (#13735)



From Susan Kay

Fifty years ago, a high school friend's mom was a proponent of Adele Davis. She made the sweet version of matzoh brei substituting Ak-Mak for matzoh, with yoghurt topping and maple syrup or jam. I just made it for myself this morning with one egg, 2 1/2 Ak-Mak segments, almond milk, 1 tsp organic sugar, Greek yoghurt and maple syrup.

Comment submitted: 3/13/2011 (#12285)



From MyMethod

Love Matzoh brie but if you soak matzoh under warm water you just have to do it for about 1 minute. Beat eggs do not add milk (yuck) salt and pepper and then when done sprinkle sugar over it... mmm good.

Comment submitted: 10/4/2010 (#11332)



From Kingman
A little dry but maple syrup solves that problem.

Comment submitted: 9/16/2010 (#11238)



From Josh
Sour cream, chive and salmon on top... or sour cream and your choice of jelly... that's how I grew up eating it.

Comment submitted: 5/8/2010 (#10464)



From emmess

Want to turn it into a gourmet treat? Make it exactly as written here but take some smoked salmon and chop it up into tiny, but distinct, bits and AFTER YOU PLATE THE MATZAH, sprinkle the smoked salmon on top. To die for. Good side dish is cottage cheese.

Comment submitted: 4/10/2010 (#10273)





From zadroya (Team Breakfast Member)
This IS kosher for Pesach and also excellent by the way.

Comment submitted: 4/2/2010 (#10224)



From A. Nonny Mouse
Once flour has been reacted with water and rapidly baked into matzo, it is no longer subject to leavening. According to this argument, matzo and its derivatives are neither "leavened" nor "leavenable," and, therefore are permissible for consumption during Passover. A reading of the tractate Pesahim from the Babylonian Talmud (c. 500) makes it clear that in Talmudic times, matzo soaked in water was permitted during Passover; the Ashkenazi rabbi and exegete, Rashi (c. 1100), also indicates that this was unobjectionable (Berachot 38b).

Comment submitted: 4/2/2010 (#10223)



From Nasiaki

What is mathza brie and where I found it?

Comment submitted: 4/1/2010 (#10215)



From PiratedZombie

JUST SO YOU ALL KNOW This recipe is NOT KOSHER FOR PESACH! DONT eat it on Pesach!!!

Comment submitted: 4/1/2010 (#10213)



From Gianina
I'm not Jewish, but I love Matzah Brie. And this recipe worked great for me and my husband. I'm curious WHAT TOPPING DO PEOPLE USE? I've been told jam or maple syrup. I like it savory with just seasoning salt.

Comment submitted: 3/30/2010 (#10200)



From ADR

I use boiled water, rather than cold, soaking for a matter of seconds, and then use 1 egg for 3 matzahs, and sprinkle with sugar once cooked. Either way, enjoy!

Comment submitted: 4/12/2009 (#7954)



From PghMike

Nice recipe, and I think it is better this way than with more eggs. One change I plan to make next time I cook it is to use half the salt.

Comment submitted: 4/11/2009 (#7939)





From creativekatz (Team Breakfast Member)

Wow, why can't we all just get along. Let's sit and hug over some Matzoh Brei. Treat your neighbors as you would your Matzoh. Carefully and tenderly.

Creative Cooking Katz Woman

Comment submitted: 4/7/2009 (#7920)





From Almighty (Team Breakfast Member)

With all due respect, I think you should delete the ridiculous comment by ELB. First, it's completely irrelevant to the issue, but that's just scratching the surface. More important, it doesn't acknowledge that both Matzah & Brie are not even English words, and that their spelling in English is phonetic. Such a small individual, ELB, to not be able to simply enjoy the information and feel the need to establish superiority. Grow up, jerk

Comment submitted: 4/4/2009 (#7901)



From chef esq.
1) Depending on taste, you can also use 1 egg to each matzoh. 2) 3 minutes is way too long to soak - it ruins to texture and won't absorb the egg - I suggest soaking for only 30 in the water and then let it sit in the egg for another minute or two before adding to the pan . 3) the matzos are not "broken in half," but rather broken in to quarter and half-dollar size pieces. 4) it's brei, not brie.

Comment submitted: 7/27/2008 (#5975)



From ELB

You should know "matzah" is spelled "matzoh" and that it's matzoh BREI, not brie.

Comment submitted: 5/5/2008 (#5199)



View all 27 comments for this recipe.



---
Connect With Mr Breakfast: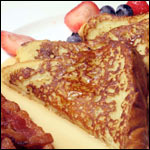 Basic French Toast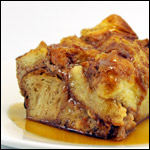 Baked French Toast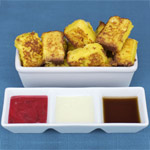 French Toast Bites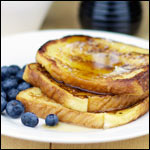 Maple Syrup French Toast

All you need to know. The basics and beyond!
Click here
.