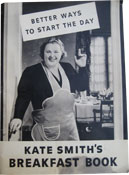 A Mr Breakfast classic cookbook discovery:
Kate Smith's Breakfast Book
By Kate Smith
Published by General Foods Corp.
Originally Published In 1941
The subtitle of this book is "Better Ways To Start Your Day." Kate Smith was radio-heyday singer best known for her rendition of "God Bless America".

Her magazine-style breakfast book is filled with recipes promoting General Foods' products like Grape-Nuts and Post Toasties.

Besides the recipes, Kate shows you, in a series of pictures, the right way and wrong way to eat breakfast.
Breakfast Recipes from Kate Smith's Breakfast Book:
---
More Vintage Cookbook Discoveries: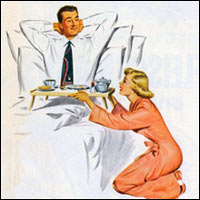 Retro Breakfast Recipes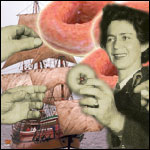 Doughnuts: A Definitive History