Cereals from
Jersey Cereal Company

The Jersey Cereal Company was located in Cereal, Pennsylvania. It appears to have also operated out of St. Joseph, Missouri. The company's slogan in 1934 was "Enjoy the Jersey Difference." Based on vintage ads and information on old cereal boxes, we believe the following to be true: The Jersey Cereal Company was originally called the Jersey Corn Flake Co. The company operated from the early 1920's to the late 1930's. We've also found information hinting to the fact that the village of Cereal, PA was named so because of this company.
If you have any more information about this company, please contact us.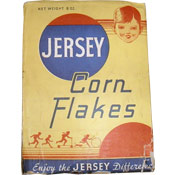 Cereal Spotlight:
Jersey Corn Flakes Cereal
Introduced in 1921
Jersey Corn Flake Cereal was a product of the Jersey Corn Flake Co. We know that this product existed as early as 1921. An ad in Cass City Chronicle of Cass City, Michigan promoted a "demonstration" of the flakes and offered a free package of oatmeal when...
Read More
More Jersey Cereal Company Cereals: