Cereals from
Disney Magic

The Disney Magic Selections-branded line of products was introduced in 2007. Approximately 100 new products suddenly appeared in grocery stores after Kroger Co. and Disney Consumer Products teamed up to create the new product line.
The items which ranged from breakfast cereals to canned pasta featured "Chef Mickey (Mouse)" and other characters from Disney and Disney-Pixar entertainment properties.
According to a 2006 press release announcing the products, "the line will include items that are inherently healthy... almost all of the products during the initial launch will contain 0 grams of trans fat."
Upon introduction, the products were available at some 2,400 Kroger stores including Ralphs, Fry's, Fred Meyer, King Soopers, Dillons and other banner supermarkets owned by Kroger around the country.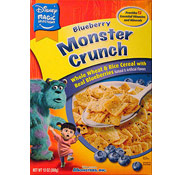 Cereal Spotlight:
Blueberry Monster Crunch Cereal
Introduced in 2006
This cereal was described on the box as a "whole wheat & rice cereal with real blueberries (natural & artificial flavors)."
The cereal pieces resembled Cinnamon Toast Crunch or French Toast Crunch pieces with occasional dark blue specks...
Read More
More Disney Magic Cereals:
For more about Disney Magic, visit their
official website
.