Cereals from
Uncle Sam Cereal

Uncle Sam Cereal originated as The Uncle Sam Breakfast Food Company around 1910. The first Uncle Sam product was Uncle Sam Breakfast Food, a wheat flake cereal sprinkled with flaxseed, celery powder and salt. It was created by LaFayette Coltrin who conceived the cereal as a cure for constipation.
In the 1920's, The Uncle Sam Breakfast Food Company created the first cereal targeted to kids, Vanilla Sweeties.
The company joined forces with a man named Lloyd Skinner in the 1930's to produce the first-ever cereal to contain dried fruit, Skinner Raisin Bran.
In the 1980s, Uncle Sam was acquired by Erewhon, a Boston-based health food distributor.
Today, Uncle Sam, Skinner Raisin Bran and Erewhone are all brands of U.S. Mills.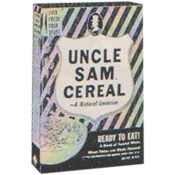 Cereal Spotlight:
Uncle Sam Breakfast Food Cereal
Introduced in 1907
Uncle Sam Breakfast Food (the original incarnation of Uncle Sam Cereal) was invented by a constipated Omaha-based businessman named LaFayette Coltrin...
Read More
More Uncle Sam Cereal Cereals:
For more about Uncle Sam Cereal, visit their
official website
.