Introduced in 1982
In 1981, Donkey Kong became the biggest selling arcade game, overtaking the top spot from Pac-Man. The following year, Ralston Purina capitalized on the game's popularity by introducing Donkey Kong Cereal.
The cereal was promoted as "crunchy barrels of fun for breakfast". The cereal pieces were shaped like small barrels. In the arcade game, a character named Mario (originally known as "Jumpman") must dodge and leap over obstacles in an efforts to save a woman from a giant ape (Donkey Kong). The most predominant of the obstacles were rolling barrels.
Television advertising for Donkey Kong Cereal promoted the cereal's crunch. In one ad, a voice-over (which sounded very much like James Earl Jones) says, "the sweet, crunchy, corn taste will drive you ape."
Many people remember the cereal tasting very similar to Cap'n Crunch cereal.
It's interesting to note that General Mills followed Ralston's lead and introduced an arcade game-based cereal of their own in 1983... Pac-Man Cereal.
By 1984, Donkey Kong Cereal was no more. Pac-Man Cereal lasted until 1985.
Known premiums in Donkey Kong Cereal: a set of four baseball cards, arcade game stickers and a sweepstakes entry for an arcade-sized Donkey Kong game.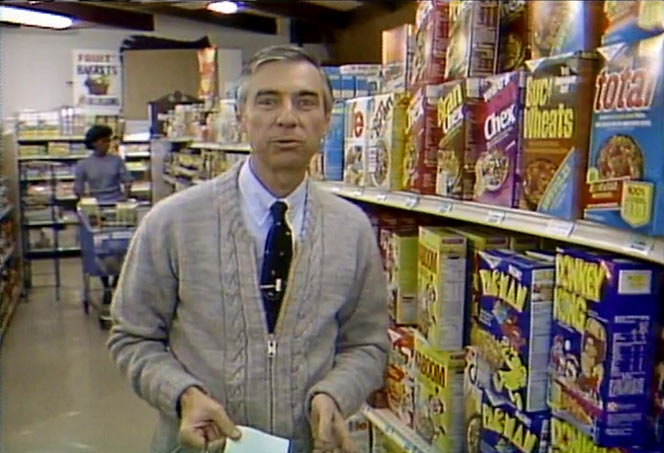 In a 1984 episode (#1529) of
Mr. Rogers' Neighborhood
, Mr. Rogers takes a trip down the cereal aisle where you can see Donkey Kong cereal along with other discontinued favorites like Pac-Man Cereal and Buc-Wheats.
Click here
to see all cereals from Ralston.
---
Additional Images
These are the most recent images. Click here to see all pictures for Donkey Kong.
There's More Pictures! See all images for Donkey Kong cereal
---

Overall Average Rating = 4 (out of 5)

By Bossmoss


| | |
| --- | --- |
| Cereal Rating (out of 5): | |

Probably the best cereal of all time. It tasted like Cap'n Crunch, but a little like Quisp as well. The pieces were big, and of course, they didn't cut up the roof of your mouth as much.

Comment submitted: 9/24/2018 (#23522)



By RichBond


| | |
| --- | --- |
| Cereal Rating (out of 5): | |

Had one box as a kid because I liked the game. I didn't like the flavor, thought it was boring tasting.

Comment submitted: 9/18/2017 (#22232)





By jbazile (Team Breakfast Member)


| | |
| --- | --- |
| Cereal Rating (out of 5): | |

It was a toss up between Donkey Kong Cereal, Mr.T and King Vitaman (before they removed all the sugar from King V) that is. I give DKC a slight edge. All 3 beat Cap'n Crunch hands down.

Comment submitted: 6/8/2017 (#21877)



By Fred Is Dad


| | |
| --- | --- |
| Cereal Rating (out of 5): | |

I remember not liking it. I liked the game but not the cereal.

Comment submitted: 3/27/2017 (#21549)



By The Ritty


| | |
| --- | --- |
| Cereal Rating (out of 5): | |

Classic. Loved it.

Comment submitted: 1/2/2017 (#21204)





By caddys daddy (Team Breakfast Member)

I used to eat this cereal. I liked it.

Comment submitted: 10/30/2011 (#5602)



By Da_GPer


| | |
| --- | --- |
| Cereal Rating (out of 5): | |

Shame that they wont bring back cereals like this anymore. Video game fans like me would eat it up. (No pun attended.)

Comment submitted: 6/9/2011 (#5052)





By gradys (Team Breakfast Member)


| | |
| --- | --- |
| Cereal Rating (out of 5): | |

Hands down the best cereal ever created!!! Where can I get some of that?

Comment submitted: 11/27/2010 (#3347)



By J.B.


| | |
| --- | --- |
| Cereal Rating (out of 5): | |

This is a toss up between Mr. T and Donkey Kong as to which had the better taste. Both were better than Cap'n Crunch. I give the edge to Donkey Kong...

Comment submitted: 8/4/2010 (#2582)



By jb


| | |
| --- | --- |
| Cereal Rating (out of 5): | |

My 2nd favorite cereal of the 80's (next to Smurfberry Crunch.) Better than Capn Crunch.

Comment submitted: 3/20/2010 (#1655)