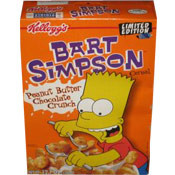 From: Kellogg's
Introduced in 2001
The Simpsons cartoon series is not only the longest running animated TV program in U.S. history, it's also the longest running sitcom - live-action or cartoon.
The subtitle for this limited edition cereal described the cereal's flavor... "Peanut Butter Chocolate Crunch". The cereal pieces were similar to Corn Pops or overgrown Kix in shape and color, but with areas of darker brown to indicate the chocolate.
The flavor of Bart Simpson Cereal has been described as being similar to Peanut Butter Cap'n Crunch or Reeses Puffs - but not quite as good.
The same year this cereal appeared, Kellogg's also produced a limited edition partner cereal called Homer's Cinnamon Donut Cereal. The Homer cereal consisted of cinnamon-dusted Cheerios-shaped pieces.
The following year (2002), Kellogg's released a Simpsons-related cereal in the Great Britain and Australia called Bart Simpson's No ProblemOs. This cereal consisted of frosted multi-grain cereal loops and mini chocolatey biscuits with characters from the Simpsons cartoon etched on the surface.
In 2007, long after the demise of Bart Simpson Cereal. Kellogg's introduced Chocolate Peanut Butter Pops Cereal which tasted similar to Bart Simpson Cereal. The cereal pieces were also simiar in appearance, except the new cereal had a more uniform color, lacking the darker splotches of chocolate that the Bart Simpson Cereal had.
The Simpsons television series first aired on American television in 1989. In 2007, the first Simpsons motion picture appeared in theaters. As part of a promotion for the film, select Seven-Eleven stores across the U.S. sold yet another Simpsons-related Breakfast Cereal - Frosted Crusty O's (produced by MOMCO). Unlike previous Simpsons cereals, the Krusty cereal seemed to be made strictly for memorabilia collectors. The cereal in the box was a sub-par knock-off of Froot Loops which looked nothing like the cereal depicted on the front of the box.
Click here
to see all cereals from Kellogg's.
This cereal belongs to the following Mr Breakfast Cereal Families:

---
Additional Images
Box Front For Bart Simpson Cereal
Submitter: Mr Breakfast
Uploaded: 3/14/2008
Additional details
---
Comments About This Cereal
What do you think of Bart Simpson?

Overall Average Rating = 4 (out of 5)



By JEFFY (Team Breakfast Member)


| | |
| --- | --- |
| Cereal Rating (out of 5): | |

Was too dry.

Comment submitted: 3/26/2018 (#22864)



By Tray


| | |
| --- | --- |
| Cereal Rating (out of 5): | |

This cereal was really good but man, I really had to go to bathroom after I ate bowl.

Comment submitted: 9/25/2013 (#14342)



By Desmond


| | |
| --- | --- |
| Cereal Rating (out of 5): | |

Tasted kinda like the E.T. cereal from the mid-80s.

Comment submitted: 7/11/2013 (#12757)



By wheelie


| | |
| --- | --- |
| Cereal Rating (out of 5): | |

Yum! It was good - like Peanut Butter Pops but crunchier. Plus it's the Simpsons. What more could you want.

Comment submitted: 3/1/2012 (#6661)