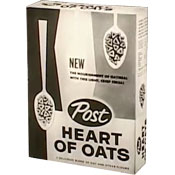 From: Post
Introduced in 1959
"Theses dandy, delicious, crisp little hearts are made with oats... the most muscle building cereal brand there is."
The cereal pieces in Heart of Oats were intended to resemble hearts. In reality, they looked like misshapen triangles which often broke apart leaving a bowl of warped triangles and check marks.
The cereal was an attempt by Post to grab a share of the Cheerios market from General Mills.
Heart of Oats main pitchman was a cartoon lion named Linus The Lionhearted. After a short career with this cereal, Linus went on to pitch the more popular cereal
Crispy Critters
and eventually got his own network cartoon show in 1964.

Introducing Post Heart Of Oats Commercial
Narrator:
Imagine... with this light, crisp cereal, you can get all the nourishment of oatmeal. For this is Post Heart Of Oats... a new ready-to-eat cereal with all the nourishment of oatmeal.
Housewife:
But without cooking. That family of mine needs nourishment... lots of it. The kind that oats can give them.
Narrator:
And they can get it with Post Heart Of Oats and milk. So give your family the strength of oats with new Post Heart Of Oats.
Daughter:
And you know something? They taste just a little bit better.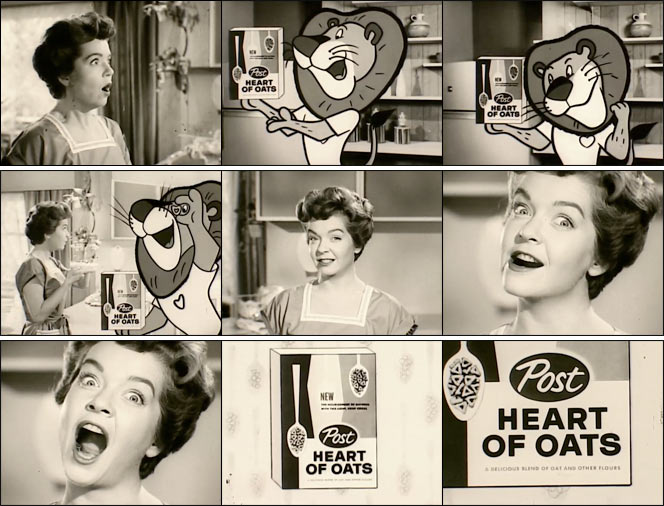 Linus The Lionhearted Heart Of Oats Commercial
A woman is startled by a large animated lion in her kitchen. The lion, Linus The Lionhearted, touts new Heart Of Oats cereal. He encourages the woman to try the cereal and gets an energetic reaction.
Linus:
Rrrrr.... I am Linus The Lionhearted with a new delicious, crisp cereal... Post Heart Of Oats. Gives you the nourrrr-ishment of oatmeal. What do ya say?
Woman:
Rrrrrawwrrrrr!
Linus:
Yeah. The nourrrr-ishment of oatmeal.
Click here
to see all cereals from Post.
---
Heart Of Oats Cereal Theater

Now Showing: Heart Of Oats Linus The Lion Ad
---
Comments About This Cereal
What do you think of Heart Of Oats?
By DPJohnson

You can now get a cereal similar to this one - Quaker Whole Hearts, which are somewhat sweet.

Comment submitted: 12/5/2013 (#15471)





By andyfjr51 (Team Breakfast Member)

I felt sorry for Linus (the Lion) when every time he mentions crispy critters, the animal cereal pieces stampeded (the one and only cereal it comes in shaped animals).

Comment submitted: 3/31/2012 (#7005)





By andrew (Team Breakfast Member)

Even though Linus was a spokesman of 2 now defunct Post cereals, the voice of him is now gone (Sheldon Lennord).

Comment submitted: 1/24/2012 (#6272)



By St. Yves

Who came first Tony the Tiger or Linus the Lionhearted? They seem a little bit similar. They're Grrrrreat vs Nrrrrrroushment. Hmmm.

Comment submitted: 5/24/2010 (#2170)