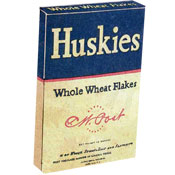 From: Post
Introduced in 1937
"Start your day the Huskies way... make your breakfast table a training table."
As described by a classic 1939 print ad featuring baseball legend Lou Gehrig, "Huskies are delicious! Crisp, crunchy, golden-brown flakes with a flavor you've never tasted before!" The truth was that many Americans had already sampled a flavor like Huskies before.
Huskies was General Foods Corporation's (later to become Post) response to to the popularity of General Mill's Wheaties which predated Huskies by 13 years. The cereals were nearly identical in texture and flavor, and both cereal used sports (primarily baseball) as an advertising gimmick.
Old-time baseball greats Monte Pearson, Johnny "No Hit" Vander Meer and Fred Perry were enlisted as pitchmen for the cereal in it's debut year (1937). In 1938, New York Yankee Superstar Lou Gehrig joined the Huskies team.
A popular selling point for the cereal was the "Huskies Club" which was heavily promoted in print and radio advertising. Kid's were encouraged to join and get "free swell prizes". Membership required that at least one box-top be sent in with the application. One box-top garnered the new member a Huskies Club Pin. Three box-tops scored you a Huskies Club Ring ("fits any finger - 24 carat gold finish").
"Ask mother to get you Huskies in the full 10-ounce package right way," urged one ad, "Huskies are rich in food-energy... helps build muscles too."
A small red circle on the back of the cereal box and also included in many ads read, "Huskies eat huskies".
Click here
to see all cereals from Post.
---
Additional Images
---
Comments About This Cereal
What do you think of Huskies?

Overall Average Rating = 4 (out of 5)



By CerealCrusher (Team Breakfast Member)

'Huskies Eat Huskies' seems to be the first known example of the Madison Avenue ilk pushing the concept of Animalism-Cannibalism.

Comment submitted: 8/3/2016 (#20658)





By loyaltubist (Team Breakfast Member)

Huskies sponsored several radio shows in the late 1930s including Joe Penner and Ripley's Believe It or Not. Lou Gehrig was a spokesman for the cereal and he had also done advertising for Wheaties. On his first 'appearance' on Ripley's Believe It or Not, Robert L. Ripley tried to get Gehrig to do an impromptu commercial for the cereal: 'Say, Lou... What did you have for breakfast this morning?' Without thinking he quickly replied, 'Same thing I always have, Bob... a big bowl of Wheaties.' Ripley quickly cut him off and said, 'No, you didn't Lou... You had those great, new Huskies... Remember?' Gehrig said, 'Yeah. You're right, Bob... They were so good I forgot all about it.' Post (and Ripley) weren't too upset at Gehrig because he was invited back to the program on another day.

Comment submitted: 3/26/2015 (#18802)



By Fr.Chazz +


| | |
| --- | --- |
| Cereal Rating (out of 5): | |

I am a 89 year old man who consumed a ton of those truly good tasting flakes. They had no real competition. Too bad "the suits" dumped a winner.

Comment submitted: 11/13/2013 (#15314)