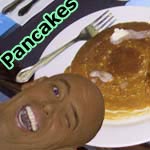 Low-Carb Pancakes (Almond Flour)
1/2 cup almond flour
1 packet sugar substitute
2 large eggs - beaten
1/3 cup seltzer water
1 Tablespoon heavy cream
1/4 teaspoon salt
dash of cinnamon
Simply combine all ingredients and cook on a hot (medium-high), lightly greased griddle or skillet. Dollop the batter in 1/4 cup amounts. Flip them when the underside is golden brown and cook the other side to golden brown.
Serve with sugar free syrups, or cool a bit and use as "bread" with low-carb spreads. (If using with non-sweet toppings, leave out sweetener and cinnamon.)
For more low-carb recipes try Mr Breakfast's Low-Carb Breakfast Index.

These low carb pancakes use almond flour as their base which adds a nutty flavor I think you'll like.
Mr Breakfast would like to thank
baseball27
for this recipe.
Comments About This Recipe
What do you think of Low-Carb Pancakes (Almond Flour)?
Overall Average Rating =

(out of 5)

From Ethan
One of the better low-carb pancake recipes I've found so far, although I do agree with the other comments about adding more sugar substitute.

Comment submitted: 6/1/2013 (#15985)



From lou
I make some small ones (like cookies). I can munch on them all day since I'm diabetic. The almond meal is low carb & you can use it also for breading chicken or fish. Thanks!

Comment submitted: 2/19/2012 (#13558)



From kmwhitmd

Thanks JaeNezzy for the nutritional information! I wish I had read it sooner. It completely knocked me out of ketosis! I realize now that in the induction phase I should have steered clear of this. Overall though, not a bad recipe (not amazing either). Although, I will try the suggested modifications by Jessica to see if it improves it.

Comment submitted: 9/24/2011 (#12935)



From Jessica C
These came out great! I tweaked it a little though, taking out a little fat and adding some natural sugars. (I doubled it for later) I ground 1/2 cup almond slivers, mixed it with 1/2 cup flax meal. I added 1 egg and 2 egg whites, 1T veg oil, 1T milk, several dashes of cinnamon, dash of vanilla, and I ground up 1/2 an apple. Fried it with some pam. The rest of the ground up apple stuck to the magic bullet cup I added some water and put it on the pancakes. I also sprinkled the packet of sugar sub on top like powdered sugar. It was great! I may try the backing soda trick next time.

Comment submitted: 3/19/2011 (#12324)



From Lizzi Lou
Can add a pinch of baking soda if you don't have the seltzer water. Definitely needs more sweetener than the recipe calls for. Otherwise... a pretty decent pancake substitute.

Comment submitted: 9/20/2009 (#8724)



From Emily
Pretty good for low carb pancakes. They looked just like pancakes, but the texture was different. I think more sugar substitute would make them a little better.

Comment submitted: 7/11/2009 (#8382)



From JaeNezzy

1 Serving
Calories: 258
Total Fat: 22g
Sat. Fat: 4g
Cholest: 224mg
Sodium: 369mg
Carb: 7g
Fiber: 4g
Protein: 12g

Comment submitted: 5/6/2009 (#8062)



From Madame JOY

Go to www.fitday.com and put the information in and you can get all the nutritional data you could possibly want.

Comment submitted: 3/7/2009 (#7722)



From laney

How many carbs does this have per pancake?

Comment submitted: 11/27/2008 (#6978)



From Dana
I cannot eat wheat or sugar, so this pancake meets my nutritional needs, plus tastes great, not goony.

Comment submitted: 8/29/2008 (#6349)



From Dee
I have used this recipe in a variety of ways such as with just plain tap water (makes a denser pancake) as well as omitted the cream and 1 egg, just adding more water to decrease calories and fat, though you could add butter on top to add flavor. This is a tasty breakfast served with SF syrup really takes care of my carb craving. Also the family love it.

Comment submitted: 8/17/2008 (#6155)





From curd83rd (Team Breakfast Member)
I make these at least once a week and enjoy tremendously.

curd83rd

Comment submitted: 5/22/2008 (#5332)



From stormy
I love this recipe. It saves my life!

Comment submitted: 5/4/2008 (#5185)



From Rick
I found then to have a slight eggie taste. Worth a repeat. Easy and quick to put together. With the almond flour they are very filling and give you the "stick to the ribs" feeling.

Comment submitted: 1/19/2008 (#4420)



From Joe
Almond Flour 10oz (info from Now Foods)
Serving: ¼ cup (24g)
Calories: 145
Total Fat: 12g
Potassium: 175mg
Total Carbs: 4g
Net Effective Carbs: 1g
Protein: 5g
Dietary Fiber: 3g
Sugars: 1g

Comment submitted: 7/25/2007 (#3263)



From LowCarbRookie

I agree about the nutrition information. I am new to low carbing and am trying to be very careful. Please include the number of carbs, fiber, sugar, and sugar alcohol (if any) in these recipes.

Thank you!

P.S. Great website!

Comment submitted: 7/19/2007 (#3229)





From DBMRAINBOW (Team Breakfast Member)

Why is there no nutritional information? How does one know how many carbs are in this recipe or in your other "low-carb" breakfast recipes?? Help, please!
diane

Comment submitted: 6/5/2007 (#2615)



From VaMick
I substituted flax seed flour for the almond flour. I thought it was pretty good. I will have to try it with almonds

Comment submitted: 3/25/2007 (#1951)





From W8OnHim (Team Breakfast Member)
Pleasantly surprised by the taste - reminiscient of pecan pie when one puts sugar free syrup on it.

Comment submitted: 2/23/2007 (#1611)





From angelsuponus (Team Breakfast Member)

How many carbs are in this recipe?

Comment submitted: 9/21/2006 (#356)




---
Connect With Mr Breakfast: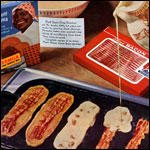 Bacon Strip Pancakes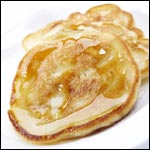 Reliable Homemade Pancakes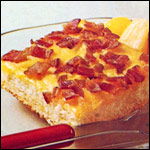 Maple-Bacon Oven Pancake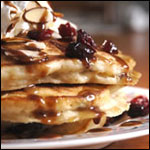 Cranberry Almond Caramel Pancakes