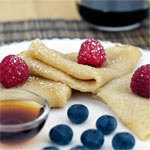 Egg-Free Crepes
1 cup all-purpose flour
1 Tablespoon white sugar
1/4 teaspoon salt
1/2 cup milk
2/3 cup water
1/4 cup butter - melted
2 Tablespoons vanilla extract
There's a couple tricks to making the most of this recipe. The crepes are a bit more tender than those made with eggs, so you need to use a gently touch when flipping. The best utensil to use is a very thin spatula. You could also slide the crepe on to a plate and invert it back into the pan. Wait until the edges appear almost crisp before flipping. It'll feel like you're cooking too long, but the underside really won't be overly browned at that point. The longer you can cook the first side, the easier they are to flip.
As for taste... I thought they were great. I was worried the amount of vanilla would be too much, but it was just right. Once you add a topping or a filling, these are just as good as crepes made with eggs.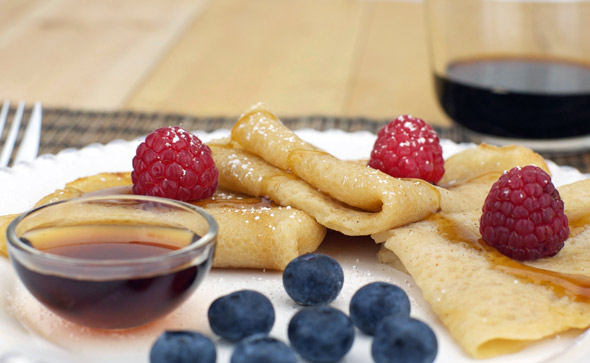 How To Make Egg-Free Crepes
In a large bowl, mix the flour, sugar and salt together.
In a medium bowl, mix together the milk, water, melted butter and vanilla.
Add the wet ingredients to the dry ingredients and beat until the batter is smooth. Cover and refrigerate for one hour.
When ready to prepare...
Place a large skillet over medium-high heat and coat generously with cooking spray.
Dollop two Tablespoons of batter into the pan. Immediately start to swirl the pan over the heat to spread the batter into a large circle. When the edges of the crepe appear dry and lightly browned, flip the crepe and cook other side until lightly browned.
Repeat with remaining batter. You can store finished crepes in the oven set at 200 degrees - placing parchment paper between stacked crepes.
To serve...
Fold crepes and top with cinnamon and sugar; sugar and squeeze of lemon; or fill with what ever you like. For savory crepes, I recommend cutting the sugar in half in this recipe.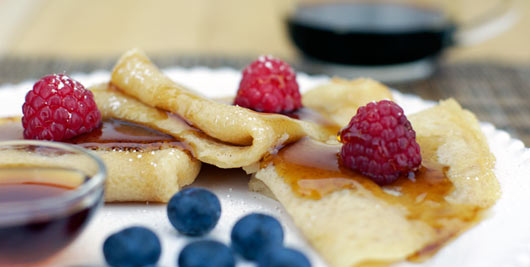 Note: The batter doesn't have to be refrigerated, but it does help the crepes stay together (plus they seem a little rubbery if you use the batter immediately).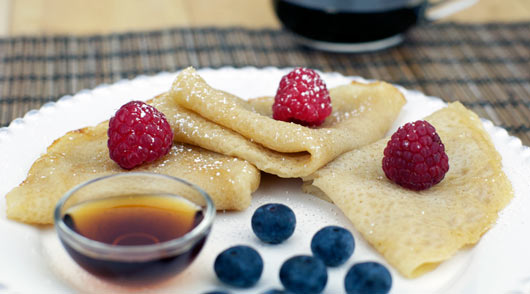 For best results, let this batter rest in the refrigerator for at least an hour before making the crepes.
Mr Breakfast would like to thank
KingCurwood
for this recipe.
Comments About This Recipe
What do you think of Egg-Free Crepes?
Overall Average Rating =

(out of 5)




From Mav
It was a bit hard to flip because they were so delicate and they were very chewy but they tasted great.

Comment submitted: 5/30/2020 (#20962)



From TheCrepeMaster
It's so good because I make this for my brother even though I am only 12. I recommend this for people with little kids.

Comment submitted: 7/2/2019 (#20800)



From Klarisage
The batter was too thick so I added water, then after refrigerating the batter, it wouldn't stay together when I flipped it. Still ended up really rubbery in texture, but tasted okay.

Comment submitted: 5/27/2019 (#20773)



From StMarks
Mine turned out a little thicker than yours, but they were good. I'll add just a little more water to the batter next time.

Comment submitted: 3/18/2019 (#20743)



From Leggs58
TY Mr.Breakfast, your crepe recipe was absolutely delicious.

Comment submitted: 1/2/2019 (#20703)



From Conner
Best recipe. I add a bit of extra water so they're not as thick and I cook it straight away.

Comment submitted: 12/15/2018 (#20689)



From Serafina
Great recipe. Tastes good with strawberries.

Comment submitted: 10/21/2018 (#20656)



From Sophia
Very good!

Comment submitted: 9/29/2018 (#20635)



From Elsa G.
Made for the second time today. Great recipe.

Comment submitted: 3/18/2018 (#20539)



From B.D.S.

Tastes like a waffle cone.

Comment submitted: 7/12/2017 (#20356)



From Redhead77
I made them because I had no eggs, not because of an allergy or anything. So I can compare them to crepes with egg in the batter. They compared pretty good. Crepes with egg are a little better, but these are a close second.

Comment submitted: 4/6/2017 (#20239)



From Paulette
I refrigerated the batter about 45 minutes, but they just didn't hold together to flip at all. I had rumpled crepe crumbles, but they did taste good.

Comment submitted: 2/19/2017 (#20202)



From Wham2017
I didn't refrigerate the batter, but it was still very good.

Comment submitted: 12/19/2016 (#20151)



From EggWay4
I like them. Very satisfied.

Comment submitted: 11/2/2016 (#20104)



From Jazzylimespie

Didn't like it as much as everyone else. Tasted like play dough.

Comment submitted: 6/4/2016 (#19959)



From malini
This was an awesome recipe! I didn't refrigerate mine because I was running out of time but they turned out great still! Also, the batter was a little thick for me so I added a couple tbsp of water to thin it out and it spread on the pan much more easily!

Comment submitted: 1/23/2016 (#19757)



From nancy
Great recipe, real easy to make. They turned out very good and we didn't even miss the eggs.

Comment submitted: 1/9/2016 (#19736)



From Polly W. Doodle
Absolutely delicious. I used sourdough starter in place of some flour and we devoured them.

Comment submitted: 10/2/2015 (#19576)



From BlueTeam
Made them for my dad and he really liked them. They are very good.

Comment submitted: 6/13/2015 (#19447)



From Nomo Eggz
This recipe turned out great. Tasted terrific :)

Comment submitted: 5/19/2015 (#19417)



View all 32 comments for this recipe.



---
Connect With Mr Breakfast: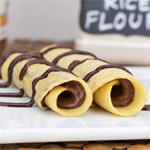 Gluten-Free Crepes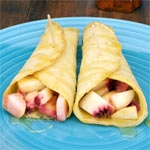 Low-Fat Honey Crepes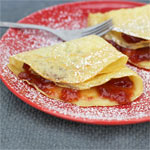 Jelly Crepes