Egg-Free Crepes

(4 servings)

1 cup all-purpose flour
1 Tablespoon white sugar
1/4 teaspoon salt
1/2 cup milk
2/3 cup water
1/4 cup butter - melted
2 Tablespoons vanilla extract
There's a couple tricks to making the most of this recipe. The crepes are a bit more tender than those made with eggs, so you need to use a gently touch when flipping. The best utensil to use is a very thin spatula. You could also slide the crepe on to a plate and invert it back into the pan. Wait until the edges appear almost crisp before flipping. It'll feel like you're cooking too long, but the underside really won't be overly browned at that point. The longer you can cook the first side, the easier they are to flip.

As for taste... I thought they were great. I was worried the amount of vanilla would be too much, but it was just right. Once you add a topping or a filling, these are just as good as crepes made with eggs.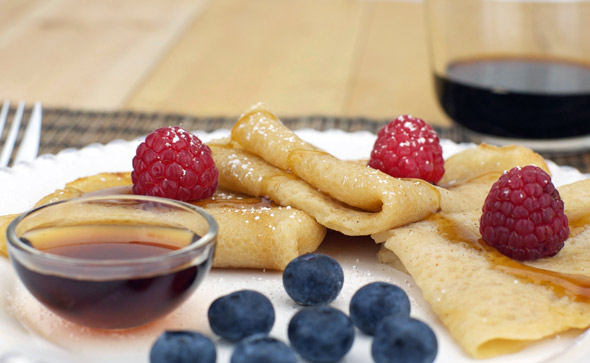 How To Make Egg-Free Crepes

In a large bowl, mix the flour, sugar and salt together.

In a medium bowl, mix together the milk, water, melted butter and vanilla.

Add the wet ingredients to the dry ingredients and beat until the batter is smooth. Cover and refrigerate for one hour.

When ready to prepare...

Place a large skillet over medium-high heat and coat generously with cooking spray.

Dollop two Tablespoons of batter into the pan. Immediately start to swirl the pan over the heat to spread the batter into a large circle. When the edges of the crepe appear dry and lightly browned, flip the crepe and cook other side until lightly browned.

Repeat with remaining batter. You can store finished crepes in the oven set at 200 degrees - placing parchment paper between stacked crepes.

To serve...

Fold crepes and top with cinnamon and sugar; sugar and squeeze of lemon; or fill with what ever you like. For savory crepes, I recommend cutting the sugar in half in this recipe.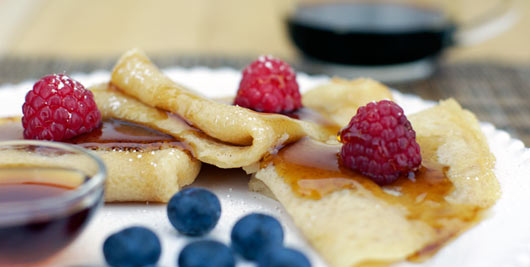 Note: The batter doesn't have to be refrigerated, but it does help the crepes stay together (plus they seem a little rubbery if you use the batter immediately).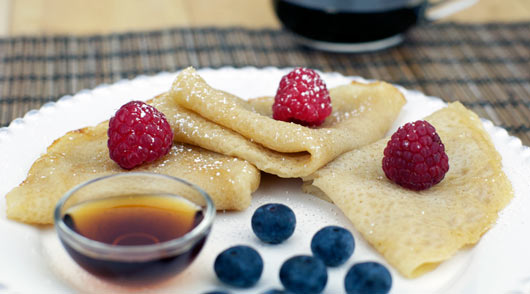 For best results, let this batter rest in the refrigerator for at least an hour before making the crepes.




Mr Breakfast would like to thank KingCurwood for this recipe.

Recipe number 2417. Submitted 10/30/2008.