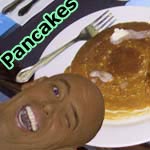 Simple Pancakes
2 cups of flour
pinch of salt
2 large eggs
milk - as needed
Mix all of the ingredients. The more milk you use, the thinner the pan cakes. Cook on a greased griddle or fry pan until batter starts to bubble and down-side is golden brown. Flip and cook for about 2 more minutes.
Uh Oh!
A bummed out breakfast lover named Tricia wrote to us about this recipe to say, "I tried to make these this morning - and they came out awful. Not sure if I used too much milk (I don't think I did), but they came out like bricks. Not fluffy at all." Sorry you didn't care for them Tricia. We'll try to reach the recipe submitter to see if they made any mistakes. In the meantime, for a very-well-reviewed simple pancake recipe, try this one instead: Homemade Pancakes

This recipe should probably be skipped, but it's worth a look to see the comments people submitted to try to make a not-so-good recipe better.
Mr Breakfast would like to thank
Angel1994
for this recipe.
Comments About This Recipe
What do you think of Simple Pancakes?
Overall Average Rating =
(out of 5)

From terrylh1 (Team Breakfast Member)

The recipe has no leavening agent to help them rise.

Try this recipe:

1 1/2 cups flour
3 1/2 teaspoons baking powder
1 teaspoon salt
2 teaspoons sugar
1 1/2 cups milk, amount of milk determines thickness/thinness of your pancakes so you judge
1 egg lightly beaten
1 teaspoon of vanilla
3 tablespoons of melted butter

Sift dry ingredients together, add butter, add egg then milk then vanilla mixing until just combined, don't over mix. Do not cook in butter use a vegetable oil or PAM. Heat frying pan or griddle until a drop of batter in oil sizzles and pops. The cook your pancakes.

Comment submitted: 11/7/2010 (#11518)



From marie88
| | |
| --- | --- |
| Rating (out of 5): | |

I added sugar and baking soda after reading the comments. Then I added more sugar. It wasn't that bad. Then, I added some vanilla. I would advise against vanilla. It really only needs sugar. Maybe try like a quarter cup.

Comment submitted: 8/7/2009 (#8507)



From ya mum

Try this one instead: HOMEMADE PANCAKES.

It's really well reviewed.

Comment submitted: 6/21/2009 (#8325)



From CindyO
| | |
| --- | --- |
| Rating (out of 5): | |

Yuck! They cooked up white with no flavor whatsoever. I tried to savage a 2nd batch with a little vanilla & cooking in addional oil, but no luck.

Comment submitted: 4/26/2009 (#8024)



From doh-doh
| | |
| --- | --- |
| Rating (out of 5): | |

That is not very good... disgusting actually... I wanted simple pancakes... not that simple...taste like... nothing :(

Comment submitted: 2/1/2009 (#7496)



From The Fixer

Good try, but it lacks baking powder.

Comment submitted: 1/16/2009 (#7374)



From I. Twatty
Hmmm not very good I have to say, lack of baking powder mate.

Comment submitted: 10/28/2008 (#6701)



From hurricane ike

What's with no baking powder?

Comment submitted: 9/9/2008 (#6428)



From MoneyBrick.com

I think the basic ingredient lacking here is the baking powder! It's not going to be fluffy without baking powder y'all!

Comment submitted: 6/3/2008 (#5454)



From Joseclare
Had better.

By Clarephine

Comment submitted: 3/26/2008 (#4897)



From blue sugar man

Where the heck is the sugar?

Comment submitted: 3/23/2008 (#4874)



From Ben And Tyler
I, for one, think this recipe is amazing. We had many memories with the pancake made using this recipe. In addition to this estimated amount of ingredients, we added m&m's, skittles, marshmallows, mints, bananas, prune juice, ice cream, eggnog (in place of eggs and milk) and it was delicious. We call this the "carnival pancake." It is best eaten at three in the morning. We filled a large skillet with the batter to make a single giant pancake. We were forced to dump the remaining batter.

In breakfast cheer,
Ben and Tyler

Comment submitted: 2/6/2008 (#4568)



From monkey
Hi to all breakfast monkeys :) tried them loved them simple to make and nearly everyone has the ingredients at home already enjoy and have a nice day

Comment submitted: 2/5/2008 (#4563)



From Laura
I love your pancakes and they are so soft I wanna be Miss Breakfast. I mean I think you're kind of cute Mr.breakfast!!! From Laura

Comment submitted: 12/11/2007 (#4162)



From anonymous

Note: This recipe makes so called French pancakes (crepes), not the fluffy variety.

The batter is supposed to be quite thin, and the resulting pancakes should be less than 1mm thick. (If they are more, add more milk)

Eat with sweet or savoury filling.

Comment submitted: 10/24/2007 (#3835)



From moomin la
Mr. Breakfast, I think your pancakes are DELICIOUS!!! I don't know how anyone can say they're not.

Comment submitted: 10/19/2007 (#3799)



From Deceit
I added 1 teaspoon of Baking Powder and 1 tablespoon (appx) of melted butter to this recipe and it turned out pretty good.

Comment submitted: 10/7/2007 (#3707)



From skinner

Of course it is difficult to make pancakes without BAKING POWDER!

Comment submitted: 9/10/2007 (#3536)



From Not 2 Good
| | |
| --- | --- |
| Rating (out of 5): | |

Well, I made them this morning but they were thin and had absolutely NO flavor! I didn't think they were nice at all!

Comment submitted: 8/17/2007 (#3392)



From KatyO

So funny people keep making this. You have to read the page people:> The alternative recipe is so good. Made them this morning. Always a winner. Funny that I bookmarked this page to get to that one.

Comment submitted: 4/29/2007 (#2292)



View all 26 comments for this recipe.



---
Connect With Mr Breakfast: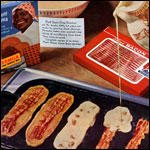 Bacon Strip Pancakes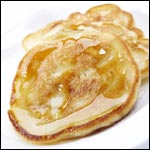 Reliable Homemade Pancakes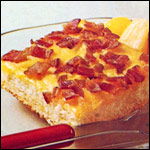 Maple-Bacon Oven Pancake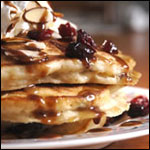 Cranberry Almond Caramel Pancakes

When's the last time you had breakfast in a cup made of bacon?
Click here
.