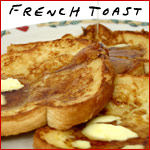 Low-Carb French Tortilla Toast
2 whole-wheat or low-carb tortillas -- cut in 1/4ths like a pizza
2 eggs
1 teaspoon cinnamon
1 teaspoon water
1 packet of Splenda (or other sugar alternative)
1 teaspoon butter (for frying)
This recipe has roughly 7 grams of carbs.
Beat eggs with water until frothy. Mix in cinnamon and sugar alternative. Melt butter on a skillet set at slightly higher than medium heat. Cooking surface is ready when a drop of water will dance.
Dip the tortillas pieces in egg mixture and fry until both sides are golden brown.
Serve with butter and a low-carb store bought syrup. Or for an interesting low-carb topping, mix 1 Tablespoon of sugar-free jam with 1 and 1/2 Tablespoons water and microwave for 45 seconds.

For more low-carb recipes try Mr Breakfast's Low-Carb Breakfast Index.
Mr Breakfast would like to thank
BethH
for this recipe.
Comments About This Recipe
What do you think of Low-Carb French Tortilla Toast?
Overall Average Rating =

(out of 5)

From Les
So in reading everyone's review about the egg wash not sticking, I decided to throw my tortilla slices in the skillet first just enough to coat it with the butter. Then I put it in the egg wash and threw it back into the skillet to cook. It was HEAVENLY ! I'm so glad I found this recipe. I also only used one egg to make the egg wash and I had a tiny bit left over so like the other reader did I scrambled it and ate it.

Comment submitted: 6/23/2013 (#16066)



From HeyMan
Very good. Different from French Toast, but it satisfied my craving.

Comment submitted: 2/26/2012 (#13581)



From onesaint

Oh, another idea (post breakfast, if there is such a thing) is to use this recipe for a "Monte Carlo." Deli meats/cheeses on the inside with a battered outside.

Comment submitted: 6/12/2011 (#12786)



From onesaint
I used Joseph's low carb pitas as opposed to tortillas (still cut into 4ths). If you soak the inside and out, it makes for a great "french toast." Soft on the inside and crispy on the outside. Se magnifique!

Comment submitted: 6/12/2011 (#12785)



From Paula C.
Interesting. I agree with the comments wishing the batter would stick better, but all in all, this was an interesting, tasty and satisfying breakfast.

Comment submitted: 2/9/2011 (#12095)



From Sir Rock
I liked it, but I wish the tortillas could absorb the egg better. It had a good French Toast flavor, but I had a lot of egg mixture left over. Still looking for a better recipe.

Comment submitted: 9/3/2010 (#11161)



From yummyfrench
I made this a little different. I also used two low carb (mama lupe) tortillas cut into 4 pieces(6 net carbs), and two eggs or (1/2 cup of egg beaters). I mixed in cinnamon and two packets of splenda (2 carbs). I used a little olive oil in the pan, so they wouldn't stick. Be careful not to get the pan too hot, my last two burned a little, but still tasted good. Then I scrambled the remaining sweetened egg batter. I took the scrambled egg and wrapped a little in each piece of the french toast tortilla. This gave this recipe a mock thick moist, Texas toast feel. Very Good! I topped with Mrs. Butterworths sugar free syrup. Awesome! (8 net carbs)

Comment submitted: 2/17/2010 (#9839)





From jesha (Team Breakfast Member)
I like this. I added a pinch of vanilla powder to the egg mixture and used heavy cream instead of water for mixing with the eggs. I was pretty generous with butter in the frying pan. Overall it was very good. I drizzled it with just a little bit of real maple syrup and it tasted almost just like 'real' French toast.

Comment submitted: 7/25/2009 (#8453)



From VIP
It's a nice recipe. Fun even it you're not on a low-carb diet.

Comment submitted: 4/1/2009 (#7877)



From Rae
This recipe is absolutely delicious! I made it for breakfast two days in a row. I topped it with sugar-free jam heated in the micro,served w/some breakfast sausage. I am even going to use this in my low-carb diet as a dessert, a little cool whip and jam... yummy.

Comment submitted: 3/2/2009 (#7686)





From NittanyLioness (Team Breakfast Member)
I cut this recipe in half (used 1 egg and 1 large LC tortilla). It was delicious and very filling. Perfect for those mornings when you crave something other than the same old eggs. I spread butter on mine, and a drizzle of LC syrup. Next time I may try some sugar free PB&J and make it into a breakfast "sandwich".

Comment submitted: 10/15/2008 (#6598)



From Kat
Instead of the water and Splenda, try using 1 teaspoon of sugar-free maple syrup! Yum!

Comment submitted: 8/18/2006 (#149)




---
Connect With Mr Breakfast: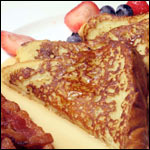 Basic French Toast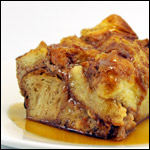 Baked French Toast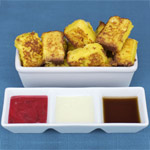 French Toast Bites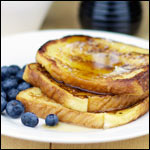 Maple Syrup French Toast