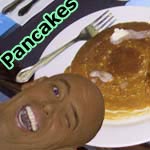 Low-Carb Pancakes (Soy Powder)
2 eggs
1/4 cup soy protein powder
1/3 cup sour cream
1 teaspoon baking powder
2 Tablespoon olive oil
Simply mix together all the ingredients with a whisk - batter may be a bit runny. Cook on a lightly greased skillet as you would any pancake recipe. Drop batter on surface large spoonfuls. Cook until each side is lightly browned.
Serve with butter and a low-carb store bought syrup. Or for an interesting low-carb topping, mix 1 Tablespoon of sugar-free jam with 1 and 1/2 Tablespoons water and microwave for 45 seconds.
For more low-carb recipes try Mr Breakfast's Low-Carb Breakfast Index.

There's only about 6 grams of carbs in these pancakes made primarily of protein powder and sour cream.
Mr Breakfast would like to thank
CurbingCarbs
for this recipe.
Comments About This Recipe
What do you think of Low-Carb Pancakes (Soy Powder)?
Overall Average Rating =

(out of 5)




From Jani
I made these today - they are excellent. This recipe is a keeper.

Comment submitted: 7/27/2018 (#20601)



From worked4me
I have to admit that I was a little reluctant to try them, but they are not bad at all. Yummy!!

Comment submitted: 1/29/2013 (#15114)



From trizguy
We have enjoyed the pancakes made to the above recipe. We purchased some banana flavored protein powder for use as a shake and substituted that for plain soy powder. Adding walnuts it made great banana walnut pancakes.

Comment submitted: 5/7/2012 (#13883)



From hentworth

I don't get it. Why use soy and add dairy?

Comment submitted: 4/20/2012 (#13828)



From gluten free
I've made this recipe several times and I am always happy with the results. Great for those of us with celiac disease (gluten free) and even though I don't have to eat low carb, I prefer to for health reasons. Thanks for sharing this recipe!

Comment submitted: 2/8/2012 (#13532)



From Wombat
Supplement soy powder with your own Protein Powder, and get a real kick from this recipe. Tastes like those homemade recipes, but healthier!

Comment submitted: 1/13/2012 (#13425)



From Bumble
Pleasantly surprised! We're just watching carbs for weight. I added cinnamon, cloves, a little wheat bran and ground flax. Added a little cream to dilute it. Delicious! Thanks... this is, by far, the best pancake recipe out there.

Comment submitted: 5/15/2011 (#12683)



From Penny
Thank you for this fabulous recipe. I started a low carb diet and don't miss my pancake. I even spiced it up with vanilla, cinnamon and splenda for sweets. GREAT RECIPE.

Comment submitted: 8/6/2010 (#11021)



From susieqt
Excellent! I have gestational diabetes and this doesn't raise my blood sugar at all. I substitute vanilla whey protein powder. I get about 5 pancakes out of this recipe and it makes me feel like I'm eating a bunch. Thanks so much for this recipe.

Comment submitted: 8/1/2010 (#10999)



From Smitty
These pancakes are fabulous! I used vanilla flavored whey protein powder instead of soy. They tasted just like crepes. We experimented with sugar free syrup, rolled with cream cheese and sugar free strawberry jam (like a blintze), and fresh strawberries with whipped cream (like a Belgian waffle). My 19 year-old daughter started a low carb program a few days ago to take off the freshman 15 and she could not be more excited about the possibility of pancakes!

Comment submitted: 5/24/2010 (#10553)





From dawnken (Team Breakfast Member)
Even the kids had no complaints, infact, they didn't even notice a difference! Thank you for a very yummy recipe.

Comment submitted: 3/28/2010 (#10184)



From katliztux
Heaven with nuts and nut butter.

Comment submitted: 2/27/2010 (#9928)



From losing weight
For some healthy carbs you can also add 2 tablespoons of Quaker rolled oats. I made this recipe this AM, before I saw this website. :) I don't have sour cream, but I saw a reviewer used plain yogurt. I think next time I will add a spoonful to the batter.

Comment submitted: 2/2/2010 (#9597)



From Rosa

I haven't had these pancakes before but I am going to give it a shot someday. I am getting into the soy world.

Comment submitted: 11/28/2009 (#9116)



From Kristin

The best pancakes!!! I tried a couple of different low carb recipes... none came close. Very good paired with sugar-free syrup.

Comment submitted: 9/7/2009 (#8653)



From pearson1776
I only had strawberry soy powder on hand,but it tasted great. Easy and delicious!!!

Comment submitted: 5/26/2009 (#8174)



From Try These!
VERY VERY GOOD! I didn't think it was going to be good at all, so I already had a bad opinion before I even ate them, but there were delicious! I had sugar free syrup too. I must say it was just as good (if not better) than regular pancakes!

Comment submitted: 4/19/2009 (#7991)



From Eureka!
Been enduring two weeks of carblessness with South Beach...and made these for breakfast this morning. Crushed a few pecans and sprinkled them on top of the cooking pancakes so they baked in.... soooo delicious!!! Thank you!

Comment submitted: 3/7/2009 (#7715)



From Four2-A-Royal
Great recipe.

Comment submitted: 2/24/2009 (#7648)



From Morning Glory
These were fantastic. They were actually better than real pancakes. They cooked evenly and were easier to turn. The texture was so light and fluffy my soy protein powder was unflavoured so I had even less carbs but it needed a little splenda. I topped it with lemon juice and splenda (added a few carbs). Willdefinitely be making again.

Comment submitted: 1/6/2009 (#7290)



View all 28 comments for this recipe.



---
Connect With Mr Breakfast: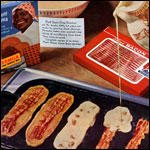 Bacon Strip Pancakes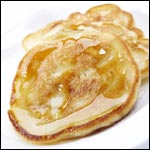 Reliable Homemade Pancakes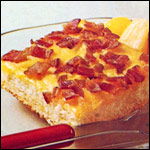 Maple-Bacon Oven Pancake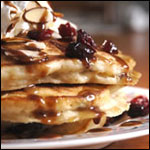 Cranberry Almond Caramel Pancakes

When's the last time you had breakfast in a cup made of bacon?
Click here
.