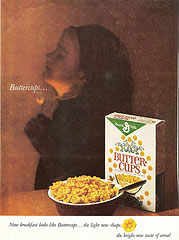 About This Image:
Title: Buttecups Cereal Ad
Submitted by Mr Breakfast on 3/18/2008
Comment from submitter:
An ad for Buttercups cereal showing the box and bowl of the cereal. Does anyone have a larger version of this ad or a pic of the cereal box? If so, please post it here.