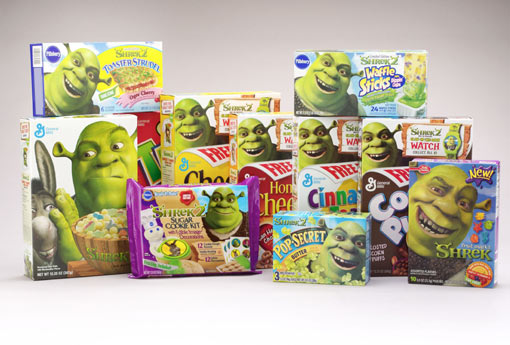 About This Image:
Title: General Mills Shrek 2 Products
Submitted by Mr Breakfast on 10/15/2008
Comment from submitter:
This image accompanied a 2004 press release about the new Shrek cereal and related tie-in produces. The following caption was included:
With the debut of Shrek 2(TM) on the big screen, General Mills brands teamed up to deliver the popular movie's magic direct to your cereal bowl, and to your toaster, and to your microwave! From Pop Secret "ogre green" Shrek(R) microwave popcorn to Shrek character watches inside Big G cereals to Pillsbury Waffle Sticks with Green Swamp Syrup, there's something fun - and delicious - for Shrek fans of all ages. You'll even find Shrek cereal and fruit snacks, as well as Shrek versions of Pillsbury Toaster Strudel and Ready To Bake Cookies.