Cereals from
Heartland Brands

Heartland Brands is part of McKee Foods Corporation. They acquired the product line in 1998. When the first Heartland cereal was introduced nationally, the brand was distributed by Pet Incorporated (formerly known as the Pet Milk Company).
On their website, Heartland Brands announces, "we were America's first national brand of granola cereal". This is true claim based on the first Heartland product, Heartland Natural Cereal, which is widely credited for giving the world granola as we know it today.
Nearly a century earlier around 1881, Dr. John Kellogg introduced a cereal he called Granola, but that Granola was a flour and grain biscuit that was crumbled into small pieces. It was hard and tasteless - a far cry from granola as we know it today.
Today, Heartland Bands offers a variety of cereals and ready-made pie crusts.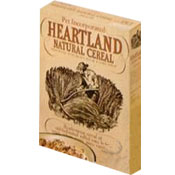 Cereal Spotlight:
Heartland Natural Cereal
Introduced in 1972
A 1973 ad (that's rather hypnotic at the end) described it this way:
"
Taste the flavor of times long gone. In Heartland Natural Cereal.
"
"Your first taste of Heartland Natural Cereal will seem strangely familiar...
Read More
More Heartland Brands Cereals:
For more about Heartland Brands, visit their
official website
.